Tombstone Ending Explained: What Happened To Each Main Character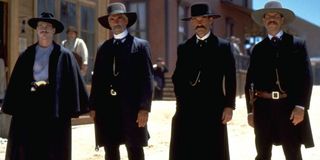 There have been more movies and television shows about icon of the Old West Wyatt Earp and his brothers than shootouts in towns on the frontier, but few hold a candle to the 1993 Kurt Russell-led western Tombstone. For nearly 30 years now, George P. Cosmatos' masterpiece has remained one of the most popular westerns thanks to its timeless story, intense gun battles, those luscious mustaches, and classic one-liners from from the famed lawman and his allies.
But with so much time passing since the film's initial release way back when, some may have forgotten how things shake out for Wyatt Earp, his brothers Virgil and Morgan, the charismatic Doc Holiday, and the rest of the characters who show up on either side of the central conflict in Tombstone. That being said, let's talk about the Tombstone ending and how things wrapped up for everyone.
Wyatt Earp (Kurt Russell)
Kurt Russell's Wyatt Earp isn't just front and center throughout the events of Tombstone, he's often the most interesting character on the screen not named Doc Holliday. After taking on the Cowboys at the O.K. Corral and then again multiple times, resulting in the deaths of his most hated enemies, Earp goes to see about Josephine Marcus and attempts to find some peace and harmony in his life after years of the fighting crime, running gambling joints, and going after all those curs with red sashes. Before that, however, he goes to have one last visit with his old friend Doc Holliday, whose health is quickly deteriorating in a Colorado sanatorium.
Doc Holliday (Val Kilmer)
Doc Holiday, who is played masterfully in Tombstone by an in-his-prime Val Kilmer, is often considered the best character in the whole movie, and those people who think that wouldn't be wrong. Even as he's dying of tuberculosis, the gambler and old friend of Wyatt Earp who is unmatched behind the gun and spends much of the movie sedated, playing poker, or poking the fire that is Johnny Ringo. And after Earp said he would take down Ringo, a dying Holliday musters up his remaining strength to prove once and for all that he can't be beat. And as he lay dying in that Colorado sanatorium, Holliday looks down at his bootless feet and says "This is funny."
This final meeting, however, is reportedly the stuff of legend as multiple historians, including Elena Sandridge, have stated that Wyatt Earp only learned of his friend's passing months later.
Virgil Earp (Sam Elliott)
Virgil Earp, played here by Sam Elliott and his legendary mustache, is the oldest and wisest of the Earp brothers and appoints himself the marshal of Tombstone, a decision that brings more trouble to the small town. Following the shootout at the O.K. Corral, Virgil, and other members of the Earps' group, is injured and left handicapped, which ultimately leads to the surviving brothers' decision to leave town once and for all. And even though Wyatt Earp stays back to settle things for good, Virgil is able to escape with his new wife and make a new life for himself.
Morgan Earp (Bill Paxton)
Not to be outdone by older brothers, Morgan Earp, portrayed by the late, great Bill Paxton, is right there in thick of it throughout much of Tombstone, including the famous shootout at the O.K. Corral. Following the events of the showdown with the Cowboys, life seems to go back to normal, but one night while Morgan is playing pool, he is ambushed and shot in the back. The bullet, having done too much damage to Morgan's already weakened body, takes the youngest Earp as his brother, Wyatt, tries to save his life. And although Morgan's story ends here, it's just the beginning of things to come.
Curly Bill Brocius (Powers Boothe)
On the other side of the central conflict in Tombstone is Curly Bill Brocius, one of the senior members of the outlaw gang, the Cowboys. As soon as Brocius, played by Powers Boothe, comes into the picture in the opening minutes of the movie, you know he will meet a painful and justified death for his actions. And we get just that in the final act of the movie when he, and most of his men, are taken out by a vengeful Wyatt Earp after the lawman's brother, Morgan, is viciously murdered. No more carrying out massacres for this cowboy with a hole in his gut.
Johnny Ringo (Michael Biehn)
The first time we see Michael Biehn's Johnny Ringo and Doc Holliday encounter one another, we know these will have one final showdown before everything is said and done. And that becomes the case in the final act of Tombstone when Holliday, wanting to finish what the two adversaries had started earlier on, challenges Ringo to one final duel, but not before getting out one more "I'm your huckleberry."
As iconic as a scene it is, in reality, the death of Johnny Ringo remains a mystery to this day, with no one really knowing if the outlaw was brought down by Doc Holliday, Wyatt Earp, or his own gun, as his 1882 death was ruled a suicide.
Ike Clanton (Stephen Lang)
Ike Clanton, one the outlaws in the ranks of the Cowboys who finds himself at odds with Wyatt Earp, is played by Stephen Lang, who is a treat in this role. Whenever trouble is brewing throughout Tombstone, Clanton is involved one way or another, but after the death of essentially every member of his gang, Clanton turns his back on his old lifestyle and convinces Earp to let him live. In the final narration of the film, however, it is revealed that Clanton was killed two years after the events that unfolded in Tombstone.
Billy Clanton (Thomas Haden Church)
Billy Clanton, Ike's younger brother, played here by Thomas Haden Church, isn't so lucky and isn't afforded the opportunity to throw down his red sash. Instead, Clanton is killed during the epic shootout at O.K. Corral, when he, and his fellow Cowboys, refuse to lay down their arms.
Josephine Marcus (Dana Delany)
Josephine Marcus, portrayed by Dana Delany, is the apple of Wyatt Earp's eye for much of Tombstone, and after everything is said and done and the Cowboys have been dealt with, the two end up together in a warm embrace under a blanket of snow. Marcus would join Earp on the rest of the journeys life threw his way, and remained with the legendary law man until his death in 1929.
Allie Earp (Paula Malcomson)
Allie Earp, played by future Deadwood star Paula Malcomson, is last seen leaving Tombstone with her husband, Virgil, following the assassination of Morgan Earp and not long after her own husband was targeted and left with a paralyzed arm. The real Allie Earp remained with Virgil Earp until his passing in 1905, and she would follow more than 40 years later at the age of 97 or 98.
Those are just some of the real-life characters who played a prominent role in the events of Tombstone. With so many more to explore like Henry Hooker (Charlton Heston), Billy Breakenridge (Jason Priestley), Sheriff Johnny Behan (Jon Tenney), and numerous others, it's never a bad idea to go back and look at the lives and times of those who were turned into some of the most iconic western characters in the past 30 years.
Your Daily Blend of Entertainment News
Philip grew up in Louisiana (not New Orleans) before moving to St. Louis after graduating from Louisiana State University-Shreveport. When he's not writing about movies or television, Philip can be found being chased by his three kids, telling his dogs to stop yelling at the mailman, or yelling about professional wrestling to his wife. If the stars properly align, he will talk about For Love Of The Game being the best baseball movie of all time.