Back To The Future Story From Michael J. Fox About Princess Di May Make You Pee Your Pants (He Almost Did)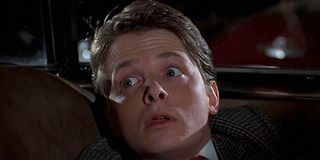 Michael J. Fox has been acting for over 40 years. Within that time, you better believe the Back to the Future star has had some interesting stories to tell. In this case, he told about a time back when he sat next to Princess Diana at a Back to the Future premiere in London but suddenly had to go pee and didn't know what to do.
When Michael J. Fox went to the Back to the Future premiere in London, he was in the theater with an empty seat next to him. He had heard the British royals were coming to the premiere but wasn't sure if one would sit by him. Lo and behold, Princess Diana sat in the empty seat right next to him. Unfortunately, things only went downhill from there as he told The Tonight Show with Jimmy Fallon that he had to hold his bladder through the whole movie:
I bet most people have a good idea what that's like, and yeah, it's the worst. Still, Michael J. Fox's experience certainly takes the cake for being unique and especially excruciating. At least he got a good anecdote out of it.
With his latest book No Time Like The Future coming out, Michael J. Fox has been opening up more recently about his time on the Back to the Future set and the actors he's crossed paths with. In one case, he shared how he spent four weeks learning the guitar and dance moves for the classic Johnny B. Goode scene in the movie, which put a ton of pressure on him to perform, especially when they did close up shots of his fingers on the guitar.
The actor also given more details about his struggle with Parkinson's disease. In 2018, Michael J. Fox discovered there was a benign tumor on his spine. After it was removed, he struggled to walk and went through physical therapy to regain his strength. But, he said that time was one of the "darkest moments" of his life. Yet, despite the struggle, he's maintained his optimism about life and the future. Check out his interview below:
Your Daily Blend of Entertainment News
Your Daily Blend of Entertainment News
Thank you for signing up to CinemaBlend. You will receive a verification email shortly.
There was a problem. Please refresh the page and try again.