Wonder Woman 1984's Pedro Pascal Reacts To The Sequel's HBO Max Release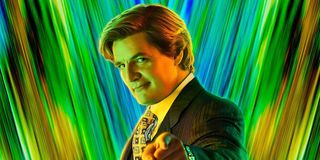 In times as uncertain as these, sometimes it's best to try to focus on the positives. That seems to be exactly what Wonder Woman 1984 star Pedro Pascal is doing these days. After Warner Bros. announced that the long-awaited film will be available for streaming on HBO Max at the same time it hits theaters, the actor reacted to the latest change in its release schedule with an encouraging post on Instagram.
On November 20, Pedro Pascal uploaded a new set of photos to his personal Instagram account. Alongside the images of himself and his Wonder Woman 1984 castmates, he offered up his thoughts in a bilingual message aimed at hyping up the upcoming film, which hits theaters on Christmas Day. Check it out below:
It sounds like Pedro Pascal is just as relieved as everyone else for fans to finally get a chance to see Wonder Woman 1984. The film has dealt with numerous setbacks -- it was first scheduled for December 2019, then pushed back to June 2020. The COVID-19 pandemic later forced the studio to further delay the highly anticipated sequel to October 2, 2020.
That date didn't work either -- and Warner Bros. once again push Wonder Woman 1984 back, though with an undetermined release date. With no definitive end to the pandemic in sight, there's been a lot of speculation in the weeks since as to what the studio's strategy would be. Many wondered whether the movie would be pushed back to 2021 or if it would even hit theaters at all.
Now that we know the rumors about a dual-release are true, fans can relax a little bit, as can those with a stake in Wonder Woman 1984's success. Even AMC Theaters, which has struggled mightily this year in the wake of the pandemic, seems to be putting a positive spin on the news.
It'll be interesting to see what happens with Wonder Woman 1984 -- especially when it comes to the number of people that it's able to draw to movie theaters. Other films that switched to digital-only releases seem to have been relatively successful, so the multiple options could work to the movie's benefit. A Christmas Day release also brings some added attention to it -- though it also means it will have some competition.
While director Patty Jenkins and returning stars Gal Gadot and Chris Pine have obviously been waiting for what feels like forever for the sequel, the whole cast and crew must be relieved. Pedro Pascal joins the Wonder Woman franchise, playing villain Maxwell Lord -- and we know that he took a unique approach to bringing the character to life. More than a year after it was originally planned to hit theaters, we'll finally get to see what he'll bring to the series.
Your Daily Blend of Entertainment News