Wonder Woman 1984's Pedro Pascal Is Rocking Adorable Diana Prince Jewelry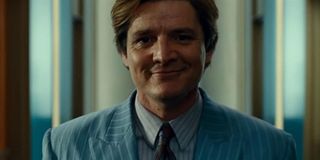 All year, DC fans have been eager to see Wonder Woman 1984. Of course, those hopes have mostly been dashed with continued delays. Now it seems like Wonder Woman 1984's Pedro Pascal is missing it about as much as everyone else by showing off some adorable Diana Prince jewelry.
Of course, Wonder Woman 1984 will be Pedro Pascal's first foray into the franchise, set to play the antagonist Maxwell Lord, a villain with quite a history in the DC universe. Though his character will be butting heads with Diana Prince in the movie, Pascal seems to miss working on the set as he recently took to social media to show off some cute Lego jewelry. Take a look:
That's super cool. Pedro Pascal clearly loved working on Wonder Woman 1984. This small token must be his little way of continuing to connect with the franchise, amidst its many delays over the years.
After it was announced Pedro Pascal would be playing Maxwell Lord, he took the role very seriously. Recently it was revealed that he had prepared for the role in an unconventional way. Maxwell Lord, he acknowledged, was a type of role he'd never done before. Usually actors will take notes on a script and try to pinpoint motivations and write their own backstory, but Pedro Pascal took it a step further and created his own scrapbook of the character by cutting out pages of DC comics and manipulating them through Maxwell Lord's point of view.
From the looks of the latest trailer, this extreme method of getting into his character could pay dividends. Pedro Pascal's take on the charming, persuasive, and intelligent businessman persona of Maxwell Lord could be a different yet challenging adversary to Diana Prince, who primarily stops her adversaries with her fists. Plus, it'll be a change from his various action roles.
At this point, it's hard to say when we'll have a chance to see Wonder Woman 1984. Originally, it was set to release this October, but due to the continuing escalation of global events and the sub-par box office gains by Tenet, it has been pushed back to the end of the year in time for Christmas Day. But fans are also wondering if another delay might be in store for Patty Jenkins' second DC blockbuster.
In the meantime, while Pedro Pascal fans wait to see him play Maxwell Lord in Wonder Woman 1984, they can catch him playing Mando in Disney+'s The Mandalorian Season 2. The first episode just landed on October 30th and it included some big surprises.
Though it's hard to wait to see Wonder Woman 1984, from everything we've seen up to this point, it looks more than worth the wait. Here's hoping they can hold on long enough to show it in theaters rather than directly to streaming. That way we can see Pedro Pascal's Maxwell Lord the way he likely would want his character to be seen.
Your Daily Blend of Entertainment News
Your Daily Blend of Entertainment News
Thank you for signing up to CinemaBlend. You will receive a verification email shortly.
There was a problem. Please refresh the page and try again.