Disney World Has A Strategy For Parkgoers Who Don't Comply With Mask Rules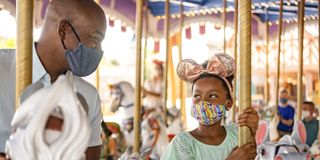 It's no question that Disney World has been serious about mask-wearing ever since the parks reopened in Florida a few months ago. The company has already had to change rules a few times related to mask compliance by parkgoers. Now, it looks like Walt Disney World is even stopping rides and attractions if fans aren't complying with the rules.
A new report from a parkgoer who recently rode The Magic Kingdom's Carousel of Progress ride witnessed the ride stopping after one sneaky parkgoer decided to take an air-conditioned opportunity to de-mask. During the 1900s period of the ride, Inside the Magic reports the show stopped in its tracks and the Cast Member attending the ride got on the speakers to declare a person had taken off his or her mask and the show would not begin again until the situation was rectified. Apparently, the parkgoer in question hopped to it, because the ride began again almost immediately.
Having visited Walt Disney World during this mask-going period, I can confirm that ahead of the Hall of Presidents show a cast member did straight up tell people to stay socially distanced, only sit in chairs that were clearly marked and keep their masks on. The implication at the time was that the show would be stopped if the rules weren't followed, so hearing that this happened in real time makes sense. However, it does make it clear that cast members are not messing around when it comes to the new rules, even if it means stopping the magic for a minute or two.
Walt Disney World has clarified major points previously outside of rides and other attractions. The first is that you must wear a face covering that fits the rules. Neck gaiters are not allowed and masks must have "at least two layers," "fully cover the nose and mouth and secure under the chin" and more. There's signage before you enter and around the parks to make all of this clear.
Other rules have had to be changed in the parks as people have not abided by the spirit of the rules laid down when the parks reopened. For example, both Universal Studios and Disney World changed rules related to eating after people would wander around the parks maskless while carrying drinks or food items, saying they were eating or drinking. The new rules in both parks mention you need to be stationary and social distancing if you take your mask off to eat or drink.
A specific rule banning eating and drinking in attractions lines was also added recently after people were using lines as a way to eat. I can see why this rule was likely added, as I witnessed a family holding food who were told by a cast member before entering a queue at Animal Kingdom that eating in line wasn't feasible since you had to be stationary. They stopped eating long enough to get in line and then took their masks off every time the line paused from moving to "eat." So, these are things cast members are likely seeing and dealing with every single day.
Disney World has previously said that measures including mask-wearing, temperature checks, and lower numbers in the parks have all enabled cast members to work safely without getting exposed to Covid-19. Rates are currently going up across the U.S., but so far theme parks have not been a major source of worry.
Your Daily Blend of Entertainment News
Reality TV fan with a pinch of Disney fairy dust thrown in. Theme park junkie. If you've created a rom-com I've probably watched it.