That Nicolas Cage Movie About Nic Cage Is Rounding Out Its Cast, And It Really Is The Unbearable Weight Of Massive Talent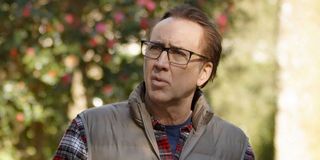 Nicolas Cage has had a… shall we say, unique career in Hollywood. The man's clearly talented, as demonstrated by his numerous accolades (including winning both an Academy Award and Golden Globe for Leaving Las Vegas), but he's also delivered a lot of weird, and in some cases downright bonkers performances over the years. Well, we'll soon be getting what may be his weirdest performance ever, as Cage playing a fictional version of himself in The Unbearable Weight of Massive Talent.
For those of you who are just hearing about The Unbearable Weight of Massive Talent for the first time, the movie follows a version of Nicolas Cage who's creatively unfulfilled, struggling financially and eager to work with Quentin Tarantino. This paves the way for Cage accepting $1 million to attend a super fan's birthday party, but when danger rears its ugly head, he's forced to embody some of his most iconic and beloved characters in order to save his wife and daughter. So who's making up the cast of The Unbearable Weight of Massive Talent? That's what we're here to go over, and let's start off by talking a little more about the main man himself.
Nicolas Cage
Most of Nicolas Cage's credits in recent years might not be as high profile as his body of work from the 1990s and 2000s, but that doesn't mean they're any less interesting. From voicing Spider-Man Noir in Spider-Man: Into the Spider-Verse to starring in off-the-wall live-action features like Mandy and Color Out of Space, Cage has not had any issues picking projects that effectively stretch those acting muscles. Needless to say it'll be interesting to see how the fictional Cage differs from the real-life one, but more importantly, just imagine how crazy things will get when he starts embodying roles from years past.
Pedro Pascal
Many of you are currently seeing Pedro Pascal playing The Mandalorian's eponymous protagonist on Disney+, with his other notable credits of late including Kingsman: The Golden Circle, The Equalizer 2, Triple Frontier and the upcoming Wonder Woman 1984. For The Unbearable Weight of Massive Talent, Pascal is playing Javi, the billionaire super-fan who hires Nicolas Cage to come to his birthday party and read his script. As it turns out though, Javi is also a drug lord, so Cage is recruited by the CIA to gather intelligence about this criminal, even as the actor's family is put in danger.
Sharon Horgan
In real life, Nicolas Cage has been married four times, while in The Unbearable Weight of Massive Talent Universe, he has at least one ex-wife. Sharon Horgan will play his former spouse who gets drawn into these crazy events, and while no specific details about her character have been revealed yet, one can reasonably assume this won't be a fictional version of someone like Patricia Arquette or Lisa Marie Presley. Horgan is arguably best known for starring in the TV shows Pulling and Catastrophe, as well as creating HBO's Divorce.
Lily Sheen
When things go south in The Unbearable Weight of Massive Talent, not only will Nicolas Cage's ex-wife be put in danger, but so will his daughter, played by Lily Sheen. The daughter of actors Michael Seen and Kate Beckinsale, Lily Sheen appeared in a few movies as a child, including Underworld: Evolution (as seen above), Click and Everybody's Fine, but Unbearable Weight will mark her first cinematic appearance in over a decade.
Tiffany Haddish
Ever since she stole the show in 2017's Girls Trip, Tiffany Haddish has been keeping incredibly busy on both the film and TV fronts, with her recent body of work including Night School, The LEGO Movie 2: The Second Part, Like a Boss, Tuca & Bertie and The Last O.G. For The Unbearable Weight of Massive Talent, Haddish is reportedly playing Vivian, described by THR as the "eccentric, rogue government agent" who forces Nicolas Cage to go undercover as part of an off-book operation to bring down one of the world's largest criminal organizations for good.
Neil Patrick Harris
Nicolas Cage won't be the only actor on The Unbearable Weight of Massive Talent who's played a fictional version of themselves. Most of you likely know Harris best for playing Barney Stinson on How I Met Your Mother, or maybe you have fond memories of him from projects like Doogie Howser M.D., Starship Troopers and A Series of Unfortunate Events, but let's not forget his run from the Harold and Kumar movies as an unhinged NPH. Harris has joined The Unbearable Weight of Massive Talent as Nicolas Cage's talent agent; whether he'll be directly drawn into the actor's insane adventures remains to be seen.
Along with the above actors, The Unbearable Weight of Massive Talent is being directed by Tom Gormican, who also co-wrote the script with producer Kevin Etten. Right now, Lionsgate intends to release the movie on March 19, 2021, but if that date changes, we here at CinemaBlend will let you know. Find out what other feature films are coming out next year by scanning through our 2021 release schedule.
Connoisseur of Marvel, DC, Star Wars, John Wick, MonsterVerse and Doctor Who lore. He's aware he looks like Harry Potter and Clark Kent.
Your Daily Blend of Entertainment News
Thank you for signing up to CinemaBlend. You will receive a verification email shortly.
There was a problem. Please refresh the page and try again.