Happiest Season Ending: How Things Ended For Each Character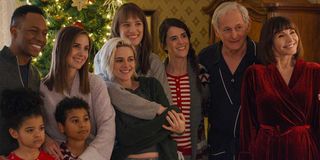 (Image credit: (Hulu))
In a holiday season packed with new Christmas movies to get us all warm and cheery, Happiest Season lives up to its title. Clea DuVall's romantic comedy tells a laugh out loud, moving story about coming home (and out) by the Christmas tree with loved ones with a smart script and talented-to-the-brim cast led by Kristen Stewart. Clearly I'm smitten with this holiday treat, so why not talk out how the movie left things for each character?
First it's time to warn you, if you have not seen Happiest Season, head over to Hulu (opens in new tab) first and check out the new streaming release. I'll still be here with a 'spiked alcohol' for you to sip along to after you've seen the movie. Spoilers are ahead for Happiest Season. Now that secret is out, let's get into the specifics of this sweet romantic comedy and its ending.
Abby And Harper Reconcile And Get Engaged
Happiest Season's main focus is on Kristen Stewart's Abby and MacKenzie Davis' Harper, and I'll be honest here, there was a genuine moment there where I was not sure if they'd have a happy ending. The movie revolves around Harper asking Abby last minute to go along with her and pretend they are both straight and not in a relationship together. Harper's plan of course spirals into disaster as she alienates her girlfriend further and further throughout the movie until Abby reaches her utmost limit. Abby is on the verge of leaving for home with Dan Levy's John when Alison Brie's Sloane spots them together and outs her in front of everyone during the family White Elephant party. Still uncomfortable about coming out, Harper denies her truth until the party has ended.
Heartbroken by Harper's actions, Abby still leaves after she finally comes out to her family. She has a heart to heart with John, that allows her to realize that she wants and deserves to be with someone who is ready to accept their queer identity. John brings up a valid point about how everyone's coming out story is different and has its own timing to it, giving Abby some added empathy for her girlfriend. It sounds like Abby had an easier time telling her parents before they died than Harper's situation is calling for. Later, while Abby and John are at a gas station, Harper pulls up and assures Abby that she is in it for the long haul and begs for a second chance. And a year later, the pair are happily engaged as Abby had originally planned.
There's A Glimpse Of Optimism For Sloane And Her Husband
Sloane, Harper's eldest sister is important to Happiest Season not only because of her cruel outing of her sister, but because the character played by the Community and GLOW actress shows that the family's problems with honesty ran a lot deeper than a case of homophobia. Sloane is clearly high strung as is, and has a major competitive streak going with Harper, but we find out the real deep seated issue here is a pending divorce between her and her husband Eric (Burl Moseley). After Harper comes out, Sloane confesses that she and Eric have been separated for months. At the end of the movie, the parents exchange a cute glance at each other, signaling they'll either work things out or at least find happiness as co-parents.
Jane Becomes A Best-Selling Fantasy Author
The oddball sister of the Caldwell kids is Mary Holland's Jane, who actually co-wrote the screenplay with Clea DuVall by the way! No wonder she got some of the funniest lines. At first Jane just seems kind of annoying. You know that family member you don't exactly want to be caught alone with on Christmas Eve. But by the end of Happiest Season, she was my favorite of the family. She's fiercely devoted to her family and a really talented artist. Even though her painting was slashed by her sisters, she finished writing her fantasy book Shadow Dreamers and the Second Sister, which turned out to be a New York Times bestseller.
Tipper Strikes Up A New Hobby In Karate
The matriarch of the Caldwell family is Mary Steenburgen's Tipper, who is obviously fabulous, but also a total mom and someone one would totally say "MOOOM!" about. You know in that voice people do? Tipper can be a bother in Happiest Season, but by the end of the movie, you can tell she genuinely cares about her family and would do anything to make sure they are living their best lives. Once Harper and Sloane tell the truth, Tipper confronts her husband Ted (Victor Garber) to reflect on how they may have been reaching for unrealistic perfection with his Mayor campaign. Following the movie's conclusion, Tipper takes up karate as she had vocalized to her husband. Do you think she's binged Cobra Kai?
Ted Gets Elected Mayor Without Selling His Family Out
Harper's father is Ted, played by Victor Garber, who is of actually part of the gay community in Hollywood, but here he's playing a dad's dad who is running for Mayor. Ted is all about reputation and good impressions, but you can tell he's got a sweet side to him too. There were a few moments there where I really felt like Abby was going to go up to him and ask for his blessing and everything would be OK. But, this family really needed the roots pulled out from under them.
At the end of Happiest Season, Ted's chances of getting support from Ana Gasteyer's character and impressing his guests seem out the window after Harper and Sloane's public fight. Once Tipper speaks to him about their dumb "perfect" ways, Ted snaps out of it and accepts his family with open arms. Directly after, he does receive a call from Gasteyer's Harry Levin who is willing to give him leadway, but only if Harper stays quiet about her being in a relationship with a woman. He rejects the offer, and a year later he has become mayor anyway through other avenues. Yay!
Riley Finally Gets Closure With Harper
A surprising standout in Happiest Season is Aubrey Plaza's Riley. I mean obviously Aubrey Plaza is amazing, but she dazzled in this rom-com in an earnest way that she's not always utilized for ensemble roles. Riley is Harper's first girlfriend who unexpectedly becomes part of the Christmas festivities, along with Harper's ex-boyfriend Connor (Jake McDorman).
While Connor is clearly attempting to swoop in, Riley is very much off to the side. When she catches wind of Abby's situation, the pair bond in town and Riley tells Abby about what really happened between her and Harper back in the day when they were dating. When their love letters were made public, Harper denied it and threw Riley under the bus. Riley isn't a vengeful ex, but one that helps out Abby a lot. At the end of the movie, Riley is able to see that Harper's actions had little to do with her, and was all about not being comfortable with herself and around her family. We love closure! Oh and Connor? He pretty much becomes irrelevant by the end of Happiest Season.
John Definitely Killed A Fish, But He Becomes An Honorary Part Of The Family Too
And last but not least is maybe the true hero of Happiest Season, John, played by Schitt's Creek creator, producer and star Dan Levy. John's role in the movie initially is to take care of Abby's pets while she's away at Harper's and he's not doing the best job of it. Midway through the movie it's made clear he's totally killed one of their fishies and is actively looking for a replacement for her. He's also an expert tracker, who decides to drive all the way to rescue Abby at the exact moment she really needs him.
John is instrumental to getting Abby to understand that not every coming out story is cut and dry. At the end of Happiest Season, we don't get a life update from John, but he seems to be an active part of the family, going to Pride Day with them and catching movies with them. It's cute because as John says, since he had come out to his family, he's been completely disowned and estranged from them.
Happiest Season is such a warm and fuzzy movie! What did you think about the ending? Sound off in the comment below and check out what movies and TV shows are coming to Hulu in December with CinemaBlend's list.
Up next: 'Happiest Season' Interviews: Alison Brie, Clea DuVall & More Discuss Their New Hulu Holiday Movie
YA genre tribute. Horror May Queen. Word webslinger. All her writing should be read in Sarah Connor's Terminator 2 voice over.
Your Daily Blend of Entertainment News
Thank you for signing up to CinemaBlend. You will receive a verification email shortly.
There was a problem. Please refresh the page and try again.