How Being In Elf Prepared Mary Steenburgen For Happiest Season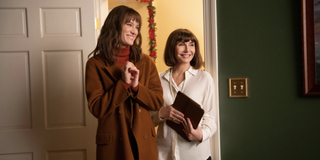 Warning: Spoilers ahead for Happiest Season. Read at your own risk.
Acting in one of the most iconic Christmas movies of all time is a huge accomplishment. Appearing in two? That's pretty legendary. Mary Steenburgen has now appeared in both Elf and the instant classic Happiest Season -- and she admitted that her role in the Will Ferrell hit actually helped her prepare for the work she'd do in the new romantic dramedy.
Happiest Season, from writer-director Clea Duvall, tells the story of Abby (Kristen Stewart) and Harper (Mackenzie Davis), a young couple that travels to see Harper's family for Christmas. When Harper reveals that she hasn't come out to her parents yet, it puts their relationship in danger and forces her to make a choice about following her family's wishes or following her heart.
Mary Steenburgen plays Harper's mother, Tipper -- a perfectionist who's consumed with helping husband Ted run a successful mayoral campaign. When CinemaBlend's Jeff McComb asked Mary Steenburgen if she'd taken any inspirations for her performance from classic movies, the actress had a bit of a surprising response:
If you've seen both films, then it's really not that surprising at all that Mary Steenburgen would want her Happiest Season character to be different than the one she played in Elf. In the former film, she plays Buddy the Elf's stepmother, Emily. While she takes it upon herself to take him in, she also refuses to see him as anything other than troubled and that his belief that he is one of Santa's elves is something he needs to recover from.
Tipper, too, isn't a perfect parent. Harper eventually confesses to her and Ted that she worried that having a gay child wasn't part of her parents' plan for their lives.
The film ends with Harpers' parents having to confront the ways their quest for perfection has hurt themselves and the ones they love. They accept her for who she is, and everyone lives happily ever after. It's a hopeful message that resonates for many -- and one that Mary Steenburgen seems to embrace wholeheartedly.
The esteemed actress has already made it clear that she had a blast filming alongside stars like Kristen Stewart. Even though some of their scenes together were pretty heavy, Mary Steenburgen admitted they couldn't keep a straight face when they filmed them.
Happiest Season was originally intended for a theatrical release. However, due to the situation with the COVID-19 pandemic, it was released instead for streaming on Hulu (opens in new tab), where you can watch it now.
Your Daily Blend of Entertainment News