X-Men's Ian McKellen Has An Issue With How Magneto Is Pronounced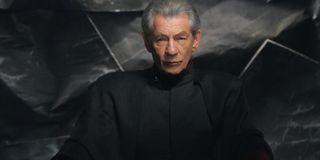 It can never be stated enough that the world spins on the axis of the little things, especially when the internet is involved. We've seen debates over dress colors, audio recordings and the quality of Star Wars: The Rise of Skywalker all become hot button issues, with the takes being just as spicy as the subject matter. Brace yourselves, folks, because we have a new challenger for what debate will burn up social media next. As you'll see in the tweet below, Sir Ian McKellen has an issue with how his X-Men character Magneto's name is pronounced, and it's a pretty good question.
Recently there was a ranking of Sir Ian's appearances as Magneto in the X-Men series, which feels like a firebrand of a conversation waiting to happen right there. But rather than taking to Twitter to discuss how this ranking cheated by consolidating the "Prequel Trilogy" and the "Original Trilogy" into singular entries, McKellen brought up a query that was sitting right in front of our eyes: how has the world continually called Erik Lehnsherr "Mag-neet-o" and not "Mag-net-o?"
Well, just as sure as Sir Ian McKellen was last seen portraying Magneto in 2014's X-Men: Days of Future Past, it seems that linguistics of the future and the past have always pronounced that particular word in that fashion. Or, at least, that's what it feels like based on the popular version of that Marvel character's name. Though, there was some interesting commentary in the tweets responding to this very pressing question.
Everything from the lack of a double T in the name, to the fact that the electrical power generator he's named after is pronounced that same way, has been brought up in the ensuing scrum. But, of course, we probably haven't heard the end of this debate for a while. And seeing as Sir Ian McKellen, the man who starred as Magneto in X-Men movie history for many years, is asking the question, it's not like this question is coming from an invalid source.
It's going to be a long while until the Marvel Cinematic Universe likely introduces the X-Men characters onto the big screen, so there's no pressing need to have the answers just yet. But with a new actor undoubtedly stepping into the role, and Sir Ian McKellen's opinion being quite respected, isn't it about time we try to figure this out before the next era of X-Men dawns on fans across the world?
No matter how you pronounce his name, or whether you prefer Sir Ian McKellen's portrayal, Michael Fassbender's portrayal or any of the various animated incarnations of X-Men's Magneto, you can find most of this mutant adversary's works available on Disney+. That's especially pertinent to those of you who want to know how X-Men: Days of Future Past's time travel works. Just thought we should mention that, no specific reason why.
This poll is no longer available.
CinemaBlend's James Bond (expert). Also versed in Large Scale Aggressors, time travel, and Guillermo del Toro. He fights for The User.
Your Daily Blend of Entertainment News
Thank you for signing up to CinemaBlend. You will receive a verification email shortly.
There was a problem. Please refresh the page and try again.