Ellen DeGeneres Overnights The Black And Blue Dress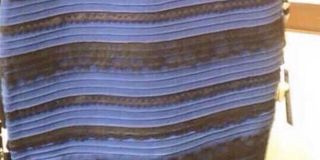 By now we've all heard of the infamous dress that blew up the internet Thursday. It's white and gold right? No, it's most definitely black and blue. With pretty much everyone on earth chiming in on the subject, we will most certainly eventually get to the bottom of this mystery. Now, with Ellen DeGeneres overnighting one of infamous black and blue dresses, presumably to end the debate on NBC's The Ellen DeGeneres Show, we will hopefully get some answers soon.
From pop star Taylor Swift, who called it "obviously blue and black", to The Office's Mindy Kaling and B.J. Novak (team white and gold), everyone seems to have a differing opinion on the above dress in question. According to THR, Ellen ordered one of the controversial dresses "via the fastest express delivery available" on Friday, which means it could show up on the television personality's show as early as Monday morning. As of this moment we can only speculate as to what Ellen's plans are for the dress but it is likely she'll have it on her show first thing Monday in an attempt to put the issue to bed, or more appropriately, on a hanger in the closet.
The colors of this dress may seem obvious at first glance but in our own poll conducted yesterday readers are pretty split between the two with "white and gold" receiving 45% of the vote, 38% seeing "blue and black" and 17% having no idea what they see.
Just incase you are as confused as I was when I first read about the dress, it is not the $150,000 dress that was stolen from Lupita Nyong'o after the Oscars. But don't take it from me, let Jimmy Fallon clear things up for you:
The dress aka #TheDress may not cost $150,000 but after all of the internet hype and social media hoopla surrounding it, the value of the stylish garb will most certainly go through the roof. The UK-based company behind it, Roman Originals, has already seen an uptick in sales as high as 500% over previous demand of the dress. They have also seen a 2,000% increase in overall website traffic.
Ian Johnson, creative manager of Roman Originals stated that if sales continue to trend at the same rate they will not have enough inventory to last through the weekend. What does he think will happen if Ellen brings the notorious dress on her show? Hopefully for the worldwide interwebs, we'll finally get an answer as to the color pattern!
Your Daily Blend of Entertainment News