Steve Carell's Best Movie And TV Performances, Ranked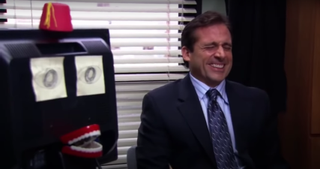 About twenty years ago at the start of the 21st century, the name "Steve Carell" was unknown, and the world had yet to know about the comedic legend that blew up cinema screens in the early 2000s. Now, Steve Carell is a household name that people use to describe feel-good movies, as well as hilarious TV shows, such as The Office. He built his career from comedies, with roles in famous comedic classics such as Anchorman: The Legend of Ron Burgundy and The 40-Year-Old Virgin, and he has only just begun to expand his range, and show that not only can he make us laugh – he can make us cry.
But with how many projects Steve Carell has been in, there has to be a certain ranking of the best movies to watch that feature everyone's favorite newsman. And you'll find that there's actually plenty of options to pick from, depending on what your favorite genre is. From animated films to Oscar-nominated films, Carell has shown that he has range, and is going to be bringing a whole lot more to the big screens in the future. So take your pick, and sit on down for a good hearty laugh.
10. Vice (2018)
I know, for people who are probably big fans of Steve Carell, some might wonder why I'd be putting a movie like Vice on this list, but honestly, it's because of how great Carell is within the film, and in the character he plays. The fact that this one is only number 10 just shows how amazing he is at the range of these movies. For those who don't know, Vice is about the former Vice President of the United States under George Bush's presidency, Dick Cheney. Steve Carell portrays Donald Rumsfeld, who at the time was the U.S. Secretary of Defense until 2006.
While this wasn't the first time Carell has stepped into the drama world (as seen with some of the other entries on this list), it shows how much he had changed as a dramatic actor in just a short span of time. Keep in mind that this film is entirely for people who enjoy politics – it's solely about that and covers the timespan of George Bush's presidency, while also showing a bit of time beforehand. Carell doesn't come into the film until a little way in, but the wait is worth it to see him pull-off the usually sour face of Donald Rumsfeld, and actually add some life and light to him.
9. Battle of the Sexes (2017)
I told you, this list is all over the place. Now we're stepping into the sports genre, where Carell plays Bobby Riggs, an American tennis champion who was the number one player in the world in the 1970s. Emma Stone stars alongside him as Billie Jean King, and the story covers the 1973 tennis match between the two – a battle of the sexes, which had never been done before in the game of tennis.
You might not believe that a man who made a living making silly jokes and starring in movies that constantly make fun of his own characters would show so much skill in something like tennis, but he does. And not only that, but the storyline is amazing as well. Carell (as well as Stone) provides parallels to today's sports standards, where women are paid much less than men in the same sports. It's worth a watch if you're really into sports and drama, and Carell plays the role well.
8. The Big Short (2015)
I never thought I would ever get into money or finance films, but that changed the moment I saw the cast for The Big Short, which of course included Carell in a starring role as Mark Baum, a leader of FrontPoint Partners. The whole entire film is about the collapse of the stock market during the American recession from 2007-08. Carell performs the role perfectly as a man who is absolutely disgusted with the American banks and doesn't quite know what to do once everything begins to fall apart.
I know, the very idea of diving deep into the economics of the world can sound daunting – it was for me at first too – but it's not completely about that. It's more about the interactions between the characters, and what grows from that, and how each little step leads to what we now know as the 2008 Recession. The direction makes this sort of movie engrossing and the stars alongside Carell only add to the interest that develops when you watch this film (pun intended).
7. Crazy Stupid Love (2011)
I'm not a huge romantic comedy girl. Never have been and probably never will be. But damn it if I didn't fall for Crazy Stupid Love the moment I watched it because it just makes sense. Carell's starring role as Cal Weaver feels so freaking relatable and makes me feel like even when love doesn't seem to be working out, there's always a way to find a way back to it.
Not only does this movie give great insight about love in general, but it also proposes other themes such as family values, love, and loss, heartbreak, self-esteem – really the whole nine yards. Although I don't consider this Carell's first drama movie (which is later on down this list), I do think this is one of the films that lead him into taking more assertive film roles that weren't completely related to comedy. I mean, who doesn't want to watch Steve Carell get made over by Ryan Gosling?
6. Anchorman: The Legend of Ron Burgundy (2004)
Another big hit that really started to set Carell off in the right direction was Anchorman. While it didn't directly star Carell (Will Ferrell was the leader of this film), his side character of Brick Tamland was laugh-out-loud hilarious and rained down immediate joy onto audiences whenever they watched him.
Not only did he have great chemistry with Ferrell, Paul Rudd, and David Koechner as the ultimate newscasters, he proved that he could be a side character in a movie and still show that he was funny and could share the light. And I mean, come on, who wouldn't want to watch a film with a character whose name is Brick? That's just a recipe for comedy. He may not be the smartest man out there, but Brick Tamland has us wrapped around his fingers.
What makes it even better is that Steve Carell is down for a third movie - now wouldn't that just be amazing?
5. Despicable Me Series (2010-present)
I know. I'm bloody tired of the minions as well. Sometimes I quite literally turn off my TV anytime I see a commercial of theirs come up. But let's go back to a simpler time, before minions – when all we really knew about this upcoming movie was Steve Carell's Gru, the supervillain that didn't seem so super, and was going to capture the moon until three little girls came into his life.
I feel like I don't even need to talk up this movie. If you haven't seen this adorable animated feature, go and pop a squat and enjoy it. I absolutely love every single second, from Gru's character development from evil man to loving father, and even at first the minions making their appearance – but god, please stop the minion movies. Just stop.
4. Little Miss Sunshine (2006)
This movie is sad and adorable at the same time.
It's so hard to pick a favorite actor in this because Steve Carell, along with everyone else, does such an amazing job of showing just how a family can be. How a family can look completely fine on the outside but everything is falling apart on the inside. The truly tragic moments of life. But there are also these moments that make you laugh out loud and say aww at the screen, and you just don't know how to feel. Carell is completely a part of that, portraying Frank, a gay man who has recently tried to commit suicide.
If that doesn't pique your interest, the classic 'Super Freak' scene will.
3. The 40-Year-Old-Virgin (2005)
I know that as soon as you hear the name 'Steve Carell,' this is one of the things you think of. And rightfully so. Steve Carell's performance as Andy Stitzer is a classic, if not for the famous "Kelly Clarkson!" scene, then for the story that it all holds in our hearts. Another classic love story that is seated with comedy to make us all think 'hey, at least I'm not him.'
But if you are then that's alright too. We all need those friends to get us out of our basements sometimes.
2. Foxcatcher (2014)
Now, this is the film that introduced me to the dramatic Steve Carell. Again, I never thought I would be interested in sports movies but this one took the cake in terms of Carell's acting. The sheer amount of talent that this man has - along with the cast as well - while playing John Eleuthère du Pont is absolutely astounding. Not only is it a fresh breath of air compared to many of Carell's other performances, but it opens up a whole new set of films for him, most of which are on this list.
Who would have thought wrestling of all things could be dramatic? Well, if you're into WWE, maybe. But even with all the drama, this was the first movie where Carell was nominated for both an Academy Award and a Golden Globe, which shows the the recognition he got for this performance.
1. The Office (2005-2013)
Did you really think I'd make a Steve Carell list without including his most iconic character of all time? When everyone thinks of Carell, we automatically think of Michael Scott, the quote-unquote "World's Best Boss" while most of his workers seem to think otherwise. From his more cringe-inducing storylines such as Scott's Tots to famous quotes like "I am Beyonce, always," Michael Scott is the man with a plan – unless the plan is to get work done.
Carell was nominated for multiple awards for this role for good reason, and it's because of his time on The Office that he was able to secure such amazing roles as the ones on this list. While he did leave in Season 7 for his character to go off and have a family, he will always be in our hearts as our favorite yet problematic TV boss.
Big nerd and lover of Game of Thrones/A Song of Ice and Fire. Will forever hate season eight. Superhero and horror geek. And please don't debate me on The Last of Us 2, it was amazing!
Your Daily Blend of Entertainment News
Thank you for signing up to CinemaBlend. You will receive a verification email shortly.
There was a problem. Please refresh the page and try again.