Viggo Mortensen Reveals The Unused Lord Of The Rings Scene He Would Have Liked To Have Seen In The Film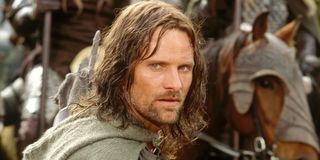 It's been nearly 20 years since the first Lord of the Rings film hit theaters -- but the impact the trilogy had on the cast and crew, as well as legions of fans worldwide, remains as strong as ever. The passionate response to the film series made it possible for plenty of additional content to be released but, despite that, plenty still remained on the cutting room floor. One of the trilogy's stars, Viggo Mortensen, even admits that there's one scene in particular he wishes had survived the editing process.
In Lord of the Rings, Viggo Mortensen played ranger-and-reluctant leader Aragorn. Though much of his story is focused on the way he learns to embrace his destiny, we also see his love affair with Arwen, a half-elf played by Liv Tyler. While they seem to be star-crossed lovers at first (with Aragorn resistant to letting her in), Return of the King ends with them not only as husband and wife but also king and queen.
The three films give us enough of an idea of their abiding love for one another to make their happily ever after work. But Viggo Mortensen recently told NME that there was even more to their story that didn't make the final cut -- and he thinks that's a bit of a shame:
The extended editions of each of the Lord of the Rings films did feature a bit more of Arwen and Aragorn's backstory but nothing to the extent Viggo Mortensen is referring to here. Maybe Peter Jackson still has the footage sitting on a hard drive somewhere and he'd be willing to share it with the world someday. The twentieth anniversary of The Fellowship of the Ring is just around the corner, after all.
Even if that is not the case, Lord of the Rings fans still have new content awaiting them. Amazon Studios' miniseries adaptation of J.R.R. Tolkien's books is still in the works, which means we'll get to see the beloved characters reimagined yet again.
Peter Jackson's The Lord of the Rings trilogy is currently available to stream on HBO Max.
Your Daily Blend of Entertainment News
Thank you for signing up to CinemaBlend. You will receive a verification email shortly.
There was a problem. Please refresh the page and try again.