Chadwick Boseman Always Played His African Drum For Healing And As A Way Of Talking To God, According To Viola Davis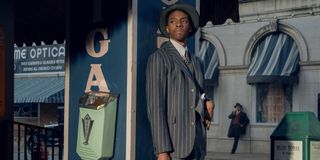 When the news of Chadwick Boseman's passing broke earlier this year, the pain was felt by many all over the world. While many of Boseman's fans did not know him personally, many feel that they did from connecting to his various roles or watching his inspiring actions and interviews. His final film, Ma Rainey's Black Bottom will be released on Netflix on December 18, and co-star Viola Davis shared memories of Boseman playing his Djembe Drum for healing and as a way of talking to God in an interview with CinemaBlend.
Knowing that Ma Rainey's Black Bottom is Chadwick Boseman's final film released, it's going to cement a lasting image of him for many audiences. With confidence, I say that image is a strong and beautiful one. Boseman gave his all to every performance, but Levee in Ma Rainey's Black Bottom is one of his best. His co-stars have shared wonderful memories of their time with him on set. I sat down with Viola Davis, who plays the titular character Ma Rainey, and here's the memory she shared:
Chadwick Boseman is best known for playing Black Panther, a role and a film that has inspired so many young children of color in particular. He was determined to film the sequel despite his health, which is even more of a testament to the wonderful man that he was. His Marvel co-stars shared tributes on his birthday, and Kevin Feige took time to speak of Boseman's character and work ethic while sharing plans for the Black Panther universe.
Beyond Black Panther, Chadwick Boseman had quite the acting career, and was adored by all who worked with him. His legacy will live on through all of his films, and to say his roles are ending on a high note with Ma Rainey's Black Bottom would be an understatement. He steals the show (with no disrespect to Viola Davis who is absolutely phenomenal in the film as well) because his energy radiates off the screen in a way that takes the audience on an emotional journey with his character in particular.
You can stream Ma Rainey's Black Bottom on Netflix beginning December 18. Here's a full list of December releases on Netflix. To narrow your choices, try one of these 10 great movies.
Your Daily Blend of Entertainment News
Obsessed with Hamilton and most things Disney. Gets too attached to TV show characters. Loves a good thriller, but will only tolerate so much blood.
Your Daily Blend of Entertainment News
Thank you for signing up to CinemaBlend. You will receive a verification email shortly.
There was a problem. Please refresh the page and try again.