10 Great Movies Coming To Netflix In December 2020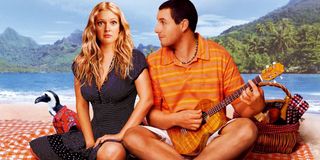 As Netflix is closing out 2020 with its exciting roster of TV and movie titles, there's always going to be some titles that outshine the rest. Be it the court of public opinion, or the personal dedication of cult-like fandoms, these movies are all enjoyed in their own special way. And now, thanks to the streaming giant's new library additions for December, you can mix some non-holiday titles into your queue, alongside seasonal debuts like The Christmas Chronicles 2 and The Princess Switch: Switched Again!
Should you want to see the entire rundown of TV and movies coming online in the month ahead, take a look at the full December 2020 lineup shared below. But if you're looking to the future, let's scan through the best and brightest heading to Netflix in December 2020! And lucky you, all of the following highlights will be available on December 1st.
50 First Dates (2004)
You're probably going to be watching a lot of holiday romantic comedies, as Netflix is just one of the major sources of such entertainment. While we're not saying you shouldn't enjoy a dose of love and laughter in these trying times, we do suggest getting some non-holiday offerings in the rotation. With 50 First Dates being added back to the rotation, Adam Sandler and Drew Barrymore will be around to help scratch that itch, while leaving the tinsel to the side.
Chef (2014)
With an occasion built around the togetherness of food, people are undoubtedly going to be tired of crafting cuisine after the first of many big ticket seasonal meals. But after watching Jon Favreau's indie hit/feel-good comedy Chef, you might just find yourself in the mood to work some magic in the kitchen again. You should watch this movie with your friends and family, if only so you can explain how your next holiday dinner consists of Cubanos and Pasta Aglio e olio.
Angels & Demons (2009)
There was a time when the Robert Langdon adventures could draw a crowd to your local movie theater. Angels & Demons is part of the proof, as it and The Da Vinci Code are both going to be streaming on Netflix in December. Out of the two earlier entries in Ron Howard and Tom Hanks' best-selling adaptations, this sequel adapted from the book that was actually published before The Da Vinci Code is arguably the better of the two films. Though you can thank the smaller scale of the adventure at hand, as well as a particularly brilliant Ewan McGregor performance, for that distinction.
E.T. The Extra-Terrestrial (1982)
Some movies are just linked to the holidays, as they were such big theatrical hits that they'd be trotted out on network TV as reasons to gather around the TV. Steven Spielberg's E.T. the Extra-Terrestrial is a great case of such a title, as the heartwarming blockbuster was treated as a big deal when it would hit any format outside of its theatrical release. That, and there's just something about crying together as a family when movies like these hit the holiday airwaves.
The Happytime Murders (2018)
On the other side of the entertainment coin, the puppet-infused murder mystery/raunchy comedy The Happytime Murders should not, under any circumstances, be enjoyed as a family. If you really want a Melissa McCarthy comedy for the family, Superintelligence is over on HBO Max. But if you're watching with friends, or those who won't ask too many questions when the profanity and silly string fly through the air, this just might be a fun time for all in the room.
Jurassic Park (1993)
DINOSAURS! Sorry about that outburst, but even if you've seen Jurassic Park a million times, your mind seems to automatically shout the word before you even see one of the creatures. A timeless Steven Spielberg classic, the Michael Crichton novel that inspired this cinematic cornerstone has just celebrated its 30th anniversary. So it's another excuse to watch this one again, especially if you've been missing it since its previous defection to the Peacock library.
Kung Fu Panda 2 (2011)
Family and food run strongly throughout the entire Kung Fu Panda trilogy, as Jack Black's Po loves to unleash his fighting powers for good as much as he does a good soup dumpling. Unfortunately, the first and last installment of the trilogy are not available on streaming at this moment; however, Kung Fu Panda 2 will be available on Netflix at the beginning of December. If you really want to have some fun, program this film as a double feature with Mank, and have the ultimate Gary Oldman-fueled mind trip!
Runaway Bride (1999)
Just as Tom Hanks and Meg Ryan could draw a crowd by merely teaming up for a rom-com, Richard Gere and Julia Roberts had the same sort of chemistry back in the day. And just as they'd started the decade with Pretty Woman, the pair reunited to close out the '90s with Runaway Bride. Some pairs are just too good to pass up on the screen, especially when they have someone like Garry Marshall directing both times out.
Monster House (2006)
Halloween might be over, but that doesn't mean you can't get some last minute scares out of 2020. Monster House's creative mixture of childlike wonder and a serious creep factor makes for an exciting adventure on its own, for sure. But when you throw in some unexpected emotion, you have a thrilling collection of surprises in store for you when you sit down to watch this animated hit.
Little Nicky (2000)
Sometimes, you just need to double down on the Adam Sandler fun. But instead of suggesting you merely go back and watch Hubie Halloween for another round of laughs, we have another Sandler classic to suggest from the Netflix library. Little Nicky is one of those Adam Sandler movies that's discussed a little less often than Billy Madison or Happy Gilmore, but it still has its hardcore fandom that keeps its memory alive. You'll have a devil of a time celebrating the holidays, should you choose to let Little Nicky into your home and heart for the holidays.
These are just some of the gifts that December 2020 will deliver to Netflix subscribers. If this is the list you've been waiting for, be sure to double check your queue before showtime. These titles are subject to change and availability, so if something looks like it's moved, there's a chance that it has. Stream responsibly, folks; and we'll see you back here around this time next month, where January 2021's best and brightest come out to play.
Senior Movies Contributor
CinemaBlend's James Bond (expert). Also versed in Large Scale Aggressors, time travel, and Guillermo del Toro. He fights for The User.
Your Daily Blend of Entertainment News
Thank you for signing up to CinemaBlend. You will receive a verification email shortly.
There was a problem. Please refresh the page and try again.