The Amusing Way Jamie Dornan Responded When Co-Star Emily Blunt Revealed She Hadn't Seen Fifty Shades Of Grey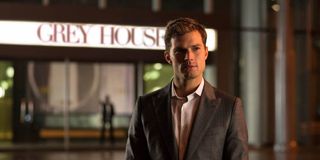 There was a time when it felt like everyone in the world was talking about Fifty Shades of Grey. Both the book series and the subsequent film adaptations became hot topics and helped make its lead actors huge stars. However, some people actually didn't latch onto the Fifty Shades fervor, including Jamie Dornan's new co-star, Emily Blunt, which actually may have been good news for the actor.
In Fifty Shades of Grey, Jamie Dornan plays Christian Grey, a super rich mogul-in-the-making with some dark secrets -- including what he gets up to in the bedroom. The franchise is well known for its super sexy themes (and the resulting controversy around them), and it would be a bit of an understatement to say that it helped turn Jamie Dornan into a worldwide sex symbol.
Christian Grey is definitely the kind of role that tends to follow an actor long after the cameras stop rolling, and it's something Jamie Dornan is definitely aware of. His Wild Mountain Thyme co-star Emily Blunt recently told ET that he had an interesting reaction when she told him she was out of the Fifty Shades loop:
Of course, just because Emily Blunt hadn't seen Fifty Shades of Grey, that doesn't mean she wasn't aware of who Jamie Dornan is and what he could bring to their on-screen partnership. Blunt was more familiar with some of the actor's other work:
There's something to be said for not having preconceived notions about someone before you work with them. While Jamie Dornan doesn't appear to have any negative feelings towards the Fifty Shades franchise, his relief at playing opposite someone who didn't think of him as Christian Grey shouldn't come as too big a surprise.
In the past, Dornan has been vocal about the pros and cons of taking on such an iconic role. While he's surely aware of the opportunities (and financial security) the Fifty Shades series afforded him, he's also revealed that he feels much more comfortable making indie films than he does taking on big studio roles. He's also made it clear the attention and scrutiny he received while playing Christian Grey was somewhat stressful.
Wild Mountain Thyme is definitely a departure from Fifty Shades of Grey - both films are romances, but that's about all they have in common. It's currently available to view in theaters and to rent on digital platforms.
Your Daily Blend of Entertainment News