The Fifty Shades Movies Have Been Really Lucrative For Jamie Dornan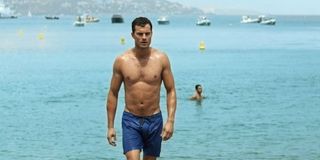 Fifty Shades Freed and the subsequent movies in the franchise have been really lucrative for the careers of leads Jamie Dornan and Dakota Johnson. Both actors have gone on to take bigger acting gigs following the third movie in the series. Johnson can next be seen in Suspiria while Dornan can next be seen in the remake of Robin Hood. Jamie Dornan went from an also-ran on Once Upon A Time to a Hollywood star in the space of just a few years thanks to Fifty Shades, and a recent report revealed he even made around £900,000 in dividends alone back in 2016 when the trilogy was still going strong.
A report from Jamie Dornan's firm, Where's The Danger Ltd., revealed the actor made the equivalent of $1,184,935 in dividends back in 2016. That year was the year the final two movies in the Fifty Shades franchise filmed; Fifty Shades Darker ended up hitting theaters in 2017 and Fifty Shades Freed followed a year later. Each movie in the franchise has made hundreds of millions of dollars worldwide, bringing the box office total for the three movies to well over a billion dollars. The Independent also notes that Dornan isn't the only person related to the franchise still raking in bonuses; sales of E.L. James' books are still high, raking in £10.2m in the year leading into September 2017.
That said, neither Jamie Dornan nor Dakota Johnson made a ton of money initially with Fifty Shades of Grey. Reports at the time indicated both actors made around $250,000 for their very naked involvement in the first film. Some bonuses were involved, but when the movie became a hit, both Dornan and Johnson sought additional payments for the second and third movies. Filming was at a standstill for a while, as director Sam Taylor-Johnson didn't want to be involved with the second movie and a new director had to be hired, and as payments were worked out. Regardless, after Fifty Shades of Grey brought in over $571 million worldwide, both Dornan and Johnson requested seven-figure raises for the latter two movies, which went on to make nearly $377 million and nearly $371 million, respectively. Not too bad for movies that cost a little over $50 million to make.
While the first film may not have paid out a huge salary, the Fifty Shades movies certainly seem to have paid off in exposure of a different kind. (No, not that kind!) Jamie Dornan has taken on higher profile TV and film gigs while working on the Fifty Shades movies and that seems as if it will only continue now that the end credits have rolled on Fifty Shades Freed. The highest profile of these is probably playing Will Scarlet in the new Robin Hood movie, but he's also set to appear in A Private War, the My Dinner with Herve TV film and Borderland, among other roles.
Many actors reevaluate and take on different types of roles after appearing in big franchise movies. (See Robert Pattinson as a prime example.) We'll have to wait and see if Jamie Dornan finds his niche, but for now he seems to be doing quite well for himself.
You can catch Fifty Shades Freed and the previous movies in the series out on Blu-ray and Digital, now.
Your Daily Blend of Entertainment News
Reality TV fan with a pinch of Disney fairy dust thrown in. Theme park junkie. If you've created a rom-com I've probably watched it.