Dwayne Johnson's Black Adam Movie: Release Date, Cast And Everything Else We Know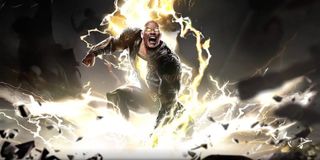 In January 2020, Dwayne Johnson announced that he had finally begun the preparation process for Black Adam. There has been talks for years about making a movie based on the popular villain-turned-antihero from DC Comics, but only now is the ball finally rolling. What can we expect from this new comic book movie, though? There's always a lot of anticipation when it comes to new projects from The Rock, and this one is particularly exciting being his first venture into mainstream superhero arena. There is a lot riding on this film, but hopefully all the waiting will finally pay off with something excellent when the blockbuster finally arrives.
Like all major comic book movies, certain details about Black Adam are being kept hush-hush for now, but over time we have learned a fair bit about the project. With that in mind, we've put together this handy guide to keep track of everything we know about the upcoming film thus far.
What Is Black Adam's Release Date?
Black Adam was originally slated to be released as a 2021 movie – but that move was made before anyone at Warner Bros. knew what kind of impact that the COVID-19 pandemic would have on the making of the film. With production pushed back from fall 2020 to spring 2021, the studio had to temporarily take the blockbuster off their slate of upcoming DC movies, but in March 2021 a brand new release date was announced, and now fans can expect to see the Dwayne Johnson film on the big screen July 29, 2022.
What Will Black Adam Be Rated?
Since Black Adam hasn't been made yet, it's hard to know for certain which direction the movie will be headed in terms of its official MPAA rating. Looking at WB's recent track record of DC adaptations makes it particularly hard to guess, as they've been developing R-rated projects like Joker and Birds of Prey alongside Shazam! and Wonder Woman 1984. That being said, given the expectation that Dwayne Johnson's Black Adam will eventually star in a crossover feature with Zachary Levi's Shazam, it's probably a fair bet that the material in the solo film will be material accessible to audiences of all ages and will get a PG-13 grade.
Who Will Direct Black Adam?
Black Adam will come courtesy of Spanish director Jaume Collet-Serra, and while you might not recognize the name, there's a fair chance you're familiar with his work. Not being one to stick to a single genre, Collet-Serra's resume includes the remake of House of Wax, the horror film Orphan, the Liam Neeson action feature Non-Stop, and The Shallows a.k.a. "Blake Lively vs. Shark." His most recent film, the Disney ride-inspired Jungle Cruise, features Dwayne Johnson opposite Emily Blunt, and clearly the two got along famously during production given that they are immediately reuniting for the DC Extended Universe blockbuster.
Are There Any Trailers Or Teasers For Black Adam?
With the film still moving through the stages of production, Black Adam footage doesn't actually exist that could be edited into a trailer, but as seen throughout this feature we at least do have a good visual sense of what to expect from the blockbuster. During the special Dwayne Johnson-hosted Black Adam panel at DC Fandome in August 2020, the movie showed off a whole bunch of concept art teasing what's to come. It doesn't contain any actual scenes from the movie, but you can get a taste of what we will be seeing in the video, which Johnson posted to his personal Instagram page:
The Characters And Cast Of Black Adam
Like any normal comic book-based solo movie, the central character in the film will be the one namechecked in the title, but he is hardly all by himself in the adventure. In the case of Black Adam, Dwayne Johnson is taking center stage, but in the story he will be facing off with the first big screen iteration of the superhero team known as the Justice Society.
Black Adam (Dwayne Johnson)
Created by Otto Binder and C.C. Beck, Black Adam is one of the most famous super-villains in the DC universe, and one that primarily serves as the antagonist and archenemy to Shazam (previously known as Captain Marvel). The film will explore the character's origins by beginning centuries in the past with the protagonist serving as a slave in an ancient country called Kahndaq. Believing that he has the capacity to be a great warrior for good, the wizard Shazam bestows upon Adam tremendous power... but Adam winds up using that power with great brutality. After years of terror, he is defeated and trapped, but five thousand years later he returns to wreak havoc on the modern world – forcing a team of heroes to try and take him down.
Dwayne Johnson has been talking about playing Black Adam for years and years now, first revealing his talks with DC all the way back in early 2014. This is clearly a passion project for him, and it's very likely he will become a major presence in the DC Extended Universe going forward.
Atom Smasher (Noah Centineo)
For a while the only other actor in the Black Adam cast other than Dwayne Johnson was Noah Centineo, with the production getting fans excited very early on that the talented actor from To All The Boys I Loved Before is joining a DC Comics movie to play a super cool character. Real name Adam Rothstein, Atom Smasher in the comics is a metahuman as a result of his family history – his grandfather being an atomic scientist-turned-reluctant supervillain – and has the ability to grow to upwards of 60 feet tall. The taller he gets, the stronger and more powerful he becomes.
We don't really know anything about how Atom Smasher will be portrayed in Black Adam, beyond the fact that he will be a member of the Justice Society and will be working hard to defeat the titular villain/anti-hero, but we're excited to find out more.
Hawkman (Aldis Hodge)
Assuming that Black Adam will be using the most popular/well-known version of the character, the movie will be introducing audiences to Carter Hall – an archaeologist who discovers that he is a part of a long cycle of reincarnations that originate with a feud between a prince and a priest in ancient Egypt. He uses a material called Nth metal in his costume that he controls mentally, and it gives him both the ability to fly and enhanced senses.
It may wind up being a touch tricky to translate the character for the big screen, as his costume is one of the sillier ones in DC Comics, but to Black Adam's credit the film has gotten an incredibly talented actor to play the role and help audiences take him seriously. Aldis Hodge, who is best known for movies including The Invisible Man, Clemency, Brian Banks, and One Night In Miami, signed on to the production in September 2020, and we can't wait to see what he does with the part.
Cyclone (Quintessa Swindell)
Of the Justice Society members that will appear in Black Adam, Cyclone a.k.a. Maxine Hunkel is the only one who has never been adapted into live-action before – which will make it all the more exciting to see who lands the role and is able to leave a unique stamp. Like Atom Smasher, Cyclone is also a legacy character of sorts, as she is the granddaughter of the original Red Tornado a.k.a. Abigail "Ma" Hunkel, and she gains her super powers when the sinister inventor of the android Red Tornado, T.O. Morrow, injects her with nanotechnology. She possess the ability to manipulate air currents, which she uses to fly and during combat.
In December 2020, Quintessa Swindell joined the cast as the third member of Black Adam's Justice Society – and the movie is set to be just her third credit in a feature film. She only made her television debut in 2019 with an episode for Euphoria and a key role on the Netflix series Trinkets, so she's definitely what one would call a star on the rise.
Doctor Fate (Pierce Brosnan)
Doctor Fate's beginnings in DC Comics tie to a man named Kent Nelson, who discovers the tomb of a sorcerer named Nabu the Wise and is taught the magic arts as a means to defeat evil in the world. There have been many different incarnations of the character since Kent Nelson's introduction in 1940, but what ties them all together is incredible skills that should put on one hell of a show in Black Adam. The movie will feature only the second live-action iteration of the hero, as he was previously played by Brent Stait on Smallville.
Set to inject the character with gallons of gravitas is Pierce Brosnan, who came aboard Black Adam in March 2021. Brosnan, of course, is no rookie when it comes to action films, as he is one of the most beloved stars of the James Bond franchise, but this will be his first time appearing in a comic book movie.
Are you looking forward to seeing Dwayne Johnson take on Black Adam in the comic book character's first blockbuster movie and his showdown with the Justice Society? Let us know in the comments what you hope to see in Warner Bros' latest DC adaptation, and keep coming back to this page, as we will continue to refresh it with new information as more details about the film come to light.
Your Daily Blend of Entertainment News
Thank you for signing up to CinemaBlend. You will receive a verification email shortly.
There was a problem. Please refresh the page and try again.