Sylvester Stallone Showed Off A Strange Vintage Commercial, And I Can't Look Away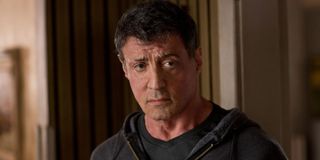 With 50 years in both the film and TV industries under his belt, Sylvester Stallone is one of the most recognizable actors of all time. So you can imagine that at the height of his career, he was much sought-after when it came to public appearances and commercials. With this, the actor has done a TV spots in his time. One of these was for a Japanese hot dog company, and the nostalgic Stallone recently shared it on social media. Needless to say, it's hard to remove the commercial from your memory once you've seen it.
Sylvester Stallone is never hesitant to put throwbacks on his social media accounts, no matter how corny they may be. Just recently, he posted the classic, Japanese commercial, which sees him golfing and talking up the hot dogs. You can see his Instagram post for yourself down below:
If you're confused or have questions after watching that commercial, just know you're probably not alone. It's an interesting piece of advertisement, to say the least. Personally, I'm still trying to understand the connection between golf and hot dogs. But I guess it makes sense in some context… right?
Stallone was a massive star at the peak of his career, so it was only natural that he would hit the international market as well. Believe it or not, this isn't the only time the actor has been featured in a Japanese commercial. Aside from starring in another hot dog-centric ad, he also starred in a Rocky-inspired commercial advertising soup. Like hot dogs and golf, pairing Rocky with soup seems like an odd creative choice.
These days though, Sylvester Stallone isn't spending as much time on the small screen as he is the big one. The actor is still incredibly busy with a number of upcoming projects. One that he appears to be most exciting about is Samaritan. The 2021 film is a superhero story that's expected to move away from conventional genre norms. Stallone consistently kept fans updated on its progress, until it finally wrapped production back in October.
The 74-year-old star is also staying close to his Rocky roots, as he's currently in the process of working on a director's cut of Rocky IV. Stallone has dropped a few details regarding what fans can expect from his alternate cut and has even confirmed that he'll be deleting a controversial aspect of the film.
Throughout his illustrious career, Sylvester Stallone has gotten to do a lot of things, but his appearances in these Japanese commercials will definitely that stand out. They may look weird on the surface, but we have to remember that they did allow him more exposure. They also allowed Japanese fans the chance to see an American star advertise a product in their language, which had to be cool for them.
Keep it here at CinemaBlend for more news from the world of TV and movies.
Covering superheroes, sci-fi, comedy, and almost anything else in film and TV. I eat more pizza than the Teenage Mutant Ninja Turtles.
Your Daily Blend of Entertainment News
Thank you for signing up to CinemaBlend. You will receive a verification email shortly.
There was a problem. Please refresh the page and try again.