Sylvester Stallone Shares Funny Throwback To His Days Writing The First Rocky Movie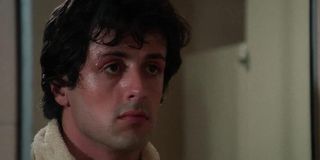 Rocky, Sylvester Stallone's movie that won the Academy Award for Best Picture, came out all the way back in 1976. If you don't want to do the math, that's 44 years ago. So going back in memory lane, Stallone's shared a throwback photo of him writing the first movie, and it's pretty funny.
Sylvester Stallone has been in the movie industry for a long time. One movie franchise that has long been part of his Hollywood legacy is unquestionably Rocky. Stallone recently took to social media to post an old photo of him writing the Rocky script with his dog by his side. Take a look:
Yes, that's right. If you didn't know already, Sylvester Stallone actually owned Butkus, the same Bullmastiff that appears in Rocky and Rocky II. He appears to have had more of a hand (paw?) in developing Rocky than just appearing in it
Believe it or not, before Sylvester Stallone made it big with Rocky, he had to sell Butkus to make rent. Once he secured the lead role in the film, he took a train out to Philadelphia to get his dog back and bring him on the set.
The rest, of course, is history. Sylvester Stallone went on to write, direct and star in many more Rocky sequels, and co-starred in the Creed spinoff movies. He's firmly established a franchise that doesn't seem like it'll run out of steam anytime soon.
While his return as Rocky Balboa has been cast in doubt (at one point he retired from the role, but he later expressed interest in making a new movie), that doesn't mean Sylvester Stallone is done with the Rocky franchise. It was announced early this summer that Sylvester Stallone has been working on a director's cut of Rocky IV. Its release will coincide with the film's 35th anniversary.
Thankfully for Rocky fans, Sylvester Stallone hasn't been editing Rocky IV in the dark. He's been frequently updating his social media with outtakes and video of the film, and showing how his work on the new cut is coming along. He shared one shot in particular of Dolph Lundgren playing the villainous Ivan Drago saying, "I cannot be defeated."
That's not the only Rocky­-related thing he's put on social media. To show off his pumpkin carving skills and commemorate Rocky, Sylvester Stallone revealed his latest jack-o-lantern for the season, proving he's not only skilled with a pen, but a carving knife as well. Check it out:
Although Sylvester Stallone is working to bring you a new cut of Rocky IV, you might be surprised to hear that's not his favorite Rocky movie. He admits that Rocky is his best movie, but says his favorite of the series is Rocky Balboa due to the hard work that it took to get it over the finish line. But, what's your favorite Rocky movie in the series? Sound off in the comments below!
Your Daily Blend of Entertainment News