This TikTok Cat Is Obsessed With A Star Wars Scene And Mark Hamill Can't Get Enough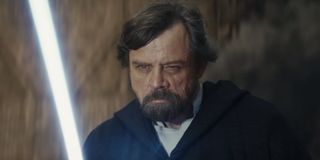 We need more Star Wars discourse like this. No arguing about bloodlines, or one director undoing the plotlines laid down by another. Just all of us, being amused by a cat who delightfully thinks that he or she can catch the lightsaber that a brooding Kylo Ren is tossing away during a pivotal moment in J.J. Abrams' Star Wars: The Rise of Skywalker. Outside of Grogu and Babu Frik, this has to be the most adorable thing that Star Wars has ever produced. And it even has Mark Hamill's seal of approval:
The Jedi master, who has spent far more time in the robes of Luke Skywalker than he probably could have predicted, is very active on social media as he interacts with Star Wars fans of all ages. And when he sees something really clever, cool, or cute that's related to that galaxy far, far away, he's happy to share it with his followers. In this case, it's a TikTok of a cat who is leaping at a TV screen to try and snag Kylo's lightsaber in mid-air.
Silly cat. No one stops Emo Kylo from embracing his new "Light Side" and racing to help his true love, Rey Skywalker.
Ugh, even typing that sentence feels so bizarre. Wait, I'm going back on my own word of getting lost in Star Wars discourse about lineage and movie mistakes. There's no room for that in 2021. We're turning over a new leaf. For today, anyway.
The toss that the cat is trying to interfere with occurs at an emotional moment in Star Wars: The Rise of Skywalker, where what appears to be a Force Ghost of Han Solo (just don't ask Harrison Ford what a Force Ghost is) speaks to Ben Solo and gives him the push he needs to reject his villainous ways. Adding a leaping cat would have deflated all tension from this scene. Good thing J.J. Abrams didn't do that.
Kitty cats aside, it's a very good time to be a Star Wars fan. The Mandalorian just wrapped up an incredible season of television on Disney+ and Kathleen Kennedy recently ushered in a wave of new programming that will keep Star Wars on our radars for years to come. Familiar characters like Obi-wan, Anakin and Ashoka will be carrying live-action shows, while exciting filmmakers such as Patty Jenkins will be taking features to theaters with Rogue Squadron.
To keep up to date with all of the new Star Wars material that will be coming to theaters and streaming, make sure that you bookmark CinemaBlend and read us daily. We're covering every step of Star Wars' ever-expanding journey on a daily basis.
Movie junkie. Infatuated with comic-book films. ReelBlend cohost. Resident dad. Extroverted introvert. Wants to see the Snyder Cut. Managing Director at CinemaBlend.
Your Daily Blend of Entertainment News
Thank you for signing up to CinemaBlend. You will receive a verification email shortly.
There was a problem. Please refresh the page and try again.