How Legends Of Tomorrow Will Handle Sara's Absence In Season 6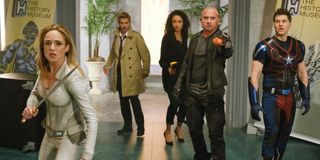 Legends of Tomorrow has sent its characters on some pretty wacky adventures over the last five seasons. They've battled a scooter-riding Genghis Khan, visited a parody of Mister Rogers' Neighborhood dubbed Mr. Parker's Cul De Sac, and turned a stuffed toy named Beebo into a fluffy god. Perhaps the wildest adventure is yet to come, however. The Season 5 finale saw Sara Lance get kidnapped by aliens (not of the Superman variety), and the executive producers recently revealed how the team will handle Sara's absence in Season 6.
The Legends initially had a lot to celebrate at the end of Season 5, having just defeated the Fates. With the world seemingly returned to normal, the team rocked out at a bar with Charlie's band. After saying goodbye to Charlie for good – Maisie Richardson-Sellers won't be back for Season 6 – Sara was beamed up to a spaceship with the team none the wiser. How will they cope in Sara's absence? Here's what EP Grainne Godree had to say during the DC FanDome panel:
We got a glimpse of a Sara-less team in Season 5, since Caity Lotz was notably missing for a bit due to filming for "Crisis on Infinite Earths," as well as prepping for her directorial debut. Suffice it to say that the other Legends still got a "little bonkers" while Sara was gone for a couple of episodes. I can only imagine what they'll get up to while she's hanging with some aliens that are plotting...well, who knows what?
While Sara was taking care of some business in Star City following Oliver's death, Ava took over captain's duties in her absence. Ava was worried she wouldn't do a good job, but she rose to the occasion nonetheless. However, don't expect Ava to be completely fit for the role of captain in Season 6. Here's how EP Phil Klemmer put it:
I wonder who the "unlikely people" will be. Could Zari 2.0 take over captain duties for a while? Honestly, I would love to see it, at least for an episode. However, my best guess is that Legends of Tomorrow newcomer and Chicago P.D. alum Lisseth Chavez could assume the captaincy in Season 6. She's described as pretty tough and was also kidnapped by the aliens, so she can presumably at least clue the others in on what they're up against.
As for what Sara will be up to with the aliens is anyone's guess at this point. For those (like myself) who were afraid that being abducted by aliens might mean that Sara will be out of the picture for a while, EP Keto Shimizu had some words of comfort to share.
Hopefully things are peaceful up there with the aliens. Maybe Sara is showing them how to play party games like Twister or Trivial Pursuit, or teaching them about TikTok dances.
Legends of Tomorrow is slated to return to The CW in 2021. However, the first five seasons of the series are available to stream on Netflix right now. And for more on what to watch, be sure to check out our 2020 fall TV premiere schedule.
Your Daily Blend of Entertainment News
Thank you for signing up to CinemaBlend. You will receive a verification email shortly.
There was a problem. Please refresh the page and try again.