Tom Holland Lost A Scary Amount Of Weight To Play A Drug Addict In Cherry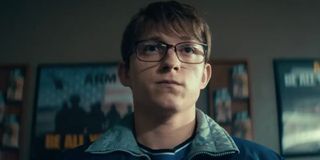 Many actors have gone to extreme measures for a movie role -- especially when it comes to gaining or losing a significant amount of weight. In Tom Holland's case, he did the latter to convincingly play a spiraling drug addict in his new movie, Cherry. Now its filmmakers are getting real about the scary amount of weight he lost for the role.
The Russo Brothers were probably well aware of Tom Holland's commitment to his craft before they directed him in Cherry. The familial filmmaking team have, after all, worked with the actor multiple times during his stint as Spider-Man in the Avengers films.
Still, there's a big difference between what Tom Holland has done during his tenure in the MCU and what he did to prepare for his role in the Russos' Cherry. The movie tells the story of its eponymous character, played by Tom Holland, a former soldier with PTSD who falls in love with a young girl (Ciara Bravo) and resorts to robbing banks in order to pay for drugs. During a recent Q&A, attended by CinemaBlend and other news outlets, Joe Russo described what he watched the two young actors do in order to nail their performances:
It sounds as though Tom Holland and Ciara Bravo were both fiercely committed to their roles in Cherry -- especially given the fact that other actors like George Clooney have suffered health issues when they've dramatically changed their weight. Indeed, the first images we saw from Cherry a few months ago showed that Tom Holland would be virtually unrecognizable in the film.
So while it isn't a complete surprise, it's nice for the Russo brothers to give the actors credit where credit is due for seeking authenticity in their performances. The Avengers films alone have proven that the directors expect quite a bit from their stars, and they always seem to manage to get the best out of them.
Cherry, like many other films since the COVID-19 pandemic hit, will be released on multiple platforms so fans around the world have options when seeing it. It hits theaters on February 26 and will be available on AppleTV+ (opens in new tab) on March 12.
Your Daily Blend of Entertainment News
Thank you for signing up to CinemaBlend. You will receive a verification email shortly.
There was a problem. Please refresh the page and try again.