Gal Gadot Calls Wonder Woman 3 'A Nice Closure,'But What Does That Mean For Diana Prince?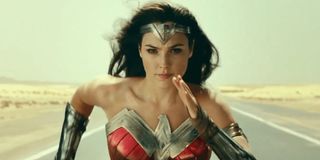 Wonder Woman 1984 has only been available to fans for a couple of weeks, but the team behind the movie already seem to be looking toward the future of the franchise. That's especially true for Gal Gadot, who seems to be hinting that Wonder Woman 3 could mark a turning point for Diana Prince. But when she talks about the third installment of the series being a "nice closure" for her character, what does she mean?
Gal Gadot's Wonder Woman has seen tremendous character growth since we first met her. By the end of Wonder Woman 1984, she's charting a course toward a seemingly optimistic future. Patty Jenkins and the rest of the Wonder Woman team definitely left the story open for future development -- and it looks like Wonder Woman 3 is all but a certainty at this point.
What comes after, though, is much less clear. During a recent visit to Variety's The Big Ticket podcast -- recorded prior to the announcement of Wonder Woman 3 -- Gal Gadot and Marc Malkin discussed the future of the franchise. Both seemed to be in agreement about the necessity of a third chapter in Wonder Woman's solo journey on film -- but the actress had an intriguing perspective on what that might look like:
Framing Wonder Woman 3 as a film that will create closure is definitely something to pay attention to. Of course, when Warner Bros.' chairman announced late last year that they were fast tracking the third film, he alluded to the fact that Patty Jenkins and co. have long planned for this series to be a trilogy. In other words, this isn't the first we're hearing about Wonder Woman 3 being the last in the standalone franchise for Diana Prince.
Still, hearing those words from Gal Gadot calls into question how finalized the plans for Wonder Woman 3 are -- and whether that will also mean the end of the actress' tenure as the character. There seem to be numerous possibilities for the character's future -- Gal Gadot could appear in other films in the DCEU multiverse, and there could be spin-offs that focus on other characters we've met in the Wonder Woman films.
If Gal Gadot is ready to move on, though, then maybe Wonder Woman 3 is her and Patty Jenkins' way of sending off the character as they know it in the best way possible. We know there's nothing stopping Warner Bros. from recasting the role in the future, but there's no denying it would be the end of an era if the actress decides to hang up her lasso for good.
What do you think about the future of Wonder Woman? Let us know in the comments!
Your Daily Blend of Entertainment News