4 Classic James Bond Tricks That Tenet Actually Did Better Than 007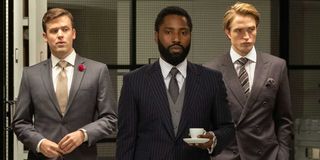 Warning: SPOILERS for Tenet are in play. If you haven't seen the film yet, use the turnstile to invert yourself out of this article until you've caught up.
With the release of Tenet in 2020, Christopher Nolan has once again proved himself to be quite the fan of the James Bond franchise. Though he's never been formally asked to direct an installment, Nolan is not only a fan of the 007 franchise, but he's also had talks with producers Barbara Broccoli and Michael G. Wilson over the years. Nolan knows his stuff when it comes to making a Bond-style movie with a more outrageous sci-fi angle, and Tenet is the latest proof of such mind-bending.
However, there are also classic elements from the James Bond series that this blockbuster has imitated beyond the point of flattery. In fact, in a handful of instances in Tenet, Christopher Nolan has beaten the Bond films at their own game. Here are some examples of what happens when the student becomes the master, turning classic staples into fresh new enterprises.
Tenet's Cold Open Poses Competition For Top Tier Bond
A good James Bond movie knows how to grab the audience from the first moments and never let go. In the history of 007's exploits, we've seen everything from supposedly eliminating the elite agent himself to gigantic feats of stuntwork opening many films in the series. However, Christopher Nolan's Tenet opening manages to be so tense and packed full of action that it actually surpasses anything we've seen in the history of Bond.
Christopher Nolan's had a lot of practice with cold opens for his more action-packed films, as we've seen with movies like The Dark Knight and even Dunkirk. But with Tenet, the Opera House siege that introduces us to The Protagonist (John David Washington) takes what could have been a standard exposition dump and turns it into pure dynamite. Major points have to be awarded to composer Ludwig Göransson in this case as well, as Nolan's impressive action set-piece is only amplified by Goransson's absolutely taut track "Rainy Day In Talinn." The best Bond cold opens are the ones you could watch over and over again, for when is in the mood for a quick hit of 007 action, and Tenet absolutely delivers that sort of adrenaline rush in merely its opening moments.
The Humor In Tenet Is More Organic And Funnier
Humor in the James Bond series has always been a touchy subject, especially when it comes to the balance and tone of such jokes. On one end, you have the cheeky antics of Roger Moore that heavily banked on charm, wit and many a double entendre. But at the other end of the pool, the cutting wit of Sean Connery and Daniel Craig has acted as more reserved, but very pointed humor that gets the job done without veering into hugely comedic territory. No matter which side of that coin you prefer, you have to admit that Tenet's handle on humor in the midst of the mission is pretty well played. That's right folks, Tenet isn't the humorless bore that some have been known to label the film as.
Most of that comes from the fact that John David Washington's Protagonist is a smart-assed secret agent who lands right in the middle of the Moore/Craig spectrum. However, The Protagonist doesn't fall too far towards the silliness of Moore, nor does he act with too much of the self-serious nature that has been attributed to Daniel Craig. You believe that The Protagonist can kick ass just as easily as he can tell you he ordered his hot sauce an hour ago, and that gag doesn't make the cheese grater to some random Tenet henchman's face hurt any less.
Tenet Has The Franchise Tease Mastered
In the current era of James Bond, there's been a continuity of action that has linked each of Daniel Craig's adventures with expert timing. Showing the development of Bond's trigger finger, as well as his personal psyche, the path has always been open-ended, but full of potential. Still, while we're left wanting more after each 007 film, we don't know exactly where the road is leading to. There's still unanswered questions lingering about, but none strong enough that we'd be wondering what exactly is coming down the road. Tenet, naturally, leaves us with so many questions that, even though there's no word on if this is meant to be a franchise starter or a standalone film, we'd obviously prefer a continuation to be in the works.
The story of The Protagonist's future and Neil's past is the engine that drives the ending of Tenet, as their divergent paths are supposed to meet again in the future. Much as River Song and The Doctor share a history that flows differently depending on which viewpoint you're looking at, the end of this potential origin story sees Neil heading to the end of his path and The Protagonist towards his beginnings as the head of Tenet's temporal protection agents.
In Tenet, The Hero Is The Focus, Not The Villain
When looking forward to the 007 franchise's continuation, we're normally more invested in what villain is going to be coming around, because that's usually the x-factor. Except for gigantic shifts in how the James Bond character has been portrayed through various actors, the biggest question we've ever had is about how Bond will survive the trials of heroism thrown his way in the next adventure. In Tenet's case, it's set the audience up to not only wonder what's coming next, but how The Protagonist is going to change in the process.
Maybe it's because the world of Tenet is still so new to audiences, but the potential changes to The Protagonist's character in the future are just as important as who he'll be facing off against. While the Bond series has gotten better at that sort of intrigue during the Daniel Craig era of films, Christopher Nolan understands that merely waiting for the villain of the week to come around only goes so far. So the potential for growth in the hero has been built into Tenet's core story, with a finale that has us questioning just where, when and if we'll see The Protagonist again, and what state he'll be in should that moment come.
For someone who has yet to make a James Bond movie himself, Christopher Nolan understands the franchise so well that he's proven time and again that he should at least get an invite to play in that particular sandbox. After showing his keen work with action in Tenet, and kicking things up a notch with the espionage plot featured in the film, it feels like the timing might be better than ever to try and land his innovative touches for the kick off to the next era of James Bond. For now, we'll just have to wait and see if that opportunity ever lands. We'll be able to watch Tenet in the meantime, as you can currently rent or buy the picture on Digital HD, 4K UHD, Blu-ray and DVD.
Your Daily Blend of Entertainment News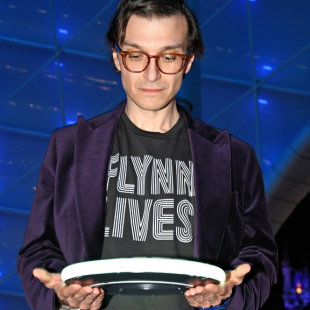 Senior Movies Contributor
CinemaBlend's James Bond (expert). Also versed in Large Scale Aggressors, time travel, and Guillermo del Toro. He fights for The User.