7 Ways James Bond Needs To Change After Daniel Craig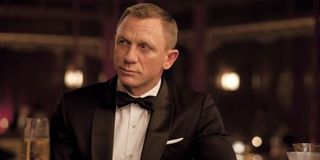 An era of filmmaking will seemingly come to an end next year. Bond 25 is slated to debut in theaters next November, and popular James Bond actor Daniel Craig will potentially ride off into the sunset after one final go as the character. That said, with Craig probably leaving the series after this film, a new Bond will inevitably take his place.
With that in mind, and with the November 8, 2019 release of Bond 25 looming, we're left to brainstorm how the franchise could evolve in the wake of Craig's eventual departure. To accomplish that end, we have put together a list of ways that the series could change and make itself distinct from previous eras. On that note, let's kick things off by addressing the most essential change: the recasting process.
Cast A VERY Different Bond
While it might not be Idris Elba, that mentality is actually a pretty solid direction. It's no secret that every Bond has been a white man in his late thirties or forties, and there's a lot of room to change the character and try something completely different. One obvious way to change the character would be to cast a suave person of color in the role, but really, we just want to see any change that helps create some distance between Daniel Craig's now-classic brooding Bond, and the version of the character that will inevitably surpass him when he hangs up his tuxedo for good. It could be the actor's look or his personality, but it's time for someone who is decidedly NOT Daniel Craig in the role.
Insert More Humor Into The Franchise Again
The Bond series has often had an issue with tone, not quite figuring out how to balance camp with darkness. Though Casino Royale rejuvenated the series by bringing a new level of darkness to Bond, now might be the time to introduce some appropriate levels of comedy into the Bond universe again. Part of that would involve writing funnier movies, and another dimension of that process would involve casting a funnier actor to take Daniel Craig's place. The humor in the movies can be handled on a case-by-case basis, but generally speaking, the James Bond franchise feels like it should fall somewhere between Mission: Impossible and the Bourne series in terms of tone. Serious and full of high stakes, but with enough cheekiness to remind the audience that Bond has a dry wit.
Explore New Elements Of Bond's Life
Though there are theories around the internet that suggest the idea that James Bond is a code name, and the different actors are plating different Bonds from different eras, most of the evidence (particularly in films like Skyfall) seems to suggest that it is indeed one timeless man. That said, the only areas of Bond's personal life that the movies have spent much time exploring are the deaths of his parents and his failed attempts at love with Vesper Lynd and Tracy Bond. Beyond that, Bond's personal life has remained largely unexplored, which is a shame when we consider the fact that he has a lot of mythology to mine. Whether it's his younger years in school or his time as a member of the British military, there are other ways that the series could bring back his past that go beyond deaths of people he loves.
Embrace Auteur Filmmakers
The Bond franchise took a fairly significant blow earlier this week when it was announced that Danny Boyle had stepped down from his role as the director of Bond 25 over "creative differences" with the producers and Daniel Craig. That's important to note because there is a solid case to be made that the James Bond franchise needs more auteur filmmakers who have distinct styles of their own. This isn't necessarily a slight against the filmmakers who have worked on the franchise thus far, but many of them have felt more like journeyman directors who work well with the producers. In the case of Bond 26 and beyond, we want to see unique directors who have their ways of doing things (such as Christopher Nolan or Denis Villeneuve) come in and shake things up.
Play With Genre
At this point, audiences have become familiar with the formulaic beats of a James Bond movie. The opening sequence, the titles, Bond gets his mission, and then he completes the mission. It all falls under the spy movie category, and we think it's time for the series to embrace other genres as it progresses into the future. Give us the James Bond movie in which he has to put together a crew and pull off a heist or maybe give us the street racing Bond movie that shows off his car skills. License to Kill showed that this was viable by having him go rogue on a dark revenge rampage against a drug cartel, but few Bond movies before or since have really played with a genre in a way that has pushed the franchise forward in a meaningful way.
Re-introduce Classic Characters
We can go back and forth over whether or not Spectre did a good job of bringing Blofeld back into the James Bond sphere back in 2015, but it's hard to deny that the intention to do so was noble. James Bond is a franchise chock full of colorful characters, and the franchise needs these memorable personalities to help pad its ranks. Do you even remember the villain's name in Quantum of Solace? Well, it was Dominic Green, but chances are a lot of you took longer to think of that than someone like Goldfinger or Dr. No or even Scaramanga. The serious shouldn't be afraid to return to certain elements of its history, modernize those characters, and make them feel relevant in the modern era.
Emphasize Worldbuilding
In addition to bringing back modernized versions of classic James Bond characters, the 007 franchise should also take a page from the John Wick handbook by placing a far greater emphasis on worldbuilding in its movies. Part of this involves bringing back classic characters for multiple films (such as the appearance of Richard Kiel's Jaws in The Spy Who Loved Me and Moonraker), while also doubling down on the inner-workings of the spy world that James Bond and his enemies inhabit. There's something to the fact that the villains always seem to have gadgets, gizmos, and jargon of their own in the 007 universe, so creating a specific set of rules (particularly in the post-Marvel Cinematic Universe era) could stand out as a great new way to flesh out the series.
Your Daily Blend of Entertainment News
Originally from Connecticut, Conner grew up in San Diego and graduated from Chapman University in 2014. He now lives in Los Angeles working in and around the entertainment industry and can mostly be found binging horror movies and chugging coffee.