Ranking Mahershala Ali's Best Roles So Far
From Moonlight to Luke Cage, we rank Mahershala Ali's best performances.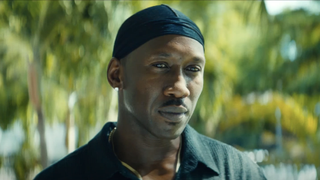 (Image credit: A24)
Mahershala Ali is one of those actors for whom I get excited to see what he'll do next. His talent is undeniable and his dedication to his craft is admirable. Mahershala Ali movies are often unique, diverse, groundbreaking, and entertaining. He's also an actor who is not afraid to bounce between the worlds of TV and film.
Mahershala Ali has a big collection of film and movie projects, so it wasn't easy narrowing his performances down to 10, but I wanted to select ten Mahershala Ali movies and TV shows that demonstrate his ability to effortlessly embody distinct characters in a variety of genres.
10. Alita: Battle Angel (Vector)
Alita: Battle Angel is the cyberpunk film by Robert Rodriguez and James Cameron where a cyborg who is revived and tries, while facing an array of different foes, to find her identity, Mahershala Ali plays Vector, one of Alita (Rosa Salazar)'s biggest enemies. However, he's just a puppet in Nova's plan. At times, Nova takes control of Vector's body to speak to people directly. So not only does Ali have to play Vector, but he has to play Nova in Vector's body.
One of Ali's strengths as an actor is that he never (or rarely) plays 2D characters. Even his bad guys show signs of humanity. The scene when Dr. Chiren (Jennifer Connelly) makes a decision to turn her back on Nova and Vector really stands out because we see a hint of vulnerability in Vector that shows he's not all schemes and lies. I think this performance needs to be included because sometimes action movie villains are hollow and wooden, but we get a little more than that with Vector.
9. Room 104 Season 2 Episode 11 Shark (Franco)
Room 104 is an anthology series where each episode focuses on a different story, a different set of characters, and different story genres. All these stories are connected by taking place in room 104 of a motel. It was created for HBO by the Duplass brothers. This episode follows cousins Ollie (James Earl) and Franco (Mahershala Ali), pool sharks who let a dollar tear them apart. Something about Franco is so irritating to watch. It's his slick style, his arrogance, and his inappropriate playfulness that makes him maddening.
The minute Franco starts talking, you completely understand Ollie's frustration with this guy, and you're in awe at how easily Ali brings him to life. We've seen some of these slick, morally ambiguous characters before from Mahershala Ali, but this is one of the few that's played more for comedic effect. Mahershala Ali and James Earl's performances are what sell this episode because you immediately understand their dynamic and relationship from their dialogue and behavior.
8. Hidden Figures (Jim Johnson)
Hidden Figures is the inspirational story of the African American female mathematicians who worked at NASA during the Space Race. It specifically focuses on Katherine Johnson (Taraji P. Henson), Dorothy Vaughan (Octavia Spencer), and Mary Jackson (Janelle Monae).
Mahershala Ali plays Jim Johnson, Katherine's love interest turned eventual husband. Ali is only in a few scenes in Hidden Figures but he represents an important part of Katherine's development beyond her career pursuits. It's also a different role from Ali because we rarely see him as a romantic love interest. As Jim, he's charming, thoughtful, and sweet. This is also the second time Taraji P. Henson and Mahershala Ali have played a couple (they also did so in The Curious Case of Benjamin Button), so there is a natural, familiar chemistry between them on screen.
7. True Detective (Wayne Hays)
Along with Carmen Ejogo and Stephen Dorff, Ali plays the lead in True Detective Season 3. This season of True Detective revolves around the disappearance of two young children. The show deals with it through three time periods (1980, 1990, and 2015). The most mesmerizing thing about Ali's portrayal of Wayne Hays is that he gives us three different versions of Hays.
He has to play him as a rookie detective who gets thrown into the case, a man still haunted by it ten years later, and a man who moved on but now must reface these demons. Ali does a great job distinguishing these versions because even without the hair and makeup, you can easily figure out which one is which. Ali also has the added challenge of Hays memory disorder. He plays that aspect so brilliantly and subtly that you know what has happened even before he says he's forgotten something.
6. Kicks (Marlon)
Kicks follows teen Brandon (Jahking Guillory) as his new pair of shoes are stolen by local thug Flaco (Kofi Siriboe). He goes on a dangerous adventure through Oakland with his friends to get them back. Mahershala Ali plays Marlon, a well-known criminal, and Brandon's uncle. Ali only appears in a few scenes in this movie, but of course, he steals every one of them.
Kicks is one of Mahershala Ali's lesser-known roles, but definitely one worth checking out. He could have easily played the stereotypical thug character, but instead you watch a man who clearly has lost much of his humanity due to the life he's grown into, but there are still some signs of goodness in him, like him taking care of his sick mother and loving his kids, even if in a dysfunctional way, Ali is one of those rare actors who can play terrifying characters but still make you sympathize with them at points.
5. Green Book (Dr. Don Shirley)
Green Book is about the development of a friendship between Dr. Don Shirley and Tony Lip (Viggo Mortensen). Don Shirley hires Tony to drive him across the Midwest and Deep South as he tours as a pianist. The film at its core is about two men learning and growing from each other.
Green Book resulted in Ali's second acting Academy Award win. The acting by Mortensen and Ali is one of the film's biggest strengths. If you watch clips of the real Don Shirley, you can see how much nuance and effort Ali put into bringing Shirley to the big screen. It was a performance clearly done with care and respect. Don Shirley is not this over-the-top character who commands a room because he makes sure to take up space, but he's a powerful character because his dignity, intelligence, and talent naturally allows him to make an impression, and Ali plays that aspect of him perfectly.
4. Roxanne Roxanne (Cross)
Roxanne Roxanne tells the story of real life female rapper Roxanne Shante (Chante Adams). Mahershala Ali plays her husband Cross. It's another one of Mahershala Ali movies that many may not have seen. I think what makes Ali's portrayal of Cross so compelling is that he shows different levels of this man's corruption, rise, and fall. We watch the charming side of Cross that wins over Roxanne, then we see the abusive, controlling monster he becomes.
We later see how his addiction plays a huge part in his failure as a decent human being, but then Roxanne Roxanne doesn't let Cross off the hook by entirely blaming his bad behavior on addiction. This is part of his core. As stated before, even Ali's "evil" characters have layers that keep them from being one-note or cartoonish. Cross very much feels like a real person, even when he's doing inhumane acts. A lesser actor may have made Cross just simply the bad guy, but Ali makes him a bad guy with a soul, even if it's damaged.
3. Ramy (Sheikh Ali Malik)
Ramy follows Ramy Hassan (Ramy Youssef) and his family as they deal with being Egyptian-Americans and Muslim in modern America. Mahershala Ali appears in the second season of Ramy through the finale. He plays Sheikh Ali Malik. This is my personal favorite performance by Ali because it's such a fun role. The season starts with Sheikh Ali being a mentor to Ramy, and we see him go from this cool and calm guy to near his breaking point by the end.
The Sheikh is a character who is easy to admire and respect. There is no question why Ramy adores him, so to watch Ramy just make this man lose his mind shows how Ramy's behavior brings those around him down. This is also a different role for Ali because we often see him in more serious roles. The Sheikh is a serious man but that's part of what makes him so funny when paired with Ramy.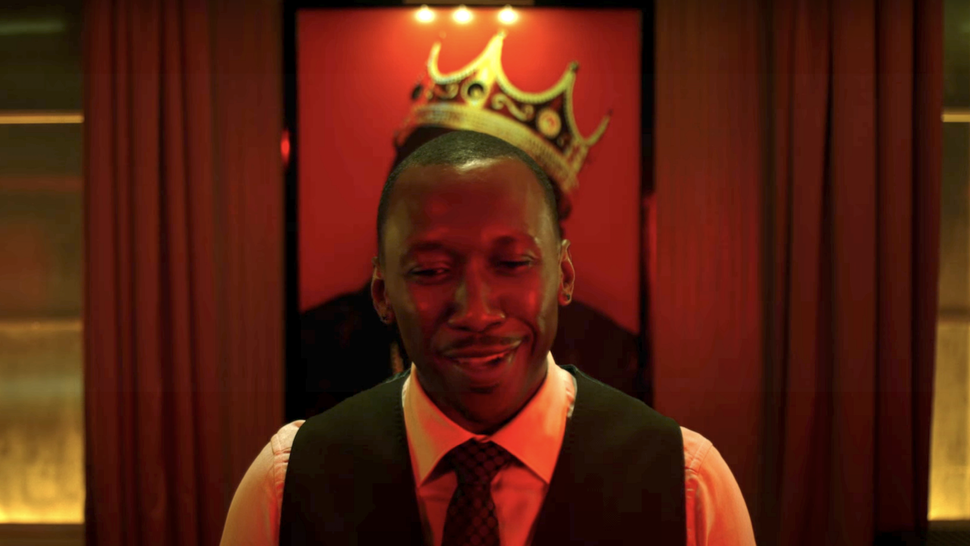 2. Luke Cage (Cornell Cottonmouth Stokes)
Mahershala Ali plays the villain, Cornell "Cottonmouth" Stokes, in the Marvel superhero series Luke Cage. Cottonmouth is terrifying, somewhere between a mad man and a neglected genius. Cottonmouth is sly, funny at times, and a sympathetic villain. I think the major difference between having a beloved villain or a hated villain is how an actor does everything possible to make you see their side of things.
You sympathize with them, and maybe even like them, because you understand their journey and how they became the villain (at least to others, never to themselves). Ali doesn't just make Cottonmouth an evolved villain by his words, but facial expressions, demeanor, and mannerisms. Cottonmouth and Luke Cage (Mike Colter)'s Harlem's good son vs bad son dynamic is entertaining to watch because of how Colter and Ali bring their A-game whenever they're on the screen together.
1. Moonlight (Juan)
Moonlight follows the life of Chiron (adult version played by Trevante Rhodes). Mahershala Ali plays Juan, the local drug dealer who befriends young Chiron and becomes like a surrogate father to him. This role earned Ali his first Academy Award win.
Ali plays Juan as this very compassionate man who may be a drug dealer but he's one of the most understanding, gentle, and truly kind people in Moonlight. I believe what makes Juan such an interesting film character is that often we see movie drug dealers as these one-note characters who glorify their life until they die. Juan is shown as a family man who regrets his career choice but it's all he knows. Ali gives Juan all the subtleties and depth that he needs to really connect with the audience.
Before long (hopefully) you can see Mahershala Ali and another magnetic performance in in Marvel's Blade, Swan Song, and in HBO's Unruly.
This poll is no longer available.
Your Daily Blend of Entertainment News
Spent most of my life in various parts of Illinois, including attending college in Evanston. I have been a life long lover of pop culture, especially television, turned that passion into writing about all things entertainment related. When I'm not writing about pop culture, I can be found channeling Gordon Ramsay by kicking people out the kitchen.