Avengers: Endgame Concept Art Shows A Wild Crossover, And Now I've Got FOMO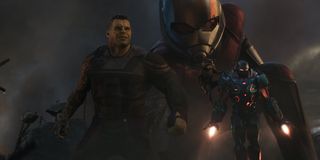 As the final chapter of the Infinity Saga (with Spider-Man: Far From Home serving as a nice epilogue), it was expected that Avengers: Endgame would be the most action-packed movie in the Marvel Cinematic Universe yet. But even then, few could have predicted how wild things would get in the fourth Avengers movie, especially when it came to the final battle between Earth's Mightiest Heroes and Thanos' forces. As it turns out, that climactic conflict could have gotten even crazier through a team-up involving Spider-Man, Hulk and Giant-Man. Man, my FOMO is through the roof right now.
Marvel fans, you know about the Fastball Special, right? That's where Colossus hurls fellow X-Men member Wolverine towards a target the same way a baseball pitcher throws a fastball. Well, imagine a Fastball Special being performed by Spider-Man, Hulk and Giant-Man. Are you having trouble envisioning that? In that case, take a look at the below artwork from Marvel Studios' Head of Visual Development, Ryan Meinerding, that was shared on Reddit:
from r/marvelstudios
Giant-Man tossing Hulk would be enough to wreak havoc on the battlefield, but at the speed that Hulk would then toss Spider-Man, Peter Parker might as well be a bullet. Alas, this take on the Fastball Special just didn't make the final cut of Avengers: Endgame. Since all three of these heroes are still running around the MCU, perhaps there's a chance this action scene could be realized in the future. That said, with so many heroes in this franchise boasting super strength, there are a lot of Fastball Specials combos that could be pulled off in the coming years, should the MCU filmmakers decide that's worth the effort.
The Fastball Special wasn't the only Ant-Man/Giant-Man-related Avengers: Endgame concept that didn't make it to the screen. We could have also seen Scott Lang commanding an army of giants ants during the final battle, and they would have been sicced on a Chitauri Leviathan. Still, considering that Endgame ultimately showed us Scott punching a Leviathan in the face and squishing Black Order member Cull Obsidian, I'd say he came out of that final battle looking like a badass.
While Avengers: Endgame marked the end of Iron Man, Captain America and Black Widow's stories (although the Black Widow movie will flash back to what Natasha Romanoff was up to between Captain America: Civil War and Avengers: Infinity War), Spider-Man, Hulk and Ant-Man all have bright futures ahead of them in the MCU. The third standalone Spider-Man movie is currently shooting, and will reportedly feature heavy-hitters like Benedict Cumberbatch's Doctor Strange, Jamie Foxx's Electro and Alfred Molina's Doctor Octopus. Scott Lang will return in Ant-Man and the Wasp: Quantumania, which will introduce Jonathan Majors' Kang the Conqueror and see Kathryn Newton taking over as Cassie Lang.
Turning to Bruce Banner/Hulk, he's set to appear in Disney+'s She-Hulk series, which will also include the return of Tim Roth's Abomination. As for if we'll ever see an original Fastball Special in the MCU, the X-Men are expected to be introduced to the superhero franchise someday, though there's no specific timetable on when that will happen. Whether that lineup will include Wolverine and Colossus remains to be seen, though Marvel Studios president Kevin Feige has said that the MCU's take on mutants will differ from what 20th Century Fox delivered.
Keep checking back with CinemaBlend for all the latest and greatest in MCU news. Keep track of the franchise's upcoming cinematic offerings with our Marvel movies guide.
Connoisseur of Marvel, DC, Star Wars, John Wick, MonsterVerse and Doctor Who lore. He's aware he looks like Harry Potter and Clark Kent.
Your Daily Blend of Entertainment News
Thank you for signing up to CinemaBlend. You will receive a verification email shortly.
There was a problem. Please refresh the page and try again.