Bill Burr: What To Watch Streaming If You Like The Mandalorian Actor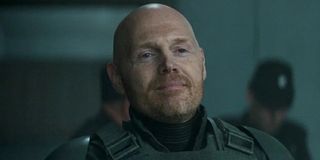 CinemaBlend participates in affiliate programs with various companies. We may earn a commission when you click on or make purchases via links.
It must have been a real treat for fans of Bill Burr to see him pop up on a dark drama like Breaking Bad, even before he really began to grow into one of the biggest names in comedy today. As for fans of The Mandalorian, it appears to have been jarring for them to hear someone in the Star Wars universe speak with a Boston accent.
Outside of the criticism from the intergalactic logic defenders, I felt the 52-year-old Massachusetts native (who has even admitted that Star Wars was never "his thing") was surprisingly strong as former imperial soldier Migs Mayfield on the Disney+ hit. It's also refreshing to see a comic (who recently hosted Saturday Night Live for the first time, too) exceed expectations of being relegated to comic relief. Bill Burr has actually achieved that a lot more often lately, such as in the 2014 social commentary Black or White, and Jason Reitman's political biopic The Front Runner, opposite Hugh Jackman, in 2018.
Unfortunately, neither of those films can be streamed anywhere at the moment, but there are a few other movies and TV series currently available that show a more serious side of the actor, who is as funny as he is controversial. Of course, there are plenty of options on streaming that offer that side of Bill Burr as well, including some of his most popular stand-up specials. You can find all of that and more in the following 12 titles featuring the comedian, starting with one of his more recent and acclaimed performances.
The King Of Staten Island (HBO Max)
As he approaches his mid-20s, a slacker must come to terms with the loss of his father, a firefighter who died on 9/11, and finally accept his transition into adulthood.
Why It's A Good Option for Bill Burr Fans: Judd Apatow directs The King of Staten Island, loosely based on the life of star and co-writer Pete Davidson, whose character is initially befuddled when Bill Burr's firefighter character takes a liking to his widowed mother, played by Marisa Tomei.
Stream The King of Staten Island on HBO Max here (opens in new tab).
F Is For Family (Netflix)
Frank Murphy (Bill Burr), his wife, Sue (Laura Dern), and their three children struggle to make ends meet and keep up with the ever-changing standards of society.
Why It's A Good Option for Bill Burr Fans: Set in the 1970s, F is for Family is an animated, Netflix original comedy that offers a brutally honest snapshot of a middle class American household in the way only series creator Bill Burr could.
Stream F is for Family on Netflix here (opens in new tab).
Bill Burr: You People Are All The Same. (Netflix)
Cosmetic surgery, reality television, and the do's and don'ts of arguments with the opposite sex are among the topics that Bill Burr presents with his uncompromising opinions while performing at the Lincoln Theater.
Why It's A Good Option for Bill Burr Fans: Netflix greenlighting F is for Family came after a few years of collaboration with Bill Burr that began in 2012 with You People Are All the Same., which was actually the streaming platform's first original stand-up special and certainly not the last from Burr, either.
Stream Bill Burr: You People Are All the Same. on Netflix here (opens in new tab).
Date Night (Hulu)
On a rare night out of the house and away from the children, a busy husband and wife unwittingly put themselves in a case of mistaken identity and end up on the run from a New York mobster's thugs.
Why It's A Good Option for Bill Burr Fans: When not struggling to elude their criminal pursuers, Steve Carell and Tina Fey's married protagonists arouse the suspicions of Taraji P. Henson's Detective Arroyo and her partner, Bill Burr's Walsh, in 2010's Date Night - an equally hilarious and thrilling star-studded adventure from director Shawn Levy.
Stream Date Night on Hulu here (opens in new tab).
Bill Burr: I'm Sorry You Feel That Way (Netflix)
At the Tabernacle in Atlanta, Georgia, Bill Burr entertains his audience with more unfiltered commentary on things like Scientology, the impossible standards of dating as promoted by romantic comedies, and his solutions to the world's population control problem.
Why It's A Good Option for Bill Burr Fans: Speaking of "date night," "I'm sorry you feel that way" is not something I would recommend saying on such an occasion, but, then again, few things out of Bill Burr's mouth should be repeated to the general public. And, many things said in his second stand-up special for Netflix, shot uniquely in black and white, are no exception.
Stream Bill Burr: I'm Sorry You Feel That Way on Netflix here (opens in new tab).
Walk Of Shame (HBO Max)
An ambitious LA news reporter (Elizabeth Banks) puts her dreams of being promoted to anchor at risk when she finds herself stranded in the city after a night of blowing off steam ends in a passionate encounter with a stranger (James Marsden).
Why It's A Good Option for Bill Burr Fans: Despite his critical views of rom-coms, 2014's Walk of Shame is actually one of a few (the aforementioned Date Night included) which Bill Burr appears in. Coincidentally, he once again plays a cop causing problems for our protagonist during her increasingly stressful attempts to make it to a life-changing job interview.
Stream Walk of Shame on HBO Max here (opens in new tab).
Bill Burr: Walk Your Way Out (Netflix)
Bill Burr continues to push the limits of comedy by comparing Kanye West to Adolf Hitler, explaining why teaching gorillas sign language could be the first step of humanity's downfall, and offering much more of his irreverent cynicism to a Nashville audience.
Why It's A Good Option for Bill Burr Fans: Even if some viewers do walk away from Walk Your Way Out in shame, that is an emotion you will undoubtedly not see on the face of Bill Burr in his third Netflix original stand-up special.
Stream Bill Burr: Walk Your Way Out on Netflix here (opens in new tab).
Zombeavers (Amazon Prime, Tubi)
A group of college students' weekend of partying at a cabin near a local swamp is horrifyingly interrupted by the discovery of beavers who've turned into hungry, monstrous creatures after a toxic waste spill.
Why It's A Good Option for Bill Burr Fans: While Bill Burr only appears in one scene of Zombeavers, a 2014 cult favorite horror comedy directed by fellow stand-up Jordan Rubin, it might be the most memorable scene that does not (initially) involve mutated, semi-aquatic rodents, particularly because of his shared cameo with a particular singer/songwriter I will let you discover on your own.
Stream Zombeavers on Amazon Prime here or on Tubi here.
Bill Burr: Paper Tiger (Netflix)
The comedian heads to the United Kingdom to complain about everything he cannot stand about modern day America, from cancel culture, cultural appropriation, and other controversies.
Why It's A Good Option for Bill Burr Fans: Bill Burr's fourth and most recent Netflix exclusive stand-up special is called Paper Tiger, which refers to a term describing one who hides their weakness behind a threatening guise, seemingly because that is how Burr perceives much of the population these days.
Stream Bill Burr: Paper Tiger on Netflix here (opens in new tab).
Stand Up Guys (Tubi, IMDb TV, YouTube)
After serving 28 years in prison, a paroled, aging gangster's (Al Pacino) reunion with his old partners in crime (Christopher Walken and Alan Arkin) turns bittersweet when he discovers a powerful mob boss (Mark Margolis) wants him dead.
Why It's A Good Option for Bill Burr Fans: As you can probably tell, Stand Up Guys is not about stand-up comedians, but there is a good deal of comedy in this crime thriller from director Fisher Stevens, which also stars "stand-up guy" Bill Burr as an associate of the mobster who has it out for Al Pacino's character.
Stream Stand Up Guys on Tubi here, on IMDb TV here, or on YouTube here.
Breaking Bad (Netflix)
After receiving a terminal cancer diagnosis, a high school chemistry teacher (Bryan Cranston) turns to manufacturing crystal meth in order to provide for his family, setting him on a sinister path of transformation.
Why It's A Good Option for Bill Burr Fans: Outside of both appearing in Stand Up Guys, Bill Burr and Mark Margolis can both claim to have memorable recurring roles on Breaking Bad, with the comedian appearing in five episodes of the electrifying cultural phenomenon as Saul Goodman's henchman Patrick Kuby.
Stream Breaking Bad on Netflix here (opens in new tab).
Puppy Dog Pals (Disney+)
A pair of young pet siblings named Bingo (Isaac Ryan Brown) and Rolly (Sam Lavagnino) have an urge for adventure that puts them on a series of fun-filled journeys right in their backyard and beyond.
Why It's A Good Option for Bill Burr Fans: If you thought The Mandalorian was the only thing featuring Bill Burr that you could find on Disney+, think again. On the animated children's show, Puppy Dog Pals (created by fellow edgy comic Harland Williams), he voices a bulldog named Butch who joins the pups on an adventure at sea.
Stream Puppy Dog Pals on Disney+ here (opens in new tab).
What do you think? Would you be willing to watch a Disney Junior original just to hear Bill Burr's voice come out of an adorable bulldog's mouth, or will you just save that one for the kids? Let us know in the comments and be sure to check back for additional information and updates on the bold comedian, as well as even more of our own recommendations for movies and TV shows that you can currently stream, here on CinemaBlend.