John David Washington's New Netflix Movie With Zendaya Has Screened, Here's What People Think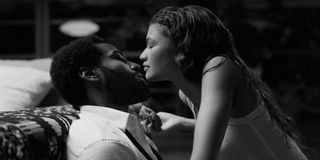 Malcolm & Marie, the upcoming Netflix film starring Zendaya and John David Washington, has screened early for critics. The black-and-white film was written and directed by Sam Levinson, who might be best known as the creator of the HBO series Euphoria, which also stars Zendaya. Malcolm & Marie was shot last year in just a few weeks under strict safety procedures because of the COVID-19 pandemic. The movie doesn't release on Netflix until February 5th, but some early reactions are already rolling in.
Critics have been tweeting their thoughts after seeing the film, and for the most part, they're singing the movie's praises.
Anne Thompson from IndieWire was very impressed with the black-and-white drama. Anne noted that Zendaya "runs away" with the film, even going so far as to predict an Oscar nomination for the actress, while also saying:
Zendaya's performance seemed to captivate quite a few viewers. The actress, who won an Emmy for Outstanding Lead Actress for Euphoria last year, impressed Jazz Tangcay of Variety so much that Jazz is also predicting the film to fare well in the Oscar race. Jazz called the cinematography, music, and direction "superb," while also saying:
While we of course can't be sure if the Oscars will be on the table yet, Fandango writer Erik Davis honed in on the lovely work that Zendaya and John David Washington put in. He calls the performances "soulful" and notes:
John David Washington's performance certainly isn't getting overlooked, as Jacqueline Coley from Rotten Tomatoes notes that "John David Washington gives the best performance of his career." Jacqueline went on to say:
Folks sure do have a lot to say about it. Kevin Polowy from Yahoo had a different take on the film, praising Zendaya and John David Washington's performance, but also noting that it's not the perfect date night movie:
Well, these early reactions surely seem to indicate that Malcolm & Marie is at least worth a watch, and we'll have to wait to see if those Oscar predictions end up coming true, though we also have to wait for the movie to officially release on Netflix on February 5th. In the meantime, there are plenty of other great movies and TV shows streaming on all platforms, including Netflix.
The good news is there's a lot coming to streaming and soon. You can check out all of the upcoming movies and TV shows streaming on Netflix in February and don't miss all of the TV series (both new and returning) streaming on Netflix this year with CinemaBlend's 2021 Netflix TV premiere schedule. The full list of every movie coming out this year in theaters and on streaming can also be checked out while you wait for the latest Zendaya and John David Washington flick to make its debut.
Your Daily Blend of Entertainment News