Upcoming Liam Neeson Movies: What's Ahead For The Action Star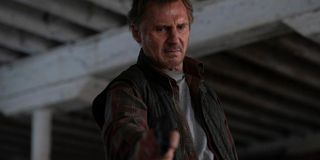 In mid-January, Liam Neeson came back to kick more butts and take more names in The Marksman, a decidedly Clint Eastwood-esque neo-western thriller that will most likely serve as one of the A-list actor's final rodeos in the action-vigilante genre. While the reviews have notably been mixed, many critics have been favorable on Neeson's lead performance as a weathered rancher who must help a young boy escape a drug cartel. And the movie's weekend gross (especially during a pandemic) suggests that, even in his later years, the A-lister remains a draw. Nevertheless, with Neeson nearing 70, the actor's action days are gradually reaching their twilight. But they're not over yet.
At the moment, Liam Neeson has a few more action movies left in the chamber, locked and loaded and ready to go in the months/years ahead (pending COVID-related delays, of course). Additionally, he's got some other, non-action-related projects in store, too, including a reported reboot of one of the '80s/'90s most hilarious comedy properties.
With that said, let's see what The Marksman star will shoot next.
The Ice Road - TBA 2021 (Post-Production)
Shortly before the COVID-19 pandemic caused productions to shutdown worldwide, Liam Neeson was in Winnipeg shooting The Ice Road, a new action-thriller from writer-director Jonathan Hensleigh (2004's The Punisher). Also starring Laurence Fishburne, Neeson's latest action vehicle (you see what I did there?) follows a big-rig ice driver who leads an implausible rescue mission over a frozen ocean to save trapped miners in a remote diamond mine collapse. For Neeson, it's an interesting mix of Cold Pursuit and The Grey.
With its established cast and its veteran screenwriter-director, The Ice Road has the potential to be an old-fashioned bottle thriller that sees Neeson racing against the clock to save entrapped men in the midst of environmental peril. While we've seen plenty of movies like this before, if it's done well, we could be looking at a gripping throwback. But it's still too early to say for sure. It's scheduled to come out on April 22nd in the Netherlands, but its stateside release is currently unannounced. But more information should be forthcoming.
Blacklight - TBA (Filming)
In the midst of an uncertain movie schedule, where release dates and productions are being delayed in equal measure, Liam Neeson is surprisingly holding his own, all things considered. Both last year's Honest Thief and this past weekend's The Marksman pulled in dependable numbers during an unstable calendar, and Neeson is already back on set again shooting his newest movie.
More specifically, Liam Neeson is currently in production on Blacklight, another action flick written and directed by Honest Thief's Mark Williams. Also starring Guy Pearce, the forthcoming film follows a troubled repairman (Neeson) who's tasked with pulling undercover agents out of dangerous situations. The logline sounds a bit generic, truth be told. Hopefully, the dependable action star makes the most of this familiar premise.
Currently in production in Melbourne, Blacklight's tight-knit production apparently finds its lead star under a very strict production bubble, as Liam Neeson reportedly cannot even leave his hotel unless it's related to the shoot. Alas, that makes for a lonely filming process during off-hours. But obviously, his health is what matters most. Not much else is known about the movie otherwise, but one imagines that Blacklight will be released either later this year or sometime early next year, so long as the production goes well.
While information is limited otherwise at the moment, we'll keep you posted whenever we hear more details about this upcoming movie.
Retribution - TBA (Pre-Production)
Based on the acclaimed 2015 action-thriller El Desconocido, Retribution sees Liam Neeson playing a businessman caught in a dangerous dilemma when he discovers that a bomb has been planted in the car he's driving by an unknown assailant. In order for the bomb not to detonate, the driver must execute a series of commands. To make matters even more stressful, the businessman is accompanied by his family. That's definitely an intense Speed-esque premise for an action vehicle. And one that fits in The Commuter star's wheelhouse.
Reuniting with producer Jaume Collet-Serra, who previously directed Unknown, Non-Stop, and The Commuter with Liam Neeson, Retribution will be helmed by Nimrod Antal (Predators) and it's expected to go into production this spring, according to Deadline. Adapted by Chris Salmanpour and Andrew Baldwin, Retribution sees Neeson locked inside his car and using his dependable menace to carry the tension (based on the logline, at least), which should play in his favor with COVID restrictions and his accelerating age. While English-language remakes don't often work, Retribution sounds promising.
Memory - TBA (Pre-Production)
Much like Retribution, Memory is another English-language remake with Liam Neeson at the forefront. Based on the 2003 Dutch film, The Memory of a Killer, Memory is an action crime thriller that'll star Neeson as an expert assassin who's known for his discreet precision. But when he refuses to complete a job for a dangerous criminal organization, he gets a target on his back, and he must go on the hunt for those who want him dead.
But while he has all the skills he needs (go figure for the Taken star), Liam Neeson's Alex Lewis has one big problem: he's afflicted with severe memory loss (hence the title), which affects his every move and makes his objective increasingly hard to complete. Ultimately, this new movie sounds like a mix of two previous Neeson titles, Unknown and the aforementioned Taken, which should make it appealing to fans of the actor's past work. Set to be directed by Martin Campbell (Casino Royale), Memory is expected to enter production in August, according to THR.
If what Liam Neeson is saying during The Marksman's press rounds is true, Memory might be the last traditional action movie we'll get from the aging superstar. With Neeson nearing 70, that's obviously understandable, though it makes this upcoming movie seem like the end of a particularly vibrant (if not always outstanding) era in his versatile career. But we'll have to wait to see where Neeson goes next in his expansive career.
The Naked Gun Remake - TBA (Speculated)
As Liam Neeson phases his way out of the action genre, it's uncertain what the future holds for the established Oscar-nominated actor, particularly in his twilight years. Outside of Taken-esque shoot-'em-ups, he has his fair share of experience in both dramas and comedies. When it comes to the latter, he has collaborated with Seth MacFarlane on a couple of occasions, including 2014's A Million Ways to Die in the West and 2015's Ted 2. Now, as Neeson claimed during the press circuits for The Marksman, he may reunite with the Family Guy creator thanks to an unlikely property: The Naked Gun franchise, which previously starred the late, great Leslie Nielsen.
Now, in my view, the Naked Gun movies are among the most inspired and most consistently hilarious comedies in cinema history. To try to top any of them is almost certainly a losing game. That said, it's hard not to be curious, especially with Seth MacFarlane and Liam Neeson circling this rumored reboot. Is it just kooky enough to work?
In some respects, it makes a lot of sense to cast Liam Neeson as the befuddled detective trying to uncover a perilous assassination attempt on Queen Elizabeth II. Much like how Leslie Nielsen was a prominent dramatic actor before he starred in a series of comedies towards the end of his career, Neeson could use this property to forge an interesting and certainly unexpected new path.
Given that these rambunctious detective spoofs have their fair share of action in the midst of wacky joke-a-second hijinks, it's easy to see how Liam Neeson could use his familiar set of skills to play up the heightened absurdity of this reworked comedy property. But while the actor is adept at dry comedy, it's hard to know if he can play it this loose. But hey, maybe this is his chance to prove himself in the laugh department.
At one point, Ed Helms was expected to take over The Naked Gun franchise. But that project has since fallen through, it seems. Admittedly, Liam Neeson is a more interesting choice for the vehicle than Helms — should it be made, of course. And Seth MacFarlane's joke-heavy comedy stylings could make it work, whether he's involved as a producer or director. For now, though, this Naked Gun reboot was merely suggested by Neeson. There's nothing officially reported yet. But that might change soon enough.
In addition to these forthcoming movies, Liam Neeson is attached to Charlie Johnson in the Flames, based on Michael Ignatieff's novel, and Marlowe, which would see the actor adopting the role of the famous Philip Marlowe. Ultimately, both projects haven't seen much development in recent years. The last update for Charlie Johnson was back in 2018, and the last we heard about Marlowe was in 2017. So, there's a good chance that both of these projects are stalled for good. But it's worth mentioning that he was circling these projects not too long ago and may return to either (or both) of them, depending on what his schedule looks. But no matter what the future holds, it sounds like Neeson is gonna keep himself busy!
Which upcoming Liam Neeson movie are you most looking forward to seeing? Be sure to let us know in the comment section below!
Your Daily Blend of Entertainment News
Will is an entertainment writer based in Pittsburgh, PA. His writing can also be found in The Playlist, Cut Print Film, We Got This Covered, The Young Folks, Slate and other outlets. He also co-hosts the weekly film/TV podcast Cinemaholics with Jon Negroni and he likes to think he's a professional Garfield enthusiast.