Universal Studios Throws Some Serious Shade At Disneyland Over The Canceling Of Annual Passes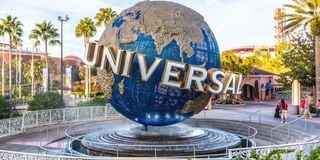 It's not a day that ends in "Y" if someone isn't being shady on Twitter. Lately, it's not even uncommon for the Twitter accounts of notable brands to throw a little snark in now and then. When one brand starts openly shading another, though? That's a little more noteworthy. At least it was when Universal Studios' Twitter account seemingly got snarky about Disneyland canceling Annual Passes.
Last year, there was some speculation that Disneyland might be putting an end to the popular Annual Pass program. Last week, the company made it official -- and even though some saw it coming, the reaction was still pronounced. Many passholders and even casual observers weighed in on Disneyland's controversial move on social media. And as it seems, so did one of Disneyland's biggest competitors, Universal Studios Hollywood, with a not-so-subtle shoutout to their own fans. Check out their tweet below:
Given the timing of this tweet, which landed on the platform the day after Disneyland broke the news, it's hard to see it as anything other than a snarky subtweet. Many of the responses from amused spectators, ranging from "We love you too" to GIFs of Yoda and Kermit sipping tea, made it clear that the message was received.
While Universal Studios' indirect shade at Disneyland may have provided a moment of social media levity, it was also a good way for them to get the word out about their own policies. The Universal Studios Hollywood Twitter account also took the time to answer a few questions about their passes and confirmed that the company will continue to sell annual passes once the park reopens. Unlike Universal Studios Orlando, the California branch of the theme park currently only has its CityWalk open due to the COVID-19 pandemic.
Universal Studios, on the whole, certainly hasn't had a headache-free 2021. The Japan branch of the theme park recently had to push back the opening of Super Mario World due to COVID-19. All told, the past few months haven't been easy for any theme parks in the United States to navigate. The ongoing pandemic has led to historic closures and necessitated huge changes in park safety protocols. There's been a lot of debate surrounding how, when and even if theme parks should be open at all.
So it's actually easy to understand why both Disneyland and Universal Studios Hollywood are taking their respective approaches to managing annual passes. On the one hand, for some, it may not feel like the best time to experiment with new ticketing approaches. On the other hand, since both parks aren't able to be open at the moment, it may be as good a time as any to retire outdated practices.
Which park do you think is taking a better approach to the annual pass situation? Let us know in the comments!
Your Daily Blend of Entertainment News