Turns Out Avengers: Endgame Almost Teased Vision's MCU Return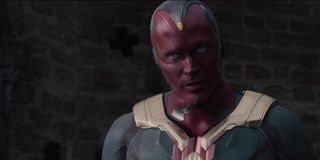 Before the premiere of Disney+'s WandaVision on January 15, the last we'd seen of Paul Bettany's Vision in the Marvel Cinematic Universe was at the end of Avengers: Infinity War, with his lifeless body resting on Wakandan soil after Thanos ripped the Mind Stone from his head. When Avengers: Endgame arrived a year after Infinity War, Vision, alive or otherwise, was nowhere to be seen. However, apparently there had been plans at one point for Endgame to lay the groundwork for Vision's return.
While partaking in IMDB's "Ask Each Other Anything" segment with WandaVision costar Elizabeth Olsen, Paul Bettany was asked if he thought he would return to the MCU following Vision's death. The actor said the following as part of his answer:
Outside of Scarlet Witch indirectly referring to Vision a few times after she was brought back to life, Avengers: Endgame was Vision-less, so one wouldn't have been faulted for thinking that his story was truly over once the Infinity Saga finale was over. As it turns out, there were plans during Endgame's production for Vision's corpse to be shown, thus teasing the android eventual return. Following Avengers: Infinity War's release, fans had speculated that Shuri had somehow been able to download Vision's key information into Wakanda's databases during her efforts to remove the Mind Stone from his forehead without killing him, so it certainly would have been interesting to see Vision's memories downloaded back into either his repaired original body or a new body.
Ultimately though, Marvel Studios president Kevin Feige decided to scrap the body bag scene, and Avengers: Endgame even broke MCU tradition by not including any kind of mid/post-credits tag (outside of the sound of a hammer striking metal being heard, a callback to Iron Man). Paul Bettany was certainly hopeful that Vision would "reanimate" after the events of Avengers: Infinity War, and he knew it was wise to trust Feige's plans, but eventually it got to a point where he only 10-15% sure he'd return to the MCU. When the day came that Bettany was called into the Marvel Studios offices to talk about WandaVision, he initially thought he was being fired since his contract was up.
Not so, and now we're following along with Vision and Elizabeth Olsen's Wanda Maximoff on the small screen rather than in a theatrical setting. Granted, it still hasn't been revealed yet how Vision is alive again and participating in these sitcom shenanigans with Scarlet Witch. Is he really there, or is he just a figment of Wanda's reality-altering powers. We'll have to wait and see how WandaVision answers that question and more in the coming weeks, but perhaps in another universe, Kevin Feige decided to keep the body bag scene in Avengers: Endgame, leading to Vision being put back on the MCU board in a different way.
New episodes of WandaVision premieres Fridays on Disney+ (use the following link to sign up for the streaming service if you're not already subscribed). As for what the MCU has coming up on the cinematic side of things, browse through our Marvel movies guide for that information.
Your Daily Blend of Entertainment News
Connoisseur of Marvel, DC, Star Wars, John Wick, MonsterVerse and Doctor Who lore. He's aware he looks like Harry Potter and Clark Kent.
Your Daily Blend of Entertainment News
Thank you for signing up to CinemaBlend. You will receive a verification email shortly.
There was a problem. Please refresh the page and try again.