Creed II And The Expendables' Dolph Lundgren Has Now Shared A Bernie Sanders Meme, And It's Perfect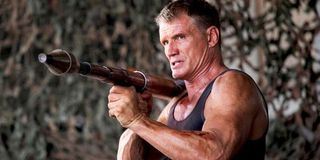 Once in a while, a meme goes viral and takes the world by storm. Many have come and gone, and the most recent has put Bernie Sanders at the forefront. The U.S. senator was one of many to attend the recent Presidential Inauguration of Joe Biden and, during the event, someone snapped a photo of Sanders sitting and bundled up, complete with a warm-looking set of mittens. Since the image hit the web, many have taken the senator's likeness and placed it in various settings, leading to some incredible memes. Now, Creed II and The Expendables star Dolph Lundgren has joined in on the craze with a perfect meme.
Dolph Lundgren is predominantly known as a star of action movies, so it was only fitting that he chose to share a meme that inserts Bernie Sanders into a faux poster for one of his most popular franchises. Check out the hilarious image from Lundgren's Instagram down below:
The Expendables fans have been waiting for a fourth installment for a little while now, but they probably wouldn't have pegged Bernie Sanders for a role. Now, this new meme may inspire fans to wonder what Expendables 4 would look like with the politician. Sanders never minces words, and many would agree that he would fit in well alongside massive personalities like Sylvester Stallone and Arnold Schwarzenegger.
As for the actual Expendables 4 film, things don't seem to be moving along too fast, in part due to the COVID-19 pandemic. Randy Couture did, however, mention last year that he has seen a script and still intends for the film to be made. Things can change when a film is in the development stages, so maybe this Sanders meme will inspire him to give the senator a role.
It's been fun to see just how many people are getting in on the Bernie Sanders meme craze, and celebrities especially seem to be having fun with inserting him into notable films and TV shows. Ryan Reynolds, Kevin Hart and Jamie Lee Curtis are among those who have found ways to get creative with Sanders' now-iconic pose. Jared Leto even used a meme to provide a pitch-perfect response to Morbius' most recent delay.
However, the star who's arguably having the most fun with all of this is Star Wars alum Mark Hamill. The veteran actor used a couple of posts to showcase memes that place Sanders in iconic moments from the galaxy far, far away.
The Bernie Sanders craze likely won't last too much longer, but it'll be fun to see what other hilarious memes we get as a result. And one has to wonder if any of Dolph Lundgren's fellow Expendables alums will drop a meme that rivals the one he shared.
The poster really should get Stallone thinking about a cameo for Sanders. I mean it wouldn't be the craziest idea he's ever had for the franchise.
Your Daily Blend of Entertainment News
Covering superheroes, sci-fi, comedy, and almost anything else in film and TV. I eat more pizza than the Teenage Mutant Ninja Turtles.