Dolph Lundgren Celebrates The Expendables' 10th Anniversary With Sweet Post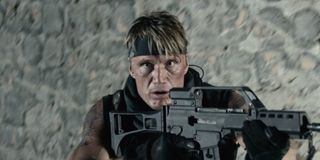 Dolph Lundgren has been a longtime action movie star, with one of his earliest performance seeing him play the dreaded Ivan Drago in Rocky IV, who went up against Sylvester Stallone's beloved Rocky in a bout for the ages. The two actors wouldn't team up again until years later when Sylvester Stallone brought him on board for the large-scale action movie The Expendables. Now, Dolph Lundgren is celebrating that movie's 10th anniversary.
The Expendables was the novel idea of taking iconic '80s action stars and teaming them up for one big, action-packed film, with Sylvester Stallone in the lead role and boasting other heavy hitters, like Bruce Willis, Arnold Schwarzenegger, Jet Li and Dolph Lundgren. Up until that point, Dolph Lundgren had spent years working on projects that hadn't receive the theatrical treatment. So understandably, he looks back fondly on his return to the big screen. Check it out:
It's certainly hard to believe that The Expendables is already ten years old. Before huge crossover films like Avengers: Endgame, The Expendables was a one-of-a-kind experience many '80s and '90s action fans had long dreamed of.
For his part, Dolph Lundgren plays Gunner Jensen, a dangerous and crazy chemical engineer who seems to enjoy killing. Even though he's a bit of a wild card, Sylvester Stallone's character, Barney Ross, keeps him on the team. Jensen appears in all three movies, though overall it seems like his character gets the most development in the first.
The success of the first Expendables movie produced two more sequels over the past decade, and more big stars were thrown into the mix, like Harrison Ford, Mel Gibson, Antonio Banderas and Wesley Snipes. Chuck Norris even made a brief cameo in The Expendables 2, but didn't return for The Expendables 3.
Fans may recall how The Expendables 3 suffered a few, unfortunate setbacks in 2014, including internet piracy, which may have contributed to its poor box office returns. But Sylvester Stallone also admitted later that dropping the rating down to PG-13 was a huge mistake they shouldn't have made.
That said, all is not lost for the The Expendables franchise. At one point, Sylvester Stallone decided to walk away from the franchise, but now it seems he could be intent on making The Expendables 4 happen one way or the other.
Over the years, we've been getting hints and teases about The Expendables 4 moving forward. The last we heard, Randy Couture confirmed that the action-adventure movie is in the works and that a script had been written, but also admitted that there are a lot behind-the-scenes issues that needs to be worked out.
It's understandable why a movie like The Expendables 4 could be tough to get off the ground. Not only would it need to recruit more high-profile stars, but it would have to convince a studio that it's worth making. Hopefully, it'll move forward soon so we can see Dolph Lundgren on the big screen again. Stay tuned to CinemaBlend for more updates.
Your Daily Blend of Entertainment News