5 Documentaries And Specials About Kobe Bryant To Watch Streaming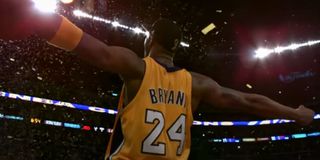 CinemaBlend participates in affiliate programs with various companies. We may earn a commission when you click on or make purchases via links.
It is hard to believe that it has already been a year since Los Angeles Lakers legend Kobe Bryant's life was cut tragically short when he, his daughter Gianna, and seven others perished in a helicopter crash in Calabasas, California. The loss of "The Black Mamba" sent ripples through the sports and entertainment world, resulting in various tributes, specials, and remembrances of one of the best to ever lace up a pair of sneakers and take to the court. But even before his death on January 26, 2020, there were multiple Kobe Bryant documentaries and features about his life on and off the court he dominated all those years.
So, as we look back on the life and legacy of Kobe Bryant, his five NBA Championships, and the forces that drove him to be not only the best basketball player but father and human, here are just a few of the tremendous documentaries, long-form interviews, and other features about one of the absolute greatest to ever play the game of basketball.
Kobe Bryant's Muse (2015)
There are few sports documentaries that are as introspective as the 2015 Showtime original Kobe Bryant's Muse. Filmed during "The Black Mamba's" return from injury in the twilight of his record-breaking career, the documentary is more of a series of contemplations by Bryant than anything else. With dramatically lit interview segments combined with various games and training sessions from throughout the 2014-2015 NBA season, Kobe Bryant's Muse goes into what made made one of the most driven, intense, and competitive athletes tick and want to continue to push himself (and his teammates) to be best they could be.
Even with his body failing him and no longer having the physicality that made him such a dominating force in his youth, Kobe Bryant goes into great detail about having that drive to continue pushing forward, no matter how difficult it may be. This is abundantly clear when Bryant talks about his return to form following a serious foot injury, letting out a boyish smile as he talks about his motivations in that moment.
Stream it on Showtime here.
All The Smoke: Kobe Bryant (2019)
Shortly before his death in January 2020, Kobe Bryant gave one of his final interviews to Showtime's All The Smoke video podcast. Sitting down with Matt Barnes and Stephen Jackson, Bryant opens up about his career, looks back on some of his toughest competitors, and then finally his life after basketball, a new chapter that was just beginning before that tragic helicopter crash stole the creator from the world and left the book unfinished. Bryant spends a great deal of time talking about his Oscar-winning short film Dear Basketball (more on that later), and how excited he to continue with the art form in the future.
Following Kobe Bryant's death, the All The Smoke podcast took the interview from months earlier and combined it with their reactions to his passing as well as those from some of Bryant's fiercest competitors from his historic 19-year run at the top of the NBA. Part tribute and part catharsis, this special tribute gives us a chance to look back on one of the greatest while finding ways to continue his legacy.
Stream it on Showtime here.
HBO Real Sports' Kobe Bryant Retrospective (2020)
There are plenty of reasons to get an HBO subscription, but one that doesn't get talked about nearly enough is the long-running sports program Real Sports with Bryant Gumbel which has covered every major sporting event and controversy since taking the air in 1995. Over the years, the program's reporters visited with Kobe Bryant on two occasions — 2000 when he was in the middle of three-peat with the Los Angeles Lakers and 2016 after his retirement from the NBA — and were able to get inside the head of "The Black Mamba" and find out what made him tick.
In the weeks following his death in 2020, Real Sports with Bryant Gumbel combined portions of these two segments and added a new introduction and other information regarding Kobe Bryant's accident and where the sports world goes from here. Equal parts touching and enlightening (especially hearing Bryant talk about his production company), this look at No. 24's life is a must-watch, more so now than ever before.
Stream it on the HBO Real Sports Facebook page here.
Spike Lee's Lil' Joints: Italian Imports (2015)
A part of Kobe Bryant's life that came up a lot following his death was his upbringing in Italy where his father continued his professional basketball career. From the age of 6 until he was 13, Bryant lived and fell in love with Italy, becoming fluent in the language and continuing his love of basketball. Bryant opens up about this chapter of his life in the 2015 documentary series Spike Lee's Lil' Joints in an episode called "Italian Imports" with WNBA star Tamika Catchings who grew up alongside the future NBA legend in Italy.
There is something about the relaxed nature of this one-on-one conversation that is able to break down the steely exterior of Kobe Bryant. Watching him reminisce about spending a large portion of his youth with a longtime childhood friend creates one of the most enjoyable experiences you'll see from the Lakers legend.
Stream it on the ESPN 30 for 30 Facebook page here.
BET & ET Present: Kobe: Father, Husband, Legend (2020)
Shortly after his death, ET and BET collaborated for a tribute to Kobe Bryant which spent a great deal of time focusing on his legacy off the court. In Kobe: Father, Husband, Legend, viewers are walked through some of the five-time NBA champion's accomplishments outside of sports, with a major portion dedicated to the love he had for his wife and daughters as well as the steps he took to ensure they lived the best life possible.
The special also goes into great detail concerning the Kobe Bryant's more creative side with an emphasis put on his work in the young adult fiction genre as well as his Academy Award winning short film Dear Basketball. Speaking of which…
Stream it on BET+ here.
Dear Basketball (2017)
This last entry isn't technically a documentary, but Dear Basketball, the Oscar winning animated short film directed by Glen Keane and scored by John Williams, is not only based on a poem that Kobe Bryant wrote shortly before his retirement from the NBA (it's also narrated by the late athlete), it also best documents his love for the game. Clocking it at just five minutes, Dear Basketball was Bryant's way of saying goodbye to sport to which he dedicated most of his life, but also a signaling of the beginning of the next chapter in his life. And while we never got to see everything Bryant had in store for the world in terms of his Granity Studios production company, this beautifully written and animated short film is a perfect reminder of the love and determination that kept him going all those years.
Purchase it on Amazon here.
In the coming months and years, there will surely be even more great documentaries about Kobe Bryant, his impact on the game of basketball, and the way he continues to inspire athletes, artists, and the rest of us with his body of work. And if word is to be believed that Bryant brought a camera crew with him for the entirety of his final season in the NBA, we should be seeing another feature, one like The Last Dance at some point in the future.
Philip grew up in Louisiana (not New Orleans) before moving to St. Louis after graduating from Louisiana State University-Shreveport. When he's not writing about movies or television, Philip can be found being chased by his three kids, telling his dogs to stop yelling at the mailman, or yelling about professional wrestling to his wife. If the stars properly align, he will talk about For Love Of The Game being the best baseball movie of all time.