Willy Wonka: 10 Actors Who'd Be Perfect To Play The Lead In Wonka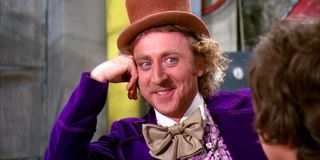 Warner Bros., in 2023, will bring us back to a world of pure imagination with Wonka, a Charlie and the Chocolate Factory prequel exploring the origins of its reclusive chocolate-maker and how he built his vast fortune with his extravagant factory. Directed by Paul King (Paddington 1 and 2) and written by Simon Rich (An American Pickle), the studio is on the lookout for who can play the titular part, made iconic by the late, great Gene Wilder. Any young actor who adopts this role has mighty big shoes to fill, as Johnny Depp will attest, but there are several actors who could shine here.
Currently, Tom Holland and Timothee Chalamet are reportedly being sought. While both are fine picks, there are some other performers who strike my fancy more. Admittedly, Willy Wonka and the Chocolate Factory is my favorite film, so I have a lot invested here. With that said, here are some strong contenders for this proposed prequel.
Donald Glover
When this prequel was initially announced, there were three big-name actors reportedly considered: Ryan Gosling, Ezra Miller, and Donald Glover. In my view, all of them were promising prospects, but the one choice that seemed the most exciting was the latter. The Community actor-comedian is one of the most dynamic talents working today, particularly as he continues to thrive as a musician, and a producer-writer-director on Atlanta, to boot. He's capable of being buoyant, but introspective and reserved. His acting depths only continue to grow, and Wonka would prove the vastness of his well-versed talents.
While he keeps a lower profile nowadays, Donald Glover's star power is undeniable, and he can capture Willy Wonka's spunky heart, while also channeling his child-like giddiness and mysterious aura. He'd be my ideal choice.
Adam Driver
While Adam Driver is known for his brooding, turmoil-driven performances in Girls, Marriage Story, The Report, and the new Star Wars trilogy, the high-rising Oscar-nominated actor is capable of delivering a wealth of distinctive, engaging characters — if he's given the chance to cut loose and have fun. Whether it's his scene-stealing supporting turn in What If?, his soulful leading role in Paterson, his kooky character work in Logan Lucky, or even his surprisingly wacky performances on SNL, Driver has proven himself to be a dependably, well, driven performer with a variety of characters in him. If he had the chance to shine inside the lead role of Wonka, we could get a better look at how silly he can be.
Certainly, there's more to Willy Wonka than his dry sense of humor or his sporadic sensibilities. Adam Driver has demonstrated a great flair for playing oddballs who constantly surprise and delight. Certainly, Wonka could be a marvelous showcase for his comedic skills.
Ryan Gosling
Of all the actors originally proposed to play Willy Wonka, Ryan Gosling interests me the least, if only because I prefer his smaller, more intimate performances compared to his studio fare. But, there's something to be admired in how Gosling could bring in the gentle sensitivity of Gene Wilder's original performance, in a way that isn't forced or overbearing. Gosling's facial features can capture a demurred inquisitiveness and casual wonder that would play well into Wonka's wondrous spirit. Ultimately, as one of the oldest actors here, he might not be the right fit anymore. But he could easily capture Wonka's dry wit and unsuspecting heart.
Ezra Miller
Certainly the most intriguing option of the three actors initially listed, Ezra Miller could definitely channel the eccentric wit and rambunctious spirit of Wonka's public persona. Their talent for playing characters both outlandish and introspective would also be vital in capturing the inner life of this hard-to-read factory-owning personality. Miller can play both broad and calculating, which would create the dynamism of this off-beat title character, though their commitments to other WB properties like the DCEU, where they play The Flash, and the Fantastic Beasts franchise may prevent them from committing. Not to mention difficulties in their personal life.
Daniel Radcliffe
As Harry Potter himself, Daniel Radcliffe has major clout at Warner Bros. While there are reportedly concentrated efforts to return to the wizarding world of Hogwarts (and possibly reboot the series), it's hard for audiences to see anyone other than Radcliffe in the role. He literally grew up before our eyes with that performance, and nearly all of his recent efforts (many of which are quite good) are deliberate attempts to shake off this image. Perhaps the best way to move past Harry Potter is to let Radcliffe play another iconic character altogether with Wonka.
While Daniel Radcliffe's talents weren't always natural, he has progressed into a very fine young actor, particularly with outstanding performances in Imperium, Miracle Workers (also written by Simon Rich), and, most especially, his transformative turn in Swiss Army Man. Radcliffe has developed a knack for cheeky performances with a wily sense of humor, while also showcasing dependable dramatic chops. This role could suit him well, and allow him to progress beyond his past performances.
Logan Lerman
Logan Lerman is due for his big break. First coming to fame with Percy Jackson, those movies never reached the Harry Potter-level heights they sought. He won a lot of hearts with his sensitive performance in The Perks of Being a Wallflower, but since then, he hasn't had a chance to branch out as far as he should. He did good work in Fury, Noah, Indignation, and, most recently, Shirley, but it'd be nice to see him capture that radiant spark in his earlier work. While he might not be considered for Wonka, his underdog spirit makes him a good fit.
The heartful sincerity he brings to his best performances is a great asset, and his understated talent for dry humor and reflective charm makes him an endearing pick. Aided by his boyish features and good-natured grin, Wonka would be a good way for Logan Lerman to finally make it big.
Dylan O'Brien
Following Teen Wolf, Dylan O'Brien has tried discovering his next step. His lead performances in the underseen The First Time and 2020's Love and Monsters were praised, while he did solid work in wobbly projects like The Maze Runner trilogy, American Assassin, and The Internship. Clearly, the actor has a pleasant, appealing screen presence that shines on screens big and small, but O'Brien hasn't progressed into superstardom. It's clearly within reach, though, and Wonka could showcase his star power.
With his affable charm, flexible talents, and capable screen presence, as well as his unsuspecting ability to surprise, Dylan O'Brien has what it takes to make a good Willy Wonka. His boyish grin and happy-go-lucky on-screen personality would work wonders if it's done right. Also, O'Brien always brings a great deal of heart and sincerity to his performances, which could make the title character's vibrant inner life shine.
Alden Ehrenreich
Admittedly, the last time Alden Ehrenreich starred in a high-profile prequel, it didn't work out — financially, at least. Yes, for many moviegoers, Ehrenreich is best known for Disney's troubled and underperforming Solo: A Star Wars Story, though the movie's faults don't belong to the young talent. The actor had the tough task of honoring Harrison Ford's beloved space-based scoundrel while also finding his own rhythm with the character. Alas, while the balance wasn't perfect, Ehrenreich brought lots of warmth and charisma, and his other performances outside of this notable leading role vividly demonstrate the wealth of his acting prowess.
Notably, Alden Ehrenreich is a standout in Beautiful Creatures, Blue Jasmine, and even the underwhelming Rules Don't Apply, but it's his Oscar-worthy supporting role in the Coen brothers' underrated Hail Caesar! that solidified his up-and-coming talents. Alas, Hollywood hasn't served him well, but this prequel could be the iconic role he needs to excel.
Janelle Monae
When Wonka was first proposed, one name that was thrown around wildly was Janelle Monae. And I admire that choice immensely. Monae's dynamic charisma and strong acting talents make her a performer with a continuously-impressive career. While she focuses primarily on music, Monae's scene-stealing supporting turns in Hidden Figures and Moonlight were promising starts to a thriving acting career.
Alas, while Antebellum didn't showcase her talents, Wonka would be an incredible opportunity for the exceptional musician/rising actress to shine in this star-worthy leading role. She's capable of playing up Wonka's heart, humor, and extravagance, and having a performer as incredible as Janelle Monae involved would really justify this movie's seemingly-needless existence. Will it happen? I dunno, but she should absolutely be considered.
Dev Patel
Over the years, Dev Patel has showcased a flair for playing passionate, good-hearted men going against the odds to make a name for themselves. Whether it's Slumdog Millionaire, Lion, or 2020's The Personal History of David Copperfield, the British actor excels in leading roles that let him play underdogs who discover their passion, dreams, or enthusiasm for life. Certainly, if this prequel studied Willy Wonka's rags-to-riches adversities in the midst of greatness, Patel has proven his capability in that type of role. Additionally, Patel could really sell Wonka's warmth, too.
Notably, Dev Patel's work in David Copperfield is some of his finest yet, nailing the whimsical and lyrical comedic-dramatic tone. While the movie itself isn't without faults, Patel's vibrant, bewitching performance hits with gusto. If he brought that same winning spirit, he could play Wonka's tenacity well.
Who's your pick? Tell us below!
This poll is no longer available.
Your Daily Blend of Entertainment News
Will is an entertainment writer based in Pittsburgh, PA. His writing can also be found in The Playlist, Cut Print Film, We Got This Covered, The Young Folks, Slate and other outlets. He also co-hosts the weekly film/TV podcast Cinemaholics with Jon Negroni and he likes to think he's a professional Garfield enthusiast.