Willy Wonka And The Chocolate Factory: 9 Behind-The-Scenes Facts About The Classic Movie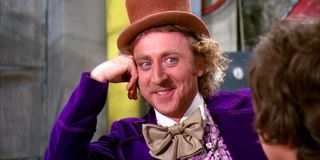 For well over four decades, Willy Wonka and the Chocolate Factory continues to inspire generations upon generations of audiences everywhere to experience a healthy dose of "pure imagination." The timeless movie is a classic for a reason. Through its marvelous Gene Wilde performance at the center, along with its wonderful set pieces, delightful music numbers, kooky bits of dark comedy, and big, beating heart, Willy Wonka still remains a wondrous delight for viewers young and old. Hopefully, that doesn't change anytime soon. When it comes to making this beloved movie, a lot of hard work from talented people was involved. And there are a number of behind-the-scenes facts that you should know the next time you check of the film.
Author Roald Dahl Hated The Movie, Called It "Crummy"
An author's relationship to their adaptations can be tricky business. It's hard for the writer to divorce themselves from their words, and not be biased against any changes made, which means that many authors hold mixed feelings towards their movies adaptations — especially if said adaptation becomes more popular than their work. Ultimately, while Roald Dahl is Willy Wonka & the Chocolate Factory's credited screenwriter, the novelist hated the final product, believing it was "crummy," and not caring for the changes made, the music or the direction. He also thought Gene Wilder was miscast, preferring Peter Sellers or Spike Milligan instead (he apparently wanted a European actor). As it was noted (via Insider) in Storyteller: The Life of Roald Dahl, Dahl had "serious reservations." Here's what Daniel Sturrock, Storyteller's author(and the late Dahl's friend), said in his 2010 biography:
Quaker Oats Funded The Movie To Sell Candy
While Willy Wonka and the Chocolate Factory was based on Roald Dahl's novel, the beloved film was also inspired by another source: Quaker Oats. Indeed, as The Huffington Post reported, the soon-to-be-beloved adaptation came about because Quaker Oats wanted to get into the chocolate game. Sure enough, when someone alerted them to Dahl's children's novel, they saw it as a win-win. it was a chance to popularize a new brand of chocolate, which they could create and later sell based on the movie's popularity. The oatmeal company was so confident, they funded the movie for $3 million, or roughly $20 million today. This is, in part, why the movie was titled Willy Wonka; they wanted the name "Wonka" out there. While it did become a timeless classic, Quaker Oats ironically didn't make a Wonka chocolate bar. They couldn't get Wonka's recipe right.
The Movie Was Shot In Germany, Mainly Munich, Because It Was Cheaper And It Had A "Storybook Quality"
If you've ever watched Willy Wonka and the Chocolate Factory and wondered where the story is supposed to take place, it's unclear for good reason. There's a wonderfully unplaceable quality to the movie's central location. While some of the children have specific origins, be it America or Germany, Charlie Bucket's small town backdrop was made intentionally vague, as director Mel Stuart wanted the story to have a "storybook quality" which made Charlie's humble story seem universal to audiences everywhere. But it should be noted that the movie was shot in Germany, primarily Munich, because it was cheaper to shoot it there than in the United States. Still, the quaint, charming, picturesque German setting matches the humble, idyllic mindset of our sweet, good-natured protagonist.
The Reactions From The Kids When They See The Chocolate Room For The First Time Were Genuine
Even when you're a great actor, it can be hard to capture an authentic state of awe. Especially when it comes to young actors, there's nothing better than genuine wonder. Director Mel Stuart knew as much. In the weeks leading up to the momentous Chocolate Room sequence, Stuart took deliberate pains to make sure the children never caught a peek of the gigantic set. The reasoning is simple: he wanted their honest reactions when it came time to roll cameras. This paid off enormously in the movie itself. As Rusty Goffe, who played one of the Oompa-Loompas, explained in a 2011 interview, the kids weren't feigning surprise. The joyous looks planted onto their faces in this sequence were their actual reactions to seeing the set for the first time.
Many Items In The Chocolate Room Were Edible, But Willy Wonka's Flower Cup Was Made Of Wax
In the dazzling chocolate room scene, where the wide-eyed children are shown munching on delectable candy and chocolates inside Willy Wonka's magical factory, many of the treats shown on this incredible set piece were actually edible. Wonka wasn't lying when he suggested as much. Roughly one third of these candies could be eaten. Nevertheless, while several assorted sugary items were consumable (and were consumed), there was one key prop that wasn't digestible: Willy Wonka's flower cup. While Gene Wilder bites into the cup and chews after he takes a sip, the actor needed to spit out the wax after each take, as People reported. While there were several delicious eatables available on this set, this flower cup was notably not one.
Peter Ostrum, Who Played Charlie Bucket, Quit Acting After This Movie To Be A Veterinarian
When Peter Ostrum was cast in the lead role in Willy Wonka and the Chocolate Factory, it would seem like the child actor won a Golden Ticket himself. The actor made his professional acting debut in the movie. He never appeared in a film or TV show prior to his work in the classic film, and surprisingly, he never added another professional credit to his name afterward. That's right; Ostrum earned his one-and-only acting credit in Willy Wonka. It's safe to assume the young performer could've build a healthy acting career after Willy Wonka's success, but Ostrum stepped away from acting and became a large animal veterinarian instead. In fact, only one of Willy Wonka's child performers, Julie Dawn Cole, i.e. Veruca Salt, continued acting after the film.
Willy Wonka's Office Was Originally Very Different
Towards the end of Willy Wonka and the Chocolate Factory, we get a brief glimpse into the title character's office room. This work area should serve as a reflection of Wonka himself, a look at the madness of his mind. While the original art direction for the office was considered "gorgeous" by director Mel Stuart, he felt it didn't properly reflect Wonka's mindset. Therefore, as Stuart explained in a 2011 interview, the director wanted everything to be cut in half, to better reflect the unconventional mindset of the character. While literally only 50 percent of what it once was, the production design was, nevertheless, a memorable one. Many would likely agree that this redesign is fitting of Wonka's character. Here's how Stuart explained this decision:
What Exactly Is A Snozzberry?
Halfway through Willy Wonka and the Chocolate Factory, our title character introduces the remaining children to lickable wallpaper, where the oranges taste like oranges, the pineapples taste like pineapples, the strawberries taste like strawberries, and the snozzberries taste like snozzberries. Ultimately, the candymaker doesn't offer an explanation for what a snozzberry is, but nearly a decade-and-a-half later, Dahl published a rare adult novel called My Uncle Oswald, where the name "snozzberry" returned in a very... well, unflattering light. As Food Beast noted, the 1979 book has one character saying he "grabbed hold of his snozzberry," using the definition-less word as a euphemism for, well, a man's junk. Suffice to say, that puts this innocent scene in a new, unsavory light — though, again, we should noted that Dahl published this adult-themed novel well over a decade after Willy Wonka's release.
Director Mel Stuart Didn't Know How Gene Wilder Was Going To Read The Wonkatania Boat Poem
One of the joys of filmmaking comes from the collaborative process. When you allow your actors to experiment and try different things, the results might not always work, but they can surprise you. When it came to the memorable Wonkatania boat scene, which gave more-than-a-few-folks the willies (no pun intended), Mel Stuart admits in a 2011 interview that Gene Wilder's performance surprised him. He didn't know he would explode that way. Surely, many audiences didn't expect it either. But Wilder had a great deal of influence on Willy Wonka. Notably, he invited his famous introduction, where he wobbled outside with a cane, only to do a somersault. He explained in a 2001 documentary that he wouldn't do the movie without it, as he didn't want audiences to know whether he was lying or being truthful.
What are some of your favorite Willy Wonka and the Chocolate Factory behind-the-scenes facts? Let us know in the comment section!
Your Daily Blend of Entertainment News
Will is an entertainment writer based in Pittsburgh, PA. His writing can also be found in The Playlist, Cut Print Film, We Got This Covered, The Young Folks, Slate and other outlets. He also co-hosts the weekly film/TV podcast Cinemaholics with Jon Negroni and he likes to think he's a professional Garfield enthusiast.