Captain Marvel's Brie Larson Explains Why She Took Her Superhero Role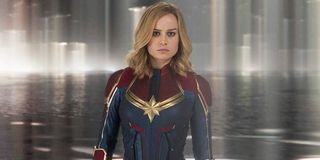 Taking on an iconic superhero role is a huge decision for any actor. For Brie Larson, who plays Carol Danvers/Captain Marvel in the MCU, signing on to the franchise meant big changes to her life and career. With her appearances in the cinematic universe so far, she's helped usher in a new generation of fans for the character -- and it turns out those fans are a big part of why she took the role to begin with, though maybe not for reasons you'd expect.
Brie Larson made her debut as Carol Danvers in 2019's Captain Marvel. The film was a huge hit, thanks in large part to her compelling portrayal of the former U.S. Air Force pilot. She's since reprised the role in Avengers: Endgame and is currently gearing up to film the highly anticipated Captain Marvel sequel.
Preparing for such a physically demanding role requires a lot of training -- Brie Larson has documented her efforts on social media to share them with fans. It turns out that one of the things that keeps her motivated is knowing that fans are looking forward to seeing her character on screen. Larson recently said that she has experienced a lot of positive feedback from fans thanks to Captain Marvel, and it's had a profound effect on her:
You love to see this kind of love and positivity that can result from a fandom. Brie Larson also said told Tegan Nox of NME the response she's gotten from her portrayal of Carol was what she was hoping for when she signed on for the movie:
That humble perspective is admirable, but it's not surprising. Brie Larson has enthusiastically embraced her fans on social media platforms like Twitter, Instagram and YouTube. She's made it very clear that she cherishes Carol and Captain Marvel, too -- and she hasn't been afraid to take on people on the internet who've responded to her and the character with hateful remarks.
Fans who've found strength or comfort from Captain Marvel can anticipate more updates from Brie Larson as production on the sequel gets underway. Captain Marvel 2 is currently scheduled to hit theaters on November 11, 2022. You can also revisit the original film by streaming it on Disney+.
Your Daily Blend of Entertainment News