As Tom Cruise And The Mission: Impossible Crew Get Back To Work, There Are Reportedly New Red Tape Issues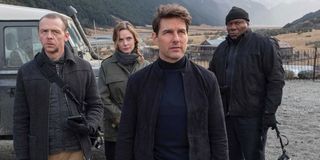 The next two Mission: Impossible movies, 7 and 8, have been filming back-to-back for some time now. If you know anything about the gigantic franchise starring Tom Cruise, Ving Rhames, Rebecca Ferguson and Simon Pegg, you may know the franchise is famous for going to multiple locations. Next up, the movie will be filming in the United Arab Emirates and that's allegedly causing some red tape for the cast and crew working on the films.
Mission: Impossible 7 was filming in the U.K. when it went on hiatus over the holidays. Of course, this was right after the brouhaha in which Tom Cruise reportedly ranted at crew members who were not social distancing on set. While the latest snafu isn't related to Cruise's alleged actions, it is related to the cast and crew, and it's important to note that some people working on the franchise are from the U.K. If reports are accurate, it's not going to be so easy to get home.
This is basically because the U.K. has been dealing with a Covid-19 variant that is more transmissable than other strains of the virus. Because of this, flights to and from the U.K. have been shut down in a lot of places. Per a report in The Sun, the UAE has also put UK persons traveling on a "red list," which will require isolation for a cast and crew that are ready to hit the ground running in a new location. There's a lot to factor in to keep the Mission: Impossible movies on track.
This is not the first set or cast who have had to travel to new locations or self-isolate ahead of filming a new project; much the same happened on Hallmark productions earlier this year. In addition, certain programs have had to shift filming locations as Covid rates have gone up, leading to new safety protocols and quarantining rules in new locations. This has happened with a lot of movie and TV projects and led to plenty of complications, such as when Chris Pratt was filming the new Jurassic World movie and had to make it home in time for the birth of his new baby.
What's different in this case seems to be the length of the shoot with both the seventh and eighth installments filming back to back, as well as the movie having to shift to multiple locations seemingly with different challenges in it. Mission: Impossible 7 was previously filming in the U.K. and in Italy. At another point, Norway seemed to be in the cards.
In addition, Mission: Impossible 7 has been at the forefront of a lot of movie-related coverage lately. There's the fact the production is absolutely massive compared to a lot of productions that have been able to move forward in the era of Covid. In addition, Tom Cruise is also producing the movie and allegedly one of the guiding forces keeping it on track despite an alleged budget ballooning. He's also led the charge with some of the efforts made to make sure everyone in the cast and on the crew are following guidelines and staying safe.
According to this new report, however, it may not be enough as some junior level employees in particular are said to be unhappy with the long filming schedule and all of the myriad stuff being dealt with on the Mission: Impossible productions. "Morale" is alleged to be "down," though it's unclear who the source was in relation to the production or what role that person is involved with in the shoot.
The cast and crew of the M:I films got a little break from the shooting safety protocol madness over the holidays and going back to work after a holiday can be hard even with the best of jobs in the best of times, plus it's hard to know from this one report how widespread these feelings could even be, if accurate. At the end of the day though, keeping the movies on track seems to be a priority for Tom Cruise and the studio and even with quarantine delays and more I'm guessing Mission: Impossible 7 will be one of the first movies to help get theaters back on their feet when this is all over, as Cruise already tried to get the ball rolling on that front when Tenet came out.
Amazing Race & Top Chef superfan with a pinch of Disney fairy dust thrown in. Theme park junkie. If you've created a rom-com I've probably watched it.
Your Daily Blend of Entertainment News
Thank you for signing up to CinemaBlend. You will receive a verification email shortly.
There was a problem. Please refresh the page and try again.