50 First Dates: 10 Behind-The-Scenes Facts About The Adam Sandler Movie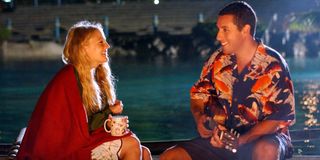 As crazy as it sounds, it has been 17 years since Adam Sandler and Drew Barrymore got back together for 50 First Dates, the second of three romantic comedies involving the on-screen duo. And despite the movie being around long enough to get a driver's license and not far from being able to vote, we're still uncovering some fairly impressive behind-the-scenes facts about the hilarious and sentimental story of a woman suffering from amnesia and the man who will do anything to win her heart, day after day.
There is just so much out there, especially after watching bonus features that accompany the home release of 50 First Dates and interviews with the cast and crew both during production and all these years later. For instance, did you know the movie originally had a completely different tone, title, and ending? Or how about Adam Sandler and Drew Barrymore came to make their first movie together since teaming up for The Wedding Singer in 1998? All of that and more are discussed down below. So, before we lose our memory and have to start all over again, let's dig into some 50 First Dates behind the scenes facts.
Drew Barrymore And Producer Nancy Juvonen Stumbled Across The Script Four Years Before 50 First Dates Was Released
50 First Dates was released on February 13, 2004, but Drew Barrymore and producer (and wife of Jimmy Fallon) Nancy Juvonen actually first became interested in the project four years prior to that, as Juvonen revealed during an interview on The Dating Scene documentary accompanying the film's home release. The project, which had a different title (more on that later) at the time, got lost in the shuffle and was forgotten by the pair until years later when they caught wind that Adam Sandler was working on producing what would later become 50 First Dates. What followed was an aggressive campaign by Barrymore and Juvonen to get involved with the movie.
Upon Hearing Of Adam Sandler's Involvement, Drew Barrymore Personally Wrote Him A Letter On A Typewriter
In The Dating Scene, Drew Barrymore revealed that she wanted to work on 50 First Dates so bad she ended up sitting down in front of a typewriter and personally wrote Adam Sandler saying she wanted to be in the movie and to work with him again.
To the surprise of absolutely no one, Sandler thought it was a good idea, later stating in the documentary that he wanted to shoot a movie with his Wedding Singer costar and have some fun, so why not.
50 First Dates Was Originally A Drama Set In Seattle With A Different Title
The setting and tone of 50 First Dates help make the movie stand out all these years later, but the comedic elements, the Hawaiian setting, and even the title were all originally different. During an interview in The Dating Scene, Drew Barrymore revealed that when she first looked at the project, it was called 50 First Kisses and was set in rain-soaked Seattle instead of the tropical paradise that is Hawaii.
During a conversation with Huff Post a decade following the release of 50 First Dates, Drew Barrymore revealed in addition to the different name and setting, the movie was originally more of a drama than the comedy we know today. It wasn't until Adam Sandler got ahold of the project that its more dramatic elements were switched out for a more upbeat and positive vibe.
Peter Segal Only Had A 48-Hour Break Between Anger Management And 50 First Dates
There is no rest for the weary and Peter Segal knows that a little too well after directing two Adam Sandler movies back-to-back. When Segal was in the middle of completing the post-production work on the 2002 comedy Anger Management, Sandler approached the director and asked him if wanted to direct 50 First Dates. Little did Segal know but this would prove to be no easy task.
During an interview with the BBC shortly after the release of 50 First Dates, Peter Segal revealed that by the time he finished work on Anger Management he only had 48 hours before his work on his next project was to get underway. In the interview Segal joked that he wanted to see if he could pull off what Steven Spielberg had done with Jurassic Park and Schindler's List but said he would never do it again.
Sean Astin Made Home Movies As Doug Whitmore To Master The Character
Sean Astin's performance as Doug Whitmore in 50 First Dates is nothing like anything else the star of The Goonies, The Lord of the Rings, and Stranger Things has done before or since, and the actor had one hell of a way to get into the character. In order to master the lisping voice, physique, and inferiority complex required for the character, Astin began filming himself as Doug in his driveway. These videos ultimately ended up on The Dating Scene documentary and provide for great comedic moments as Astin works on the ridiculousness nature of the over-the-top character.
Rob Schneider's Character, Ula, Was Inspired By Different People Adam Sandler Met In Hawaii
Rob Schneider often gets a bad rap when it comes to the quality of his movies, but his characters are often one of the most memorable aspects of any given Adam Sandler movie. Such is the case for his character, Ula, in 50 First Dates. With some of the funniest moments in all the right places, the character is out there for a lack of better term. Sandler touched on this in The Dating Scene in which he revealed he wrote the character for his longtime friend and based it on some of the fearless watermen he met in Hawaii who unlike most people were not afraid of sharks or danger for that matter. On top of that, Sandler said it was fun way to write a character and to be able to have Schneider hang out with him on set.
50 First Dates Was Largely Shot At Kualoa Ranch, The Same Location As Jurassic Park
Your eyes are not playing tricks on you if the various shooting locations in 50 First Dates look familiar. The reason for that is the movie was largely shot at Kualoa Ranch, the massive 4,000-acre nature retreat in Kaneoh, Hawaii, that has been used for everything from Kong: Skull Island to Jurassic Park and its successors, Jurassic World and Jurassic World: Fallen Kingdom. Over the years, Kualoa Ranch has also been used as the backdrop for shows like LOST and the Hawaii Five-0 reboot series. Sorry if this ruined the illusion that Jurassic Park is a real place.
Cinematographer Jack Green Had A Difficult Time Shooting In Hawaii's Ever-Changing Weather
Shooting 50 First Dates on location in Hawaii allowed the cinematographer Jack Green to capture the pure natural beauty of tropical paradise, but what is a blessing can often become a curse. In an interview on The Dating Scene, Green, who received an Oscar nomination for his work on Clint Eastwood's Unforgiven, revealed that it was a challenge to work around the ever-changing weather patterns while filming exterior shots. Green would have work around the clouds making the shot too dark or too bright when they would break apart, requiring a great deal of patience and skill to pull it off.
The Ending In Alaska Was Actually Shot In Three Different Locations
In the final moments of 50 First Dates we are treated to one of the most beautiful shots of the entire movie as Henry and Lucy finally make it to the Alaskan coast. What makes this even more impressive is the fact that this scene was actually filmed in three different locations with elements of each stitched together for the final product.
In The Dating Scene, director Peter Segal revealed that the interior shot of Drew Barrymore's character standing in the cabin of the boat was filmed on a soundstage in Los Angeles, the exterior of the boat was filmed in Hawaii, and the mountains in the background were captured later in Alaska. In post-production, the visual effects team created what Segal called a moving matte painting to pull it all off seamlessly.
Sony Pictures Originally Considered A Happier Ending In Which Lucy Is Cured
In addition to featuring impressive visuals, the final moments of 50 First Dates includes a heartwarming yet bittersweet interaction between Lucy, Henry, and their young daughter, in which the amnesiac still only has her long-term memory. In a 2019 interview with EW, director Peter Segal revealed that Sony Pictures originally considered a happier ending, stating:
By ending on such a bittersweet note, Peter Segal argued the movie shows just how much Henry loves Lucy because he would put himself through that pain every single day simply because he loves his now-wife.
If you want to watch even more Adam Sandler movies after reading about the making of 50 First Dates, check out this list of the comedic actor's movies available on all of the different streamers.
50 First Dates is currently streaming on Netflix. Or, if you're ready to commit to owning it, you can find purchase options at Movies Anywhere.
Philip grew up in Louisiana (not New Orleans) before moving to St. Louis after graduating from Louisiana State University-Shreveport. When he's not writing about movies or television, Philip can be found being chased by his three kids, telling his dogs to stop yelling at the mailman, or yelling about professional wrestling to his wife. If the stars properly align, he will talk about For Love Of The Game being the best baseball movie of all time.
Your Daily Blend of Entertainment News
Thank you for signing up to CinemaBlend. You will receive a verification email shortly.
There was a problem. Please refresh the page and try again.