The Best Sad Dramas To Stream On Netflix Right Now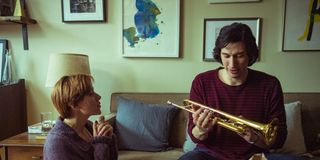 Why do people watch sad movies? Maybe it's for the same reason that people watch horror movies. And that's because in both genres, if the movie is super effective, then you actually feel something when you watch it. And I don't know about you, but there have been too many occasions where I'll watch an action movie on Netflix and keep picking up my phone because I'm not really connecting with the characters or the story. But a great sad movie will always keep my attention, because whenever my heart starts to swell or my tear ducts start acting up, then that's when a movie has actually done something for me. It might sound corny, but a movie like that has moved me.
And all of the movies on this list will move you, too! Some of them are romantic, one of them's a crime thriller, and two concern wars. But what all of them have in common is that they're all sad, they're all dramatic, and they're all available to stream on Netflix right now. I'm not crying, you're crying!
The Notebook (2004)
Starring Ryan Gosling and Rachel McAdams (and key player, James Marsden, as the good guy caught in the middle), The Notebook is a story of class and romance that spans decades. Noah (Gosling) loves Allie (McAdams), but Noah's a poor boy, and Allie's a rich girl, so of course they can't be together. Oh, but they're so good as a couple, especially when they're making out in the rain. In the end (as in the beginning), you get to see what happens to their eventual relationship, and you also get to see how touching a romance can be when people spend a whole lifetime together.
Please, The Notebook is like the quintessential modern-day sad movie. It's the story of a romance that shouldn't exist, but does, and even when it does, it doesn't turn out how you want it to, since old age is a cruel, cruel thing. Still, you'll get a good cry in the end. Damn you, Nicholas Sparks!
Stream it here. (opens in new tab)
Remember Me (2010)
Starring a pre-Batman Robert Pattinson and Emilie de Ravin, Remember Me kind of veers into melodrama at times. But besides that (and its terrible ending), Remember Me is a great character study on how people manage and deal with loss. It's a story about two teens named Tyler (Pattinson) and Ally (de Ravin), who become an unlikely couple. Death and family issues pervade this film, and the tone is entirely gloomy throughout.
Remember Me is kind of hampered by that ending (and if you've heard of this film, then you likely know about its controversial conclusion), but Pattinson's and de Ravin's relationship works despite itself, and you constantly want the characters to be happy, despite knowing that they won't. Not with a title like Remember Me anyway.
Stream it here. (opens in new tab)
All the Bright Places (2020)
The most recent film on this list, this exclusive Netflix film based off the novel of the same name stars Elle Fanning and Detective Pikachu's Justice Smith as two teens who are really hurting inside. You see, Violet (Fanning) has survivor's guilt after the death of her sister, and Theodore (Smith) suffers from deep depression. But they manage to lift themselves up. Somewhat. Let's just say that the ending isn't going to leave a smile on your face.
Any story dealing with teenagers and death is going to leave you depressed. But because of Theodore's condition, it becomes all the more real since we've probably all known people who have had these manic periods of joy, only to be brought down by crippling depression. It's a film that's sometimes very hard to watch, but definitely worth your time.
Stream it here. (opens in new tab)
Y Tu Mamá También (2001)
Starring Coco's Gael Garcia Bernal and Rogue One's Diego Luna, as well as Maribel Verdu, Y Tu Mamá También is about two teens (Bernal and Luna), who have sex with an older woman and go on a road trip together. Sounds sexy, right? Well, it is. It is, and it isn't. Especially when you learn why this woman is engaging in this relationship in the first place, and what happens to the two friends during their trip. This one gets me every time.
Y Tu Mamá También has a too-good-to-be true quality to it, and you always get the sense that things won't turn out rosy, and they don't. But there is growth, just like any good coming-of-age story.
Stream it here. (opens in new tab)
Marriage Story (2019)
What does a marriage falling apart look like? Well, you have an uncomfortable front row seat in this recent Noah Baumbach film starring Scarlett Johansson and Adam Driver. The two of them are good people, but they're heading in totally different directions in their relationship.
Marriage Story is sad because you, as a viewer, know what will save their marriage, but you have to watch helplessly as they struggle and never find a way to make it work. It's tragic, but it's real. Sometimes, given the personalities, there's really nothing a couple can do to make it work, even if they really do, and always will, love each other.
Stream it here. (opens in new tab)
Beasts of No Nation (2015)
Here's one of the war pictures I mentioned up top. Agu (played by Abraham Attah) is a child soldier who faces (and commits) horrible atrocities, and for what? Because of fear of the Commandant (played by a terrifying Idris Elba)? That's no way to live. And that's why the powerful Beasts of No Nation is the story of a childhood denied.
Any war movie is going to be sad, but one that involves children? That's outright heartbreaking!
Stream it here. (opens in new tab)
Dallas Buyers Club (2013)
Matthew McConaughey and Jared Leto both won Academy Awards for their roles as people with AIDS who work around the medical system to get the medication to people in need (including themselves) to combat the vile disease.
While Jared Leto's portrayal as a transgender woman doesn't really work in 2020, the film around all that is still steeped in depressing content. How could it be anything else when it's a movie where the main villain is AIDS itself?
Stream it here. (opens in new tab)
The Florida Project (2017)
If you read the synopsis for The Florida Project, you might think it's a comedy since it deals with a child (played by Brooklynn Prince) who engages in mischief. But if you actually watch the movie, you'll realize she's only engaging in mischief because her mother (played by Bria Vinaite) is woefully negligent. It's not that she's a bad person, since she's a single mother just struggling to survive and take care of her daughter, but she probably should have her daughter taken away from her. Meanwhile, all the drama is happening right next to the happiest place on Earth since Disney World is literally within walking (or running) distance. What a statement!
The Florida Project might have a few somewhat humorous moments, but it's only to break up the harsh reality that many single mothers have to struggle with in order to survive.
Stream it here. (opens in new tab)
Uncut Gems (2019)
This is the crime thriller I was hinting at earlier. Uncut Gems, starring Adam Sandler, Idina Menzel, and basketball player, Kevin Garnett of all people, is about a jeweler (Sandler) who is also a compulsive gambler and is trying to hit one last huge score. But at what price?
Uncut Gems is an incredibly sad (and incredibly stressful!) movie. The whole time, you just want to strangle Sandler's character for making so many bad decisions, since he loses so much with all of his terrible choices. And then, you get that ending! How this movie didn't get nominated for Best Picture, I have no idea.
Stream it here. (opens in new tab)
Moonlight (2016)
In this Academy Award winning picture that garnered Mahershala Ali his first Oscar, we see three pivotal points in a young black person's life. But since he's gay, he struggles with understanding himself and the world around him. There's hope at the end of the tunnel, but a lot of darkness along the way.
Moonlight is mostly a quiet film, and you hope throughout that the protagonist will make it out okay. But for a lot of it, he's not okay, and it's pretty heartbreaking to watch.
Stream it here. (opens in new tab)
The Theory of Everything (2014)
Eddie Redmayne (who won Best Actor for this movie) and Felicity Jones star in this film about the legendary theoretical physicist, Stephen Hawking and his wife, Jane Hawking, respectively. Throughout the film, we see Stephen Hawking's brilliance, but also his steep decline with ALS, and watching his deterioration is nothing short of terrifying.
Being a biographical film makes this an especially difficult and depressing watch since it really happened. But it's also a hopeful one, given everything Hawking accomplished in his lifetime.
Stream it here. (opens in new tab)
Schindler's List (1993)
And lastly, the other "war" picture on this list is Steven Spielberg's Academy Award winning Holocaust picture, Schindler's List. Starring Liam Neeson as the benevolent Oskar Schindler, and Ralph Fiennes as a despicable Nazi, this horrific film is the epitome of the sad picture. It deals with a businessman (Neeson) who starts to realize the plight his Jewish workers are enduring, and he eventually does everything he can to rescue as many Jewish people as possible during the Holocaust.
It's pretty much impossible not to cry at least once—if not several times—during what is arguably Steven Spielberg's crowning achievement. This movie does not shy away from the horrors of the Holocaust and paints a picture so harrowing and distressing that you might even have nightmares after watching it. It's not for the faint of heart, but it's definitely the most important movie on this list that still resonates with people today.
Stream it here. (opens in new tab)
As mentioned at the top, the sad drama will always have a place for movie lovers since it creates a scenario to shed a good tear. Any and all of these movies will hit you right in the feels in the best (or worst, depending on how you look at it) kind of way. Enjoy!...if you can.
Rich is a Jersey boy, through and through. He graduated from Rutgers University (Go, R.U.!), and thinks the Garden State is the best state in the country. That said, he'll take Chicago Deep Dish pizza over a New York slice any day of the week. Don't hate. When he's not watching his two kids, he's usually working on a novel, watching vintage movies, or reading some obscure book.
Your Daily Blend of Entertainment News
Thank you for signing up to CinemaBlend. You will receive a verification email shortly.
There was a problem. Please refresh the page and try again.