Jimmy Fallon Shares The Endearing Story Of Getting Engaged And How His Plan Got Spoiled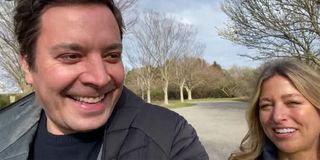 Technically it's an opinion, but it's really more of a fact that Jimmy Fallon and his wife Nancy Juvonen are a cute couple together. The two have been married for 15 years and share daughters Winnie and Franny, but it took Jimmy Fallon a lot longer to propose than he initially intended, which he recently shared on The Tonight Show.
In fact, Jimmy Fallon seems to throw a little bit of blame at Nancy Juvonen about why it took him so long to propose, although he really can't be mad at her, given he got a fancy Thomas Keller meal out of the deal. Here's what Fallon had to say during a recent late night walking segment:
Meanwhile, Jimmy Fallon recounted on The Tonight Show: At Home Edition that he and his wife go out for this lovely meal at Per Se. It was like 14 courses, they're both stuffed, he had this ring burning a hole in his pocket and he didn't want to get engaged at the restaurant on the off chance "it's a laser tag place" 30 years later.
While the night was great, Jimmy Fallon explained it sort of ruined his plan to get engaged in New York and another three months went by before he found the right time to ask Nancy Juvonen to be his partner for life. Eventually he worked up the courage to do it at her family home, but even that did not go off without a hitch, as Fallon could not control his own emotions.
I don't know about you, but it doesn't really surprise me that Jimmy Fallon would be a bit of a blubbery mess during the big moment in his life. After all, he was the guy who everyone tried to get to crack up during the middle of sketches on SNL. He's just an expressive dude. His now-wife says her family also recorded the whole thing from the house when Fallon asked, and the rest is history.
These at-home moments have been coming fast and furiously with certain celebrities who have been willing to share more intimate aspects of their lives, but this one is among the most endearing and you can catch the full story below.
It may have taken Fallon longer than he expected to pull out that Neil Lane engagement ring, but these days the two are together a lot and incredibly supportive of each other, as Nancy Juvonen is a producer in her own right and for the At Home Edition has also served as a camerawomen, filling other roles at times for Jimmy Fallon as he continues to operate at home.
I wonder if they're giving her a little pay for all her trouble. If not, she is one super cool and supportive wife. Meanwhile, catch The Tonight Show: At Home Edition on weeknights.
Reality TV fan with a pinch of Disney fairy dust thrown in. Theme park junkie. If you've created a rom-com I've probably watched it.
Your Daily Blend of Entertainment News
Thank you for signing up to CinemaBlend. You will receive a verification email shortly.
There was a problem. Please refresh the page and try again.