Why Rebecca Hall Was Actually The 'Perfect' Choice To Direct Tessa Thompson's Netflix Movie About Racial Passing In 1920s New York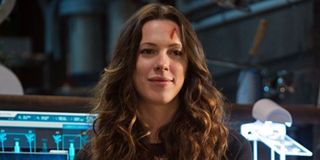 Netflix just acquired the rights to Rebecca Hall's Passing, which premiered at this year's Sundance Film Festival. The film centers around racial passing and is based on a 1929 novel by Nella Larson. When it comes to directing such a sensitive film, the producers of Passing were initially hesitant to hand the reins over to Rebecca Hall. However, those attached quickly found themselves surprised at just how perfect of a choice the English actress-turned-director was for the upcoming Tessa Thompson movie.
In a recent interview Nina Yang Bongiovi, a producer for Passing, shared the surprising story that ultimately led to Rebecca Hall making her directorial debut:
In a panel interview with Indiewire, the producer shared exactly what won her over for the director. After revealing that Rebecca Hall had racial passing occur in her own family, in addition to her own background and diligent preparation, the producer ultimately decided she was the best candidate for the job:
Rebecca Hall went on to address the passing that occurred in her own family and how it impacted her decision to get involved in the film. In her words:
Passing follows the story of two mix-race women in 1920s New York who reunite, only to have their worlds collide as one passes for white, while the other identifies as African-American. Tessa Thompson and Ruth Negga will star in the lead roles as best friends Irene and Clare.
Rebecca Hall's Passing is the only purchase Netflix has made from this year's Sundance line-up, as the platform were outbid by Apple for the break-out hit Coda. While the streaming giant has sat out in the past, it spent some serious money last year on a number of films and documentaries, including Horse Girl, His House and the controversial Cuties.
While Rebecca Hall is no doubt a wonderful choice to direct Passing, fans will have to wait to see it as the film doesn't have a release date, but it's a safe bet that it will roll out on Netflix sometime this year. As for the rest of this year's upcoming movie slate, be sure to check out CinemaBlend's 2021 Release Schedule for the last on the everything heading to the big (and small) screens near you.
Into tracksuits by Paulie Walnuts, the Criterion Channel and Robert Eggers.
Your Daily Blend of Entertainment News
Thank you for signing up to CinemaBlend. You will receive a verification email shortly.
There was a problem. Please refresh the page and try again.