Tom Holland Totally Went To A Twilight Premiere Before Working With Robert Pattinson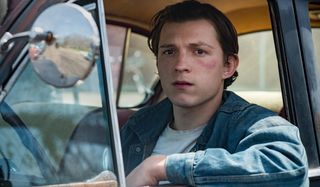 The newest face of Spider-Man Tom Holland has been busy since his breakout role of Peter Parker, first appearing in Marvel's Captain America: Civil War. The 24 year-old actor has been known for his quirky and innocent teenage persona, but is now taking a page out of his co-star Zendaya's playbook and breaking away from his adolescent roles in favor of more serious, mature parts. Holland recently starred alongside Robert Pattinson in The Devil All the Time, a gritty psychological thriller taking place after World War II. But before that Holland apparently went to a Twilight premier, and loved it. That's the classic, endearing Tom Holland we've come to adore.
The Twilight Saga has been enjoyed by people of all ages, but it does have that teeny bopper reputation and we can totally see Tom Holland fangirling over some sparkly vampires. Okay, that may be an over-exaggeration, but Holland did apparently enjoy the premiere of one of the last Twilight films when he attended with his mother (how cute is that?) and her friend. Holland appeared on Esquire's "Explain This", and when talking about his work with Robert Pattinson he was asked if he was a Twilight fan. He jokingly responded with a "no", but he quickly follow it up this:
If you take a minute to think about it, Tom Holland is basically painting the most adorable picture ever. Twilight: Breaking Dawn Part 1 was back in 2011, which was at the very beginning of Holland's acting career. The now big name actor was only around 15-years-old back then, which is the same age as his Character Peter Parker in Civil War. It doesn't take much to imagine Holland reacting much the same as his on screen persona would at a Twilight premiere.
That was a decade ago, though, and Tom Holland has come a long way from the teenager who attended the Twilight premiere dressed to the nines with his mom. He still may be our spider man, but Holland is really expanding in his brand with a lot of upcoming films.
Besides starring in The Devil All the Time with Robert Pattinson last year, Tom Holland has two non-marvel films releasing this year that break him away from his teenager reputation. Chaos Walking and Cherry are both more serious roles for Holland, as well as his lead role in the film adaptation of the video game series Uncharted set for next year.
Tom Holland may be pulling away from roles that label him as a clumsy and awkward teenager and looking a lot different these days, but it's nice to know that Tom Holland is still as endearing as ever. Holland will return to his quirky self in his role of Peter Parker in Marvel's next Spider-Man film, set to release at the end of this year.
Constantly thinking about books, coffee, and the existential dread I feel from Bo Burnham's Inside. While writing I'm also raising a chaotic toddler, who may or may not have picked up personality traits from watching one too many episodes of Trailer Park Boys.
Your Daily Blend of Entertainment News
Thank you for signing up to CinemaBlend. You will receive a verification email shortly.
There was a problem. Please refresh the page and try again.