Daniel Kaluuya Has Thoughts On Black Panther 2 Moving Forward Without Chadwick Boseman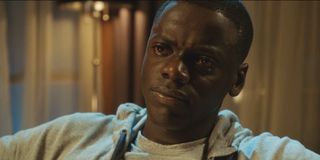 Last August news broke that Chadwick Boseman tragically passed away at the age of 43. Since his passing there have been a number of celebrities in the entertainment industry that have spoken out about the legacy and impact the Black Panther star left on Hollywood. Daniel Kaluuya, who also worked on Black Panther, is the latest to share his thoughts on Black Panther 2 moving forward without Boseman.
In a recent interview the Get Out star shared his opinions on how the MCU has decided to continue without Boseman while admiring his commitment to the screen, despite the circumstances. He described those complicated feelings, saying:
On The Ringer's Higher Learning podcast Daniel Kaluuya shared his respect for Boseman's quiet fight and the determination to give everything to viewers. He went on to acknowledge that the Golden Globe nominated actor's legacy is more than just his Black Panther character:
Daniel Kaluuya's comments come on the heels of Chadwick Boseman's record-breaking Golden Globe nominations. He recently earned a total of four nominations, the most for a single actor in the history of the ceremony, for his performances in Netflix's Ma Rainey's Black Bottom and Spike Lee's Da 5 Bloods. On top of the historical Golden Globes nominations, he earned similar recognition for multiple categories at the 2021 Screen Actors Guild Awards.
While Hollywood continues to mourn the tragic loss of Chadwick Boseman, Marvel has already outlined how it will be moving forward with Black Panther 2. Marvel executive Kevin Feige released a statement promising that there would be no CGI involved and deferred to director Ryan Coogler's script of the upcoming sequel to handle Boseman's absence with the respect it deserves.
Multiple MCU co-stars have joined in paying tribute to the late actor, including a heartfelt message from Robert Downey Jr. and Don Cheadle at the MTV Movie And TV Awards. Even though the MCU won't be the same without Chadwick Boseman as T'challa, one thing is clear based on the outpouring of support, his legacy, much like Wakanda, is forever.
Into tracksuits by Paulie Walnuts, the Criterion Channel and Robert Eggers.
Your Daily Blend of Entertainment News
Thank you for signing up to CinemaBlend. You will receive a verification email shortly.
There was a problem. Please refresh the page and try again.