Dang, Chadwick Boseman Actually Learned To Play An Instrument For Netflix's Ma Rainey's Black Bottom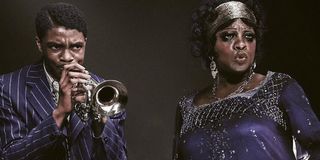 Netflix's release of Ma Rainey's Black Bottom this past December was an emotional one. The film delivers a number of heartfelt, award nominated performances including ones by Viola Davis and Chadwick Boseman while tackling the issue of appropriation in the 1920's world of jazz. The feels hit even harder with Ma Rainey's Black Bottom being Chadwick Boseman's last appearance in film, released a few months after the Black Panther actor's surprising death. Boseman was regarded as a very hands-on actor, and plenty of new stories are coming out about the actor since his passing. One of the methodologies Boseman used for Ma Rainey's Black Bottom, it would seem, was to learn how to play the instrument his character in the film mastered.
According to Atlanta Black Star Chadwick Boseman worked diligently to learn the trumpet, practicing on set after scenes and when the cast would retire back to their hotel. One of Boseman's co-stars Glynn Turman shared a story about Boseman's work on the film. In his words,
Not only did Chadwick Boseman work hard to put be the best he could be at his own craft by fully immersing himself in the craft of his character, he also inspired the other cast members to do this same. Coleman Domingo, another of Boseman's co-stars, spoke on the late actor's ability to challenge and inspire the people around him:
The passion and drive of the cast taking up the instruments of their characters, along with the bond that comes with challenging each other to do better, makes for a great dynamic on screen. We can't help but to think about what it is like for the rest of the cast getting to know and being so close to Chadwick Boseman while working alongside him in what would be his last role.
Chadwick Boseman died from colon cancer, a condition that he had kept under wraps. Cast members say that they had no idea the actor was sick and his death came as a shock to them, as well as pretty much all of Hollywood and fans alike. The actor was only 43 when he died, and by all accounts was working hard as ever. The idea that someone could be so sick and for it to go unnoticed really speaks to what a light Boseman was to the people around him and the people he worked alongside.
Chadwick Boseman made a positive mark with the work he did in Hollywood, which is only magnified by the impressions he made on the people around him. The memories of learning and making music with Boseman will, I'm sure, keep him alive in the hearts of his Ma Rainey Black Bottom co-stars.
Constantly thinking about books, coffee, and the existential dread I feel from Bo Burnham's Inside. While writing I'm also raising a chaotic toddler, who may or may not have picked up personality traits from watching one too many episodes of Trailer Park Boys.
Your Daily Blend of Entertainment News
Thank you for signing up to CinemaBlend. You will receive a verification email shortly.
There was a problem. Please refresh the page and try again.