The Russo Brothers On Difficulty Of Recasting Hugh Jackman's Wolverine For The MCU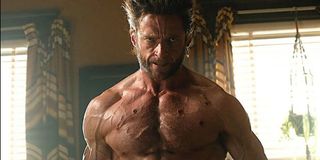 The X-Men have always been a popular part of Marvel's comic book universe. And while the characters were instrumental in the early days of the boom that became the super hero movie craze, the film franchise was uneven at best. But if there's one thing that those movies did right, it was Wolverine. The most popular X-Men character was played perfectly by Hugh Jackman, so much so that Jackman's history is going to make it difficult to relaunch Wolverine in the MCU, according to the Russo Brothers.
Joe and Anthony Russo recently appeared on the LCB podcast and Joe Russo specifically spoke about his love for Wolverine as a character, and how he would have loved to have included him in the MCU if things had gone slightly differently. But Joe Russo admits that when it does come time to bring Wolverine into the MCU (which we know will happen at some point) it will be tough because Jackman's performance was "definitive." According to Russo...
The comparison to Batman is an interesting one because we have seen multiple actors take on the role of Batman. But of course each time that has happened it's been a big deal and the performance ends up under a lot of scrutiny. We can expect the same thing will happen when and if Wolverine is recast. It will be impossible to not compare the performance to Hugh Jackman, any actor who takes the role is going to go into it knowing they have a lot to live up to.
From a purely fan perspective the acquisition of Fox by Disney was great news because it meant the Marvel Cinematic Universe finally including the X-Men was a real possibility. Seeing all the classic X-Men characters alongside the Avengers is an incredible idea and fans will love to see all those heroes in their new MCU forms, but clearly the Wolverine question is a big one. Who would you bring in to that role? How do they play Wolverine in a way that doesn't feel like they're doing a Hugh Jackman impression, but still feels like the character so many fans love?
Joe Russo says it's a good thing that Marvel isn't rushing into the recasting. The more time allotted to give fans some distance from Hugh Jackman's performance, the better it will be for whoever comes next. Of course, recent events taking place on WandaVision make one wonder just how long it will actually be before the X-Men make the jump to the MCU. It could be much sooner than we thought.
CinemaBlend's resident theme park junkie and amateur Disney historian. Armchair Imagineer. Epcot Stan. Future Club 33 Member.
Your Daily Blend of Entertainment News
Thank you for signing up to CinemaBlend. You will receive a verification email shortly.
There was a problem. Please refresh the page and try again.