How The Civil Rights Movement Inspired The X-Men Comics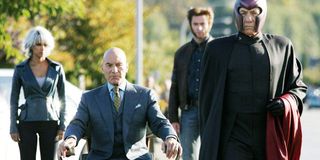 (Image credit: (Fox))
Movies have always reflected the society we live in, a history we're trying to grapple with or a future we're afraid of. And while Marvel and DC movies are often looked at as escapism from our realities and flawed systems, if you look closely many of them are actually solid reflections of elements of reality. One of the most piercing examples has always been through the X-Men comics, which the late Stan Lee and Jack Kirby debuted in 1963. The first issue was released at the height of the Civil Rights Movement that September not long after the March on Washington happened in Washington D.C. and Martin Luther King Jr delivered his famed "I Have A Dream" speech.
For over fifty years the X-Men comics and movies have connected fans over its overt commentary about the division of two people, the Mutants and everyone else. As one X-Men writer Chris Claremont said back in 1982:
So let's talk about this. Why was the popular series inspired by the Civil Rights Movement and what does that mean moving forward?
Stan Lee Conceived The X-Men As A Metaphor For The Civil Rights Movement
Back in the '60s, Stan Lee and Jack Kirby were on a role over at Marvel Comics co-creating their most iconic characters including Hulk, Thor, Iron Man and Doctor Strange. And among them the X-Men – Lee explained the conception of the team to The Guardian like this:
Lee has always had a knack for creating relevant and timeless superheroes – hence their place in the modern mythology so many of us flock to in our free time. He lived through the years of the social justice movement, where Black Americans pushed for equal rights during a divisive and especially racist time in the U.S. It makes sense that the social justice movements would influence the comic book legend's ideas at the time, and since its inception, the X-Men have been continued to be compared to this moment in history in more ways than one.
Professor X And Magneto Have Been Compared To MLK and Malcolm X
Looking more closely at X-Men's connection to the Civil Rights Movement, many have made a distinct connection between the franchise's central characters Professor X and Magneto. The mutants are often opposing forces, stemming from their differing ideologies about how to survive in a world that is cruel to their kind. Professor X takes the path of educating mutants to control their powers and hopes to live in a world where humans and mutants can co-exist peacefully. For years, audiences have compared Charles Xavier to Martin Luther King Jr, in terms of their approaches to advocating for equality.
It gets more complicated when we get to the Magneto / Malcolm X comparisons, because from a rigid context of good vs. evil that comic books play into, that would mean that people are saying Malcolm X's philosophy was more inherently bad or diametrically opposed to MLK's, and that is not completely true. Yes, Malcolm X famously gave his "By Any Means Necessary" speech in 1964, calling for the complete "independence of people of African descent" in the U.S. He was opposed to assimilation, in terms of Black people denying their identities in order to co-exist with white Americans. This aspect of Malcolm X can be compared to Magneto, who felt mutants should be able to live freely as they are and not hide who they are. The X-Men character also threw away his "human" name for Magneto, similarly Malcolm X took his famous "X" last name to reject his slave roots.
The Problem With X-Men's Ties To The Civil Rights Movement Today
But there's an inherent issue the X-Men franchise has by being a "commentary" or metaphor to the Civil Rights Movement. Just about every main character within the mutant universe with a key role in the franchise had and is known and has been a white character. To replace an experience that is inherently tied to racism, bigotry and prejudice to predominantly white, straight characters is white erasure. It's important for us to respectfully recognize this aspect of X-Men's roots today when talking about its commonalities and inherent ties to the Civil Rights Movement. As Medium put it:
It's an important discussion to have today as Marvel seeks to adapt the mutants for the MCU sometime in the near future. While the original movie franchise was focused on the diametrically opposed ideals between Professor X, Magneto and the mutant war coming to the forefront, it might be more effective for the next X-Men adaptation by moving away from basically rewriting Civil Rights history with mutant history and instead recognizing and making distinctions between the two. X-Men is a product of the '60s and linked to the Civil Rights Movement, but it is not really fair to call it a good nor helpful commentary on the era, and there has to be room for this topic to be treated more kindly and carefully in the future.
Marvel Studios has certainly made some advancements toward representation in the past few years, and can do some incredible things with the property whenever it gets to it. It will be interesting to see how the mutants fit into the MCU when it happens. It's going to be one epic crossover event!
Your Daily Blend of Entertainment News
YA genre tribute. Horror May Queen. Word webslinger. All her writing should be read in Sarah Connor's Terminator 2 voice over.
Your Daily Blend of Entertainment News
Thank you for signing up to CinemaBlend. You will receive a verification email shortly.
There was a problem. Please refresh the page and try again.