M. Night Shyamalan's Old: 8 Things We Know About The Horror Movie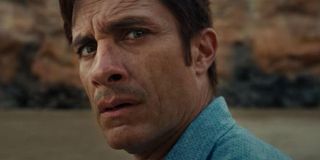 You know what they say? Everything old is new again. But in this case, the opposite might also be true. Everything new will soon be old. Certainly, M. Night Shyamalan is famous for taking familiar supernatural and/or existential concepts and spinning them into something uniquely unsettling. Not all of his movies are successful at towing that line, but Old, his latest film, sounds promising. A high-concept psychological fright tale written, produced, and directed by the filmmaker, this new project is a notably scaled-back effort, with a smaller crew, one primary location, and only a few actors involved. One hopes that those restrictions allow his talents to flourish, but time will soon tell.
As it was revealed during the Super Bowl, Old is scheduled to arrive in July. While details are limited, we do know some key bits of information about this new/old horror film, which we'll share now. Here's what we know about M. Night Shyamalan's Old!
Old Is The Latest Psychological Horror Film Written, Directed, And Produced By M. Night Shyamalan
Folks, M. Night Shyamalan is back! The Sixth Sense filmmaker has earned as many fans as he has received detractors. But make no mistake: whenever Shyamalan makes a movie, it's an event. Glass didn't match the promise of Split, which was a refreshing return-to-form for the heavily criticized movie-maker, but this psychological horror movie sounds like it has the potential to be another comeback for the inconsistent director. We'll discuss the intriguing plot of this new Shyamalan movie in just a bit.
The New Movie Is Inspired By The Graphic Novel Sandcastle By Pierre Oscar Levy And Frederik Peeters
It's not often that M. Night Shyamalan makes an adaptation. For all his faults, he's one of the few prominent filmmakers making original concept movies at a regular clip. That said, when it comes to this film, Shyamalan gained inspiration from an outside source.
Specifically, the writer/director took notes from Sandcastle, the graphic novel from Pierre Oscar Levy and Frederik Peeters. The storyteller was intrigued by what the material had to say about aging in its creative and haunting fashion, and the middle-aged director wanted to tell a similar story. One hopes this keen inspiration gives him the motivation he needs to tell a concise, engaging and intensely chilling cinematic tale.
Old Follows A Family On A Tropical Vacation Who Discover That Their Secluded Beach Causes Them To Age Rapidly In The Span Of A Day
Prior to this month's Super Bowl trailer debut, Old was completely shrouded in secrecy, with hardly a clue publicly available — outside of its ambiguous title. Now that we have our first look at the upcoming horror film, however, Universal Studios finally released a synopsis, giving us an idea of what we can expect from M. Night Shyamalan's new film.
As the company notes, Old will follow a family on a tropical vacation who discover what appears to be the perfect getaway spot. Alas, as the holiday progresses, the family discovers that the secluded beach is somehow causing them to age rapidly, reducing their entire lives into one single day. There's definitely some heavy existential thematic ground to explore there, and it'll be intriguing to see how M. Night Shyamalan tackles it.
The Movie Stars Gael Garcia Bernal And Phantom Thread's Vicky Krieps
No matter how checkered his reputation may be, M. Night Shyamalan attracts some major talent. Old is hardly an exception, as it stars Gael Garcia Bernal and Vicky Krieps.
In both film and TV, Gael Garcia Bernal is known for a variety of roles, including Amores Perros, Y Tu Mama Tambien, The Motorcycle Diaries, Coco, Bad Education (2004), Babel, and Amazon Prime's Mozart in the Jungle, the latter for which he won a Golden Globe. Additionally, Vicky Krieps is primarily recognized for her starring role in Paul Thomas Anderson's Phantom Thread, though she was also seen in Hanna (2011), A Most Wanted Man, The Girl in the Spider's Web, Colonia, and Sky One's Das Boot.
The Supporting Cast Includes Rufus Sewell, Abbey Lee, Alex Wolff, Eliza Scanlen, Thomasin McKenzie, And Ken Leung
In addition to starring Gael Garcia Bernal and Vicky Krieps, Old's supporting cast is also filled with standouts, including Tony nominee Rufus Sewell (A Knight's Tale), Abbey Lee (The Neon Demon), Alex Wolff (Hereditary), Eliza Scanlen (2019's Little Women), Thomasin McKenzie (Jojo Rabbit) and Ken Leung (Star Wars: The Force Awakens).
Additionally, Old will also feature the talents of Nikki Amuka-Bird (The Personal History of David Copperfield), Alexa Swinton (Billions), Embeth Davitz (The Amazing Spider-Man), and Kathleen Chalfant (House of Cards). Even though Old appears to be modest in scale for M. Night Shyamalan, he has surrounded himself with a theatrical ensemble. Hopefully, everyone will get their time to shine in this summery vacation horror-drama.
Old Was Filmed In The Dominican Republic, Reportedly Making It The First M. Night Shyamalan Movie Shot Completely Out Of Philadelphia Since His Directorial Debut
Typically, you can expect several things from an M. Night Shyamalan movie. You can expect it to be built around an atmospheric premise that doesn't fully reveal itself until the end. You can expect a twist ending that blows your mind or leaves you ripping your tickets in disgust. You can expect spooky scenes mixed with clunky dialogue. And you can expect it to feature Philadelphia as a backdrop. But now, the latter is set to change.
For the first time since 1992's Praying with Anger, M. Night Shyamalan's little-seen feature directorial debut, Shyamalan reportedly filmed his newest film away from the comforts of Philly, as Old was shot entirely in the Dominican Republic last fall. Certainly, Shyamalan is branching out more, which might give some new life to his familiar vision.
While many of M. Night Shyamalan's movies aren't based in The City of Brotherly Love, including After Earth and The Last Airbender, the writer-director has shot his previous movies on sound stages in and near the city. Alas, Old was filmed completely away from Philadelphia, making it a noted departure from his previous work in that respect.
It's The First Movie M. Night Shyamalan Shot On 35mm Since The Last Airbender
Fittingly enough, Old will be an old-fashioned effort from M. Night Shyamalan. It's a scaled-back project, relying on one primary setting, only a minimal number of characters, and a high-concept premise that will almost certainly have some sort of twist by the end. In addition to all these elements, Old is also reportedly the first Shyamalan movie in a decade to be shot on 35mm film. Not since 2010's The Last Airbender has the writer/director shot on actual film; all his follow-up projects (The Visit, Split, Glass) relied on digital photography. Considering all the ways the movie is scaled down, maybe the filmmaker had more room in his budget for film stock? In any case, this decision gives it a crisper cinematic look that'll look great on the big screen.
Additionally, it's worth noting that Old is the fourth collaboration between M. Night Shyamalan and cinematographer Mike Gioulakis. The filmmaker and Us director of photography previously worked together on Split, Glass, and Apple TV+'s Servant.
Old Is Scheduled To Come Out On July 23rd
These days, it's hard to know for certain when any movie will come out. We could all be old ourselves by the time M. Night Shyamalan's latest makes its way into theaters. Nevertheless, following a delayed February 26th release date, the film is now set to be released on July 23rd, in whatever the summer movie season will look like this year. Of course, that's subject to change, but Universal Studios is holding steadfast for now. Certainly, as we mentioned before, time will tell regarding Old's forthcoming release.
Are you excited to see M. Night Shyamalan's Old? Let us know in the comments below!
Your Daily Blend of Entertainment News
Will is an entertainment writer based in Pittsburgh, PA. His writing can also be found in The Playlist, Cut Print Film, We Got This Covered, The Young Folks, Slate and other outlets. He also co-hosts the weekly film/TV podcast Cinemaholics with Jon Negroni and he likes to think he's a professional Garfield enthusiast.