When Zack Snyder's Justice League Will Be Streaming On HBO Max (And 5 Other Things To Know)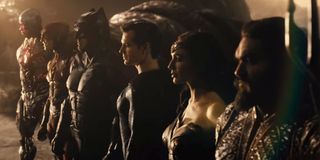 CinemaBlend participates in affiliate programs with various companies. We may earn a commission when you click on or make purchases via links.
A day that millions of DC fans around the world were never sure would actually come is coming much quicker than we expected. The film previously referred to as "The Snyder Cut," but officially titled Zack Snyder's Justice League, will be revealed exclusively on HBO Max, promising to show the likes of Ben Affleck's Batman and Henry Cavill's Superman, among other characters, in a new light. Or, perhaps, should I say, "a new darkness?"
As the now legendary story goes, a sudden family tragedy forced Zack Snyder to step away from post-production on Justice League, at which point Avengers director Joss Whedon stepped in for uncredited work to complete it, including reshoots. The tonally dissonant result, released theatrically in November 2017, prompted fans, the cast, and Snyder himself to demand an official release of the filmmakers' original vision of how DC's mightiest heroes came together for the first time on the big screen. After much doubt of its existence and quite a bit of push and pull for years, it was announced in 2020 that justice would be served, finally.
If that was not enough to excite its biggest supporters, further news revealed that Zack Snyder's Justice League would be more than just a reassembly of unused material, but a full, extended expression of the director's intentions using both original and new footage. So, just what sort of surprises are we in for with this new cut and when can you watch it? We will clue you in on that and more in this quick, convenient guide to the Snyder Cut's HBO Max premiere, starting with when to mark our calendars.
When Zack Snyder's Justice League Will Premiere On HBO Max
In one of the most historic examples of proof that if you ask (over and over again) you shall receive, Warner Bros. gave the coveted Snyder Cut the green light in February 2020, with a 2021 release announced by Zack Snyder himself the following May. No specific date was revealed while the visual effects, music, and editing were re-done and new material was shot in October - all costing roughly $70 million. By late January 2021, Zack Snyder's Justice League was set to be available for streaming on HBO Max Thursday, March 18, 2021, following an interesting update to its distribution plans.
If you're not an HBO Max subscriber, you can sign up here (opens in new tab).
How Zack Snyder's Justice League Will Be Released
Initially, it was understood that Zack Snyder's Justice League, which reportedly is twice as long as the two-hour theatrical cut, would be a miniseries split into four, one-hour chapters. That was until the director verified on his preferred social media platform, Vero, that the cut will actually be "one shot" instead. While this makes HBO Max's ability to pause for bathroom breaks more appreciated than ever, we also appreciate the single feature film's gargantuan runtime for the unsung heroes (and villains) it allows to join in on the action.
Characters Added To Zack Snyder's Justice League
The titular stars of Zack Snyder's Justice League will be joined by a few familiar (and unfamiliar faces) this time, in addition to Lex Luthor (Jesse Eisenberg) and Deathstroke's (Joe Mangaiello) roles expanded beyond a post-credits sequence or Ares from his brief fight scene. The tyrannical New God Darkseid (Ray Porter), his right-hand man Desaad (Peter Guiness), and Jared Leto's polarizing take on The Joker will appear as another obstacle for the heroes, as well as powerful allies like Aquaman's (Jason Momoa) mentor Nuidis Vulko (Willem Dafoe), Ryan Zheng as a later incarnation of The Atom, and the official reveal that Harry Lennix's Man of Steel character was really Martian Manhunter in disguise. Cyborg's (Ray Fisher) late mother Elinore Stone (Karen Bryson) and Iris West (Kiersey Clemons), a love interest of Ezra Miller's The Flash, will also get their chance in the spotlight.
Other Changes From The Original Justice League To Expect
Also in store for the additional two-plus hours of material in Zack Snyder's Justice League is, to put it bluntly, basically everything you wanted, but did not get, from the theatrical cut. For instance, will see insight into Victor Stone's pre-Cyborg life, a glimpse into the late Robin's relationship with Batman, a revised revisit to Themyscira, a new score by Junkie XL, and Superman in his black suit (without CGI face alterations, thankfully). Not to mention, this DCEU "Elseworlds" story (which the director has previous referred to the Snyder Cut as) has been given an R rating, so any fans craving a grittier interpretation of the story can be assured this one will go to the jugular.
How To Watch Zack Snyder's Justice League Outside The U.S.
As we mentioned earlier, Zack Snyder's Justice League is dropping on March 18, but considering the country-specific basis that streaming platforms such as HBO Max operate on, its availability on an international scale has raised concern. Luckily, audiences in Europe, the Nordics, Spain, and Portugal will be able to stream the film from HBO services on the same day as in the U.S., along with Asia, where cut will be available on the HBO Go app. However, HBO Max has not yet launched in Latin America and thus, the Snyder Cut will remain unavailable there until it is.
How To Watch The Original Justice League Theatrical Cut
While 2017's Justice League (or Josstice League to some) clearly has its critics, it also has its fans - especially among those who proudly show off the titular crimefighting team's likeness on the front of their lunch boxes. If you happen to be a supporter of the theatrical cut or you are curious to revisit it (or actually give it a first chance) for comparison, you will find it available in the same place where Zack Snyder's Justice League is set it premiere. In fact, HBO Max has every previous installment of the DC Extended Universe available, so you can catch yourself up on the full saga just in time for the epic crossover's second attempt at being truly epic.
Stream Justice League on HBO Max here (opens in new tab).
You know, speaking of the DCEU, I will never forget the profound effect that 2016's Batman v Superman: Dawn of Justice had on me, prompting me to seek out other comic book adaptations that I might be more inclined to enjoy, personally, and as a result, reigniting my interest in all things Batman-related. As a die-hard Batfan, I do genuinely hope I can say that Zack Snyder's Justice League will be added to my list of comic book adaptations I most enjoy. I am confident that the same goes for the rest of CinemaBlend, where we will be sure to report on further information and updates as we await the film's highly anticipated debut.
Again, if you're not an HBO Max subscriber, you can sign up here (opens in new tab).
Up next: The Snyder Cut Scenes We Can't Wait To See On HBO Max